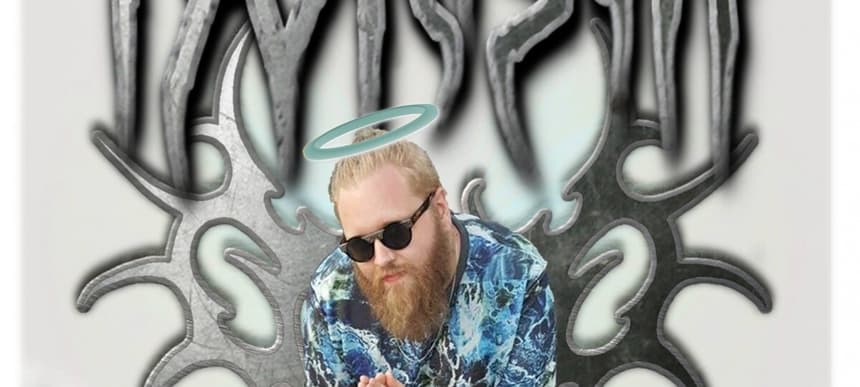 07.09.2016, Words by dummymag
The 11 best cyber-grime tracks, according to Partisan
Metallic, abrasive, violent, complex and maximal: cyber-time is inflicted with cybernetic themes and industrial textures, mixing together with sounds you would usually hear in techno, whilst also weaving in the complex beat programming of 'club' and bass genres. It is a sound that has built a diverse range of followers, with Björk most notably dropping W3C's heavy hitting Prometheus into her DJ sets.
Straight off the back of an extensive tour of North America, standout producer Partisan sent us their 10 best cyber-grime selections, with a bonus track thrown in for good measures. Spanning releases from the past several years, Partisan's list pays homage to a disparate scene of producers, including tracks from Sd_Laika, M.E.S.H., Rabit, and more. Vastly different styles and approaches to beatmaking appear – coalescing around an aesthetic concern with a cybernetic, post-network futurity. And with more and more club spaces rapidly disappearing, post-club music feels increasingly like a pragmatic counter approach to purely functional club tracks.
Liar Cybertime
Partisan: "A massive figure in the cyber- and industrial-grime scene, Liar not only produces some of the most impeccably produced, wide-screen, cinematic club music out there, but also runs a label, Tessier-Ashpool Recordings (named after the corporation in Neuromancer) – a mainstay of cybernetic and industrialised grime sounds."
Bok Bok Silo Pass
Partisan: "One of the originators of this kind of industrialised club-focused music with a ton of grime tropes included, Night Slugs' Bok Bok is now almost legendary. Supporting him on this past tour in the U.S. was an absolute honour, and this track "Silo Pass" still sounds fresh five years down the line. A combination of layered, stilted percussion, and synths lines thrown out among field recordings ambient noises has proven to be incredibly influential over time."
Sd Laika Great God Pan
Partisan: "This one is cheating a little, I think. Not really industrial, or grime, or really like anything before it, Sd Laika's Aphex Twin-approved That's Harakiri is a masterful exploration of noise, stilted rhythms, grime tropes, and the liminal spaces between these as the genres bleed into one another. The words "genius" and "terrifying" get thrown around a lot when discussing this album, as well as "timeless" – not too bad for an album released in early 2014 (although considering it's a Tri-Angle records release, I guess I shouldn't be surprised). Great God Pan is an excellent example of just how far you can take all these constituent elements and push them past the point of breaking into something more than the sum of its parts."
Kai Whiston Spick & Span
Partisan: "L.A. label TAR are definitely ones to watch on the industrialised post-grime, post-club tip. They've been releasing a number of heavy hitters in this new milieu including releases by the mysterious trio WWWINGS, and incredibly intense 111X, but this track, and this entire EP by Dorset's Kai Whiston is an absolutely stonking gem. One of those terrifyingly young producers, 16-year old Kai has been making small waves for a while, but with some serious cosigns and an incredible ear for textures and layers, I anticipate Kai being a major name in the next couple of years."
Mumdance The Sprawl
Partisan: "Already a verified classic by a pioneer of the stripped-back, percussion-focused new wave of grime over the past few years, and sharing a name with a series of William Gibson books, it's hard to discount the pedigree of Mumdance's The Sprawl. Balancing the clattering of a dozen drum machines with chirps and squeals of warehouse machinery and the very welcome occasional tonal pad, this is honestly a masterpiece of industrial grime, maintaining a level of grit whilst keeping one eye firmly on the dancefloor."
Etevleh Tunes
Partisan: "Continuing in the cyberpunk-ish vein, we've got Etevleh (backwards form of the Swedish word for "hell"), this producer made some waves with his 'D.E.A.T.H.' EP for Slit Jockey records and a number of well-placed, excellent remixes and re-imaginings of comrades' tracks. A combination of HD sound design, an industrial and martial approach to rhythm, rooted in the producer's background in metal set him aside from a lot of his peers and contemporaries. The above track is from the aforementioned EP, assisted by an cyberpunk-esque video, full of neon lights and mechanized twists."
Lars Warn Mechanical Solidarity
Partisan: "Lars Warn is one of the affiliates and founding members of the Grime Zone facebook group, which along with Classical Trax, found the backbone of a community of like-minded grime and post-grime producers doing incredibly interesting things. Lars has been producing solid work for years, but has only been experimenting with the mechanized sounds of industrial grime relatively recently, with the instant classic above being a prime example."
M.E.S.H. Scythians
Partisan: "Part of Berlin's absolutely integral Janus collective, making almost cubist cut-ups/collage built on top of sonic juxtapositions and breaking all the rules on background and foreground in music. Although last year's 'Piteous Gate' on PAN was a strong contender for my album of the year, M.E.S.H.'s earlier EP release 'Scythians' was a more concentrated dancefloor effort."
Sudanim Pleasure Flood
Partisan: "Don't let the name fool you, this track is pure industrial adrenaline. The only thing resembling a melody is the manipulated scrapes and squeals of metal that float atop pounding beats and clattering percussion. At once celebratory and predatory, it has its sights set firmly on tearing the dancefloor a new one. Sudanim is an integral part of Her Records, an excellent record label and club night based between the UK and the US."
Rabit Straps
Partisan: "Rabit has been making some of the finest industrialised club/grime hybrids for a while now, and I first got acquainted with his work a few years back with Red Candles on a compilation from the Boxed club night. His later debut record for Tri Angle records, 'Baptizm' was an explorative tour de force, winding through a range of ideas and expressions at breakneck speed. Also worth checking out is Rabit's Halcyon Veil record label, and particularly their work with NON Records."
Celestial Trax
Bleed Wiv Me
Partisan: "Another artist that deconstructs the sounds of grime, NYC's Celestial Trax has knack for creating lush, alien textures of the kind that would make Arca jealous, together with the sound palette and incisiveness of grime as a foundation to work from. Bleed Wiv Me is taken from Celestial Trax's second release for the incredibly forward-thinking Purple Tape Pedigree, April's 'From The Womb' EP has already become a fast favourite, showing what artists can do with certain materials when taking a more compositional mindset to these sounds and genres. The label as a whole hasn't put out a single missable release, and many of the artists seem to share this compositional mindset while retaining a post-club, metallic and industrialized feel – particularly Eaves, who I had the fortune of witnessing at last month's PTP Boiler Room along with Celestial Trax."
Partisan's EP 'Music For Cyborgs' is out now (buy), with a remix EP forthcoming in November.