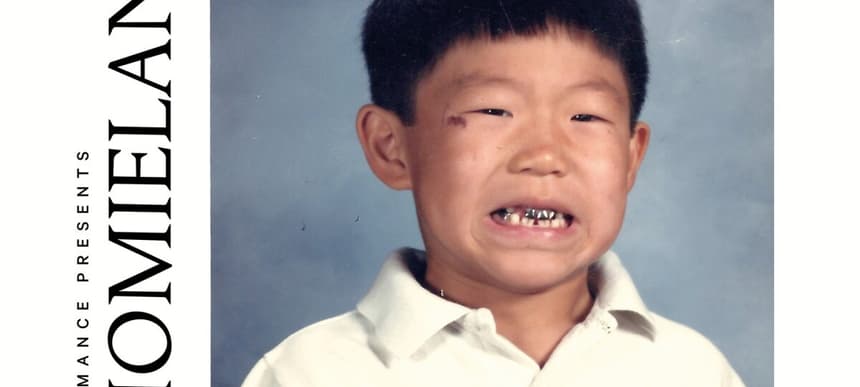 16.02.2016, Words by dummymag
Some of the music that inspired Bromance's 'Homieland Vol. 2'
For the second instalment of their 'Homieland' compilation series Bromance's Brodinski, Manu Barron and Guillaume Berg took the bet on a few "new names" policy – abiding by no laws, rules, or genres.
Dropping at the end of January, 'Homieland Vol. 2' features 24 exclusive tracks including 17 "new names" alongside already established artists from the label. The end result is a perfectly tailored "night-out soundtrack" that you can sit back and press play on, leading you from the getting ready stage through to tracks designed to chill out with after a shelldown session in the club.
With a tracklist about as globetrotting as it could possibly get, it cements 'Homieland' as what Bromance state to be "an imaginary country that knows no boundaries". The journey starts in Atlanta, with rapper Bricc Baby and producer Distal, hops to Haiti through Jeff Chery, cruises through California with the likes of Boy Stephen, Sister City and With You. Feral gives us a wave from Ohio, Suicideyear rep Louisiana, New York taps in with Straight Razor and even the presidential state Washington gives a nod with Shy Glizzy. Not halting after its stateside domination, 'Homieland' goes business class with features from Montreal's Tommy Kruise, the extra mile to Sydney with Jensen Interceptor, before popping up in Tokyo with Japanese rap prince, KOHH. Sweeping through Europe, there's inclusions from Switzerland, England and Bromance's true hom(i)eland of France.
Sweeping the rigidity of genres from their shoulders and lapels, Bromance reign supreme with this release, further laying claim that they simply just know what's good in music. And if you're wondering about the story behind the très thug cover for 'Homieland Vol 2.', Bromance say: "Glen is one of our homies, the picture was taken back when he was six or something. We're still wondering if he's smiling or crying. Since then, he got lost in Homieland."
Catch the compilation minimix by Guillaume below, and read about the inspirations on 'Homieland Vol. 2' contributing artists Canblaster, Distal, The Blaze and Sebb Bash after the jump.
THE BLAZE
The Blaze: "Like just about everyone fond of music, we have plenty of music tastes and references scattered across a very large spectrum. Of course, it can be pretty messy. And there's two of us, so the scope is even wider. There is no point in name-dropping, our references are not about the music we're making. This is not how we work, on the contrary we'd rather protect ourselves from that. We want to be free in everything we're doing, in everything we may like, copy or sample. In a way, we want to be infused with everything but in a very instinctive way and not something that's too worked on or considered.
It's pretty funny because we received so much positive feedback and comments on our recent track, comparing us with artists we're not even familiar with.
We guess it's a living force not to have our art dictated by the rigidity of influences and music legacy. And it's way funnier to discover new artists via people who like our own music. The audience becomes a media, an inspiration for us and not the other way round. And we enjoy that.
As far as the image is concerned, we wanted to erase all traces of the camera, making it invisible. It can even look like a documentary, but insisting on photography and certain aesthetics. Then, we wanted to accompany the actors' performance. When they're dancing, the camera dances too and follows their moves. The choreography was planned in advance. If you want names or influences, we're looked into movies such as Going Places, the Belgian TV show Strip-Tease, Black Swan when it comes to dance parts and Ken Loach for portraits."
CANBLASTER
Canblaster: "The starting point of this track was bringing together two of my favourite things in life: choirs and techno.
Bulgarian Choir
Most people know the Bulgarian Choir sounds from the Akira or Ghost In The Shell soundtracks, like this:
I know it's been an influence a lot of us guys from Bromance such as Sam Tiba, Gener8ion, and Paris IL…
In my case, it stems from when I was kid, and I'd go on these really long road trips with my family. My parents would drive us to the centre of France – a six hour long drive – and one of the CDs they would play was 'The Mystery Of Bulgarian Voices' compiled by Marcel Cellier. That's when I fell love with the sound.
Some of the harmony notes are really close together, but it never feel disturbing. And the sound then feels both very sensitive and powerful at the same time, which is exactly what I was aiming for in this track. But I didn't want to sample these choirs directly. It was more about using them as inspiration for the track's more high-pitched vocals.
Ken Ishii Extra
I've always been into R&S records and especially Ken Ishii's Extra with a video directed by Koji Morimoto, who was actually also the animation director for Akira. Extra was a huge inspiration for me. Especially this one scene at the end of the video where the lights go mad, and this humanoid form grows out of this crazy strobe light-style effect. I came back to that scene a lot while working on the Voxes Roll drop in particular.
Dumroll tracks
I could cite so many, from Plastikman's track Spastic, to Kingdom's edit of Jacques Green, to Jacques Green's very own sampling of Plastikman's Spastic. Not forgetting Tracques' Click Track, along with Para One and Myd's Brooklyn from 'Homieland Vol. 1'.
My track Invoc Dolemn, from the 'Continue?' EP that I put out on Pelican Fly, has no drums at all but you can still feel these rolling sounds over and over, as the track builds up.
Transformation
Lavoisier said, "Nothing is lost, nothing is created, everything is transformed."
It might sound corny, but when I make music, I always find myself thinking about the most basic state of transformation. Like how a solid turns into liquid, or how a liquid turns into a gas. So, in terms of drum tracks for example, how can I turn a classic drumroll track into an epileptic Bulgarian Choir techno segment?
"We get access to the most basic dimensions in techno: you can close your eyes and see forms, actual shapes." – Canblaster
Unlike pop or R&B, techno music has got the distinct ability to strip away all the main elements from a scene and focus in on the background, the landscape, or to break it down even further, the matter, the molecules that make up these background details. We get access to the most basic dimensions in techno. You can close your eyes and see forms, actual shapes. It's not so much about any individual's story, but about the larger context at it's most essential state.
DISTAL
Distal: "I would say that I'm very influenced by late '80s and '90s R&B. I used to spend many summers in Atlanta transfixed to The Box and MTV. Also my mom loved R&B, so whenever we had car time together we'd be jamming on R&B tapes and radio. My mom used to buy the hell out of R&B singles. I think I lend a lot of the quirkiness of my percussion to the genre, as well as choices in sounds when I'm sculpting a sound out, or picking a sample.
I loved TLC, Janet Jackson, Mariah, Brandy, New Edition, Babyface, Boyz 2 Men, Ghost Town DJs, Usher, Blackstreet, Mary J Blige, and Toni Braxton. In fact, I got into trouble for playing the a cappella of Unbreak My Heart in a club in Atlanta a few years back. I thought it was awesome. Half the crowd was slow dancing to it and the other half we're running to the bar to avoid the awkwardness. And then there's the best R&B song of all time written by Babyface Madonna's Take A Bow. Thank god for Babyface."
"I got into trouble for playing the a cappella of Unbreak My Heart in a club in Atlanta a few years back. Half the crowd were slow dancing and the other half were running to the bar to avoid the awkwardness." – Distal
SEBB BASH
Sebb Bash: "I was always a record shopping dude and to keep my interest going I'm always on the hunt for new sounds, new genres. Pulaski was inspired by something I found over 12-13 years ago. It was so crazy that I didn't want to use it the wrong way, so i waited, and one day it just felt right. It's funny because inspiration seems to be a spur of the moment kinda thing but sometimes you pull out stuff out your head that is So ancient….old wine type stuff. As far as other inspiration i have to throw all the old music i listen to in the bag.I never took music lessons So all the synth work on there must be derived from the continual study of other cats stuff. Lastly freedom was a factor. I usually do more straight forward rap stuff and it's about leaving room for the MC but with this I could "say" things with the keyboard."
'Homieland Vol. 2' is out now on Bromance Records (buy).