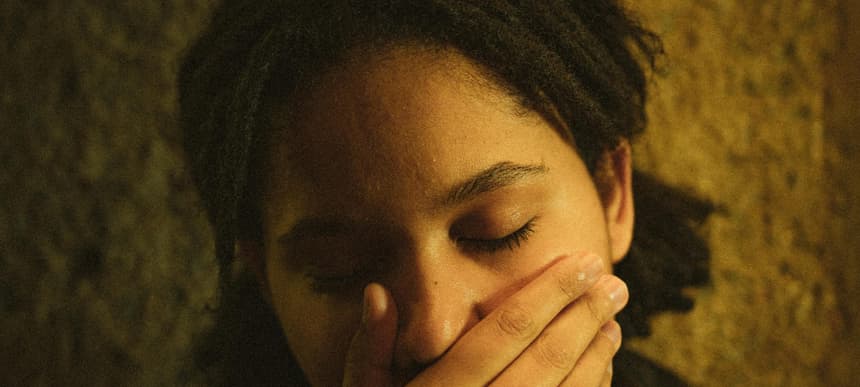 09.07.2021, Words by Maisie Goulsbra
Free-spirit, Yaoundéboxingclub, drops video for new single, 'Nightride'
"The song is me saying 'I know things will be okay because I'm not alone'"
YAOUNDÉBOXINGCLUB's new bedroom-pop single, 'Nightride', flits between sparseness and a thicker texture, evoking images of fluorescence, strobe lights, and neon reflected on damp city streets. The music video encapsulates just this – three friends roam the city at night-time, filled with wonder at the prospect of everything that lies ahead.
Auto-tuned vocals and a warm, slow-mo feel create the kind of ambience that has seen this rising star garner editorial support from Spotify, and find her way onto playlists like All New Indie, my life is a movie, Fresh Finds, Fresh Finds: The Wave.
YAOUNDÉBOXINGCLUB spends her time between both the UK and France, and doesn't limit herself to writing a specific genre – describing herself as a free spirit, she writes, produces and mixes her own music, which she says speaks for herself.
The single's spacious rhythm and combination of organic percussion, with processed drum sounds, provides a contemporary take on melancholic synthpop.
When asked about the new single, YAOUNDÉBOXINGCLUB explains, "There's been so much going on in my life recently: finishing uni, getting some recognition for my music, losing touch with friends, figuring out what I want to do with my life… It's been a crazy ride and the future's looking a bit scary but I actually find it so exciting. 'NIGHTRIDE' is about that, about diving into the unknown, which is represented by the night in the song, and enjoying the journey because no matter what happens I know that things will turn out great.
"I've always enjoyed the night because somehow it's dark yet everything seems so much clearer. The song's also a tribute to the amazing people in my life, who've never given up on me and stuck with me when I was at my lowest. The song is me saying 'I know things will be okay because I'm not alone'."
Watch the video below or listen to it on your preferred steaming platform here.
'Nightride' is out now on Nü Inc. Sound/AKIBA Records via DMY Artists.
For the absolute best new music follow Dummy's Spotify playlist, Next Hype: The Nest New Music.