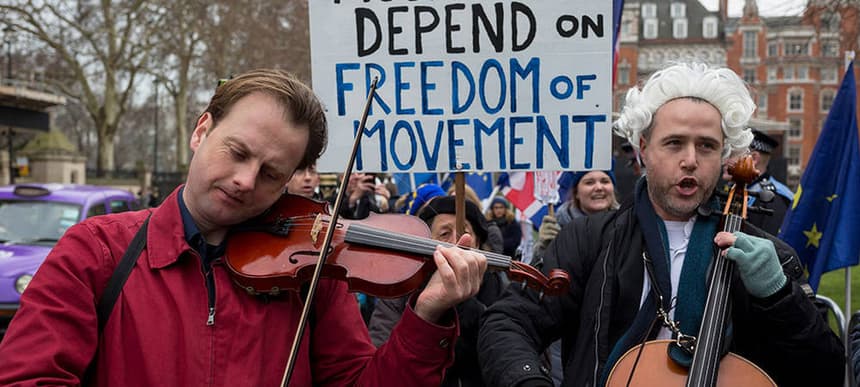 19.01.2021, Words by Felicity Martin
UK government ministers reject visa-free touring in EU in favour of controlling borders
"Musicians and artists mere collateral in this government's obsession in ending freedom of movement."
During a talk in the Commons today (January 19th), Minister of State for Digital & Culture Caroline Dinenage ruled out visa-free tours for musicians in the EU.
Last month, a petition was launched to try and secure visa-free touring for musicians in the EU, but the government has rejected those pleas in favour of "taking back control of our borders".
Dinenage said that the request for visa-free touring would enable "visa-free short stays for all EU citizens" which is "simply not compatible with our manifesto commitment to taking back control of our borders."
She said the government will aim to work with EU member states "to find ways to make life easier" for UK artists, and added that: "The negotiating team did negotiate an opportunity to come back and review this in the years ahead – so the light at the end of the tunnel is not entirely switched off."
Earlier this month it was reported that Britain had turned down a "standard" proposal that would exempt performers from needing a visa to enter countries in the EU for trips under 90 days, according to a report by The Independent, with the UK later denying it had rejected a "visa-free" touring deal and saying it was willing to re-open negotiations.
SNP MP Pete Wishart spoke of his previous years touring as part of a band, saying: "Gone, all gone. Musicians and artists mere collateral in this government's obsession in ending freedom of movement."
Posting on Twitter earlier, Tim Burgess said: "so many tried to warn that Brexit would cause endless issues but so many lies were told."