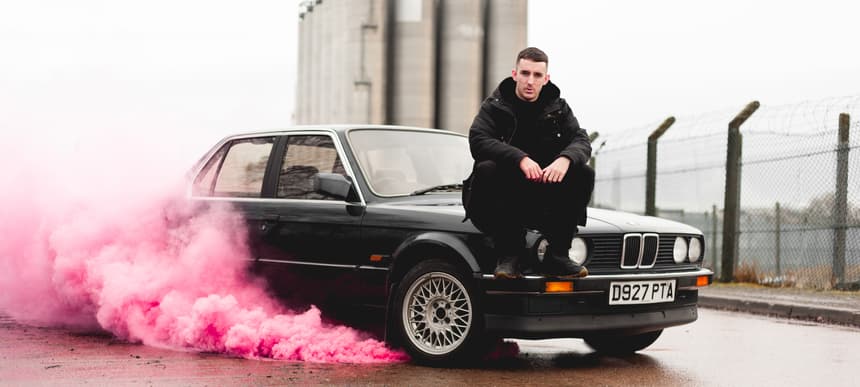 26.04.2019, Words by Felicity Martin
The 10 Best Weapons In The Dance, according to Walton
"Sounds like an alien invasion..."
For Manchester producer Sam Walton, making shadowy, bass-lined constructs that dance between genres is a walk in the park. Following a string of gold standard 140BPM releases on Tectonic, Hyperdub and Keysound, he's returned to Madam X's Kaizen imprint for a new four-tracker, 'MURDAH'.
A movement away from the more fragile, East Asia-referencing sounds he'd been exploring on 2017 Kaizen EP 'Taiko', 'MURDAH's cuts are strictly bassbin-minded. With the EP out today, Walton has shared his most deadly weaponry that'll obliterate a dance in no time at all.
1. Logos & Mumdance – 'Zoned In'
"This is my favourite cut from Logos' big new album. Not really used to playing much at this speed but will definitely be finding a way to work this into my sets. Its always a banger when Mumdance and Logos get in the studio together. Dark 154bpm acid vibes. More like this please."
2. Lurka – 'Heat Mover'
"Always been a big fan of Lurka's drums and that's no exception on this one. Heavy drums, fat subs and sick atmospherics. What more do you want?"
3. Off The Meds – 'Belter (Joy O Belly Mix)'
"Belter."
4. Overmono – 'Quadraluv'
"Overmono are firm favourites of mine at the moment. Their productions are always super detailed and progressive. This one is my fave off their most recent EP on Whities. Addictive melodies and trippy atmospheres."
5. Basic Rhythm – 'Dough Boy'
"This one has a slowed down footwork vibe to it. Always gets a sick but confused reaction on the dancefloor, I love playing it out. Watch out for Basic Rhythm's sick new album coming soon on Planet Mu as well as a collab 12" from me and his alias (East Man)."
6. Le Dom – 'Primal'
"Dancefloor smasher from Le Dom. Sounds like an alien invasion."
7. Walton – 'Squelch'
"This is my favourite cut from my 'Murdah' EP. Always goes off in the dance and I really enjoy playing it out."
8. Martyn – 'Recon'
"This one has that old school Martyn vibe I have always loved. Big baselines, percussive sickness and big chords. He did a really interesting feature for RA about a near death experience and how it has changed his approach to music – well worth a watch."
9. Plastician – 'Industrial Graft'
"This one from the grime compilation on Rephlex Records back in 2004. This era of Plastician had a big impact on my last Tectonic EP and I have really been enjoying mixing these kinds of tunes into quicker styles of techno that I have been into recently."
10. Walton – 'More Cowbell'
"This is an example of one of my tunes from the last Tectonic EP that took inspiration from the early Plastician stuff. Always tears up the dancefloor."
Listen to – as well as purchase on digital or vinyl – Walton's 'MURDAH' EP: