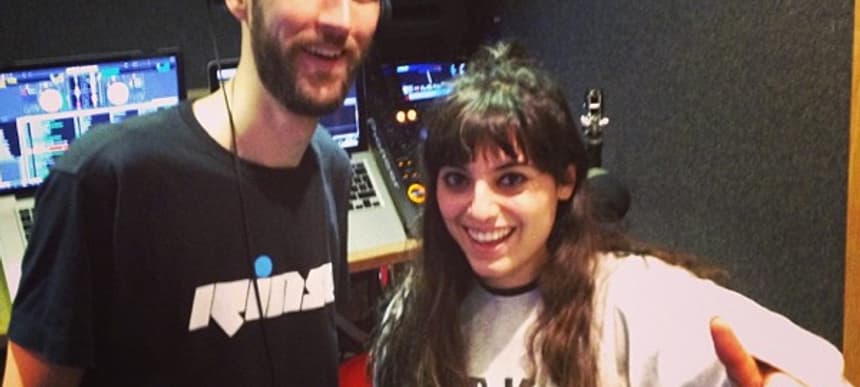 18.12.2013, Words by dummymag
Premiere: Madam X b2b Brackles on Rinse FM 14/12/2013
Manchester-via-Milton-Keynes DJ Madam X went back-to-back with Brackles on Rinse FM a few days ago. Maybe it's because it's the festive season, or maybe it's because Brackles was nursing a hangover during the show, but the two DJs played a fairly light and smooth selection of boogie and R&B to open the show. It all kicks off a little later on, working in more upfront selections from Murlo, Champion, and rising star Neana.
It's an absolutely banging selection, although to be honest we shouldn't need to explain that – any mix that manages to include both Hall & Oates' I Can't Go For That and L-Vis 1990's Ballad 4D should get your vote.
There's a tracklist below. The mix starts with a few tracks from Madam X before moving on to a few tracks Brackles, and the tracklist is broken up into convinient chunks to identify who was playing what.
Tracklist:
Roll Deep – Remember The Days
Drake – Hold On, We're Going Home
Soul II Soul – Back To Life
Mac Band – Roses Are Red
Ace Of Base – Cruel Summer
Rah Band – Messages From The Stars
Joyce Sims – All And All
BB & Q Band – Dreamer
Chemise – She Can't Love You
Jean Carne – Don't Let It Go To Your Head
Patrice Rushen – Forget Me Nots
Bobby Brown – My Prerogative
Glenn Jones – Finesse
Junei – Let's Ride
Lace – Can't Play Around
Tata Vega – Second Wind
The Whispers – And The Beat Goes On
Hall & Oates – I Can't Go For That
Billy Ocean – Caribbean Queen
Zapp – Dancefloor
Tony Lee – Reach Up
Industry Standard – Just The Way
New Horizon – All I Want
Wiley & Shola Ama – Ooh Lala
Bok Bok & Tom Trago – Get Me What You Want
Lil Silva – The Split
Lennie de Ice – We Are IE
Andy J & S-Tee – Hey DJ (Instrumental)
Bakongo – Rolling Blackouts
L-Vis 1990 – Ballad 4D VIP
Lil Silva – Salient Sarah (ft Sampha)
Murlo & Famous Eno – Ariel (Sudanim Bootleg)
Owiny Sigoma Band – Nyiduonge Drums (Champion Remix)
TS7 – Reach
Dizzee Rascal – Strings Hoe (Wen Refix)
Trap Door – Chaka
Pearson Sound – Let Me See What U Workin With
Girl Unit – Ensemble
DJ Tricks – My Boo
Detail – Happy Pills
Jennifer Hudson – Spotlight (Sharda Remix)
Lady Shivz – Predator
Kelela & Kingdom – Bank Head
G.S.ONE – Pillow Talk
Neana – Yeezus
Oddz – ?
Gage – Telo VIP
Famous Eno – Gypsy Riddim (Instrumental)
Sudanim – Sideman
Kingdom – Fog
Ruff Sqwad – Chillin
Bruza – Have Some Of That (Instrumental)
Deamonds – No More
BRYT – I Like Your Girlfriend
Murlo – (Untitled New One)
Funkystepz – Radar
Michael Jackson – P.Y.T
Hysterics – Pleasuredome
Mr. Mitch – Snakes And Ladders
TRC – You & Me
Jamelia – Superstar (Sharda Remix)
Sadie Ama – Fallin
Swindle – Mischief
Rabit – Climax Of The Wolf Spider (Moleskin Edit)
Madam X will be returning to BBC Radio 1xtra in January, hosting the Xtra Talent slot, on Tuesdays from 1-2am throughout the month.