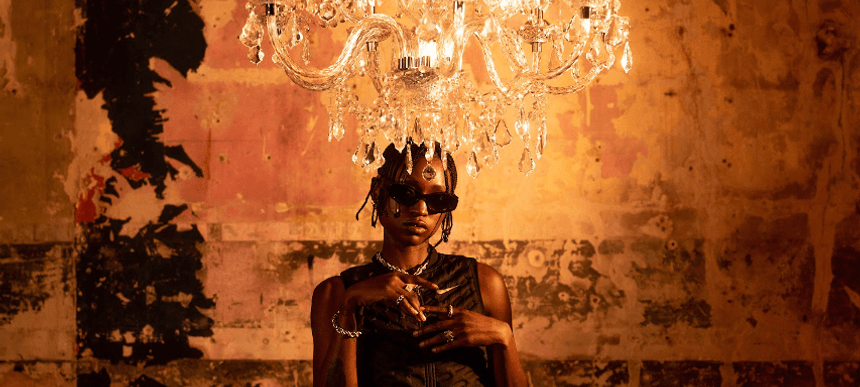 27.07.2022, Words by Billy Ward
Flohio announces debut album alongside glitched-out new single 'SPF'
"I wanted to speak to my inner child and where it all started..."
Bermondsey rapper Flohio has announced her long-awaited debut album 'Out Of Heart', out October 7. Dropping alongside the album news, the South Londoner returns with a brand new single from the upcoming project, titled 'SPF'.
Produced  by long-standing collaborator Speech, the British-Nigerian's latest offering sees her signature cut-throat flows and wordplay glide atop a wave of glitched-out synths and swinging percussion. The effervescent cut is arguably one of Flohio's most experimental releases to date, offering some insight into the sound of the new record with her forward-facing, left-field sound design.
After igniting minds with her high-octane COLOURS show 4 years ago, Flohio has grown to establish herself as a singular talent in the UK rap landscape. Cementing her status with a consistent output of singles, including anthems such as 'Hell Bent', 'Glamourised' and 'With Ease', the lyricist became one of the scene's most in-demand voices  when she dropped her 10-track EP 'No Panic No Pain' in 2020.
2 years on from that and almost 2 years in the making, her debut album 'Out of Heart' is a body of work brimming with brutal honesty and euphoric production. Across 12 tracks, executively produced by industrial hip-hop innovators God Colony and the aforementioned Speech, fans can expect to see the most vulnerable yet enduring version of Flohio yet.
Speaking about the upcoming album's sound palette and its significance, Flohio says: "I grew up around the time of games like Playstations and Nintendos; I'm bringing back the nostalgia of me in my living room playing games with my friends at age 10. Game soundtracks like Final Fantasy and Super Mario. I wanted [Out of Heart] to speak to my inner child and where it all started while bringing me back to now and who I am today."
Stream 'SPF' below or listen with your preferred player here. Pre-order 'Out of Heart' here.
Read next: ATO and Flohio join forces on ice-cold 'no caroline' remix