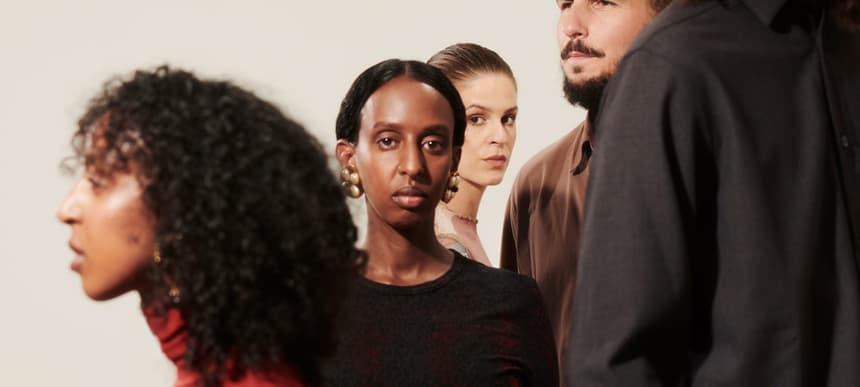 03.11.2020, Words by Felicity Martin
Premiere: Sirens of Lesbos loop in Theodor Black for 'Palm Trees'
It's a swirling, hypnotic cut from the Swiss five-piece...
Sirens of Lesbos are a five-piece collective based in Switzerland making genre-blurring sounds that tap into soul, jazz, euphoric disco and more. The group started out with the intention of writing an Ibiza hit for fun, and now are a fully-fledged band.
They're set to release their debut 12-track album 'SOL' this Friday, a record which promises to link their electronic music past with a love of hip-hop in all its many facets, from the Fugees and Mos Def to J.I.D and Rosalía. With these diverse influences in mind, last year we asked the quintet recently to name their favourite non-English international pop hits.
Album single 'Palm Trees' finds vocals from rising lyricist and producer Theodor Black, whose 'Slow Burns/Anxiety' and 'Had Enough' we released via our DMY Artists, and demonstrates the group's knack for making perfectly-formed, swirling music that you can't quite pigeonhole.
Of the track, Sirens of Lesbos say: "'Palm Trees' is a tropical, feverish dream. It takes up topics such as reincarnation, deja vu moments, daydreaming and the multiverse theory. When we finished the pre-mix, we all knew that the song wasn't complete. So we contacted Theodor via IG, he went to the studio and completed it. It was an intuitive, elegant and super efficient process."
Listen to 'Palm Trees ft. Theodor Black' below.
Sirens of Lesbos's 'SOL' is out this Friday – pre-order it here.