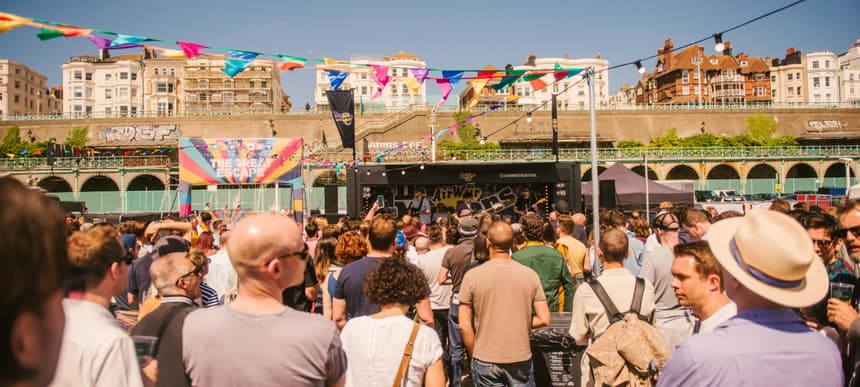 26.04.2022, Words by Billy Ward
Casisdead, Sainte and Jeshi among the 500+ artists locked in for The Great Escape 2022
The Brighton-based festival is all about showcasing the most exciting up-and-coming talent in music
Returning to the pebbled beaches of Brighton this May 11-14 with another mammoth line-up of over 500 artists, The Great Escape has shared its full festival and conference schedule for 2022, available with their gig planner here.
The East Sussex event will be kicking off the festival season in 2022 with a huge selection of exciting up-and-coming artists, playing alongside the more established names who are tearing up the UK scene right now. Some highlights include the enigmatic masked-rapper Casisdead, Leicester's newly emerged rap prodigy Sainte, Pip Millett and Luton rapper BXKS.
Taking place across 35+ walkable venues and encompassing a huge variety of genres and music styles, The Great Escape has released a mobile app to help festival goers navigate the line-up, allowing them to build their own personal schedule so they never have to miss a beat. The app is available for free download here.
As well as announcing a new partnership with Amazon Music, who will take over the seaside main stage and host the likes of Frankie Stew and Harvey Gunn, Sinead O'Brien and Priya Ragu, the festival has revealed further 2022 stage hosts from platforms including BBC Music Introducing, independent music company Transgressive, talent agency ATC Live, and the addition of a Download Festival stage.
For the after-hours ravers out there, The Late Escape will be returning to the festival this year, playing host to a number of dance and electronic artists across Friday 13th and Saturday 14th May, including British MC and rapper Bru-C, female DJ collective Girls Don't Sync, drum 'n' bass duo piri & tommy, drum 'n' bass producer Alcemist, and more.
Outside of the standard festival schedule, The Great Escape is also hosting two special standalone shows. On Friday 13th May, Tems will headline Brighton Dome Concert Hall with support from Enny and Gabriels, while on Saturday 14th May, TikTok will present ArrDee, Dréya Mac, piri & tommy and Cassyette at Concorde2.
While these shows require separate tickets, those who have purchased a 3-day or single day festival ticket for the day of the show can register for the chance to receive a free ticket here.
Be sure to check out The Great Escape website to find out more about the artists, stages, labels and brands being showcased at this year's festival, as well as the schedule for the 2022 conference, which will explore the ins and outs of the music industry across a number of talks and events.
Tickets for The Great Escape festival are available now and are on sale here.