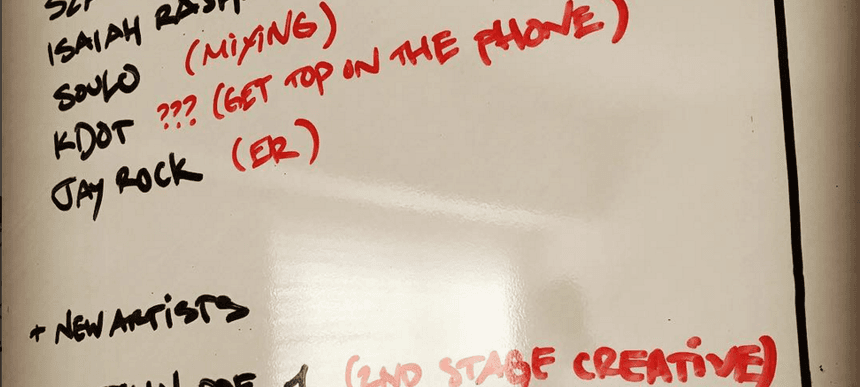 01.03.2016, Words by dummymag
Top Dawg Entertainment hint at a 2016 Kendrick Lamar album
Top Dawg Entertainment boss Anthony Tiffith has hinted that a 2016 release from Kendrick Lamar is on the way.
Posting on his personal Instagram yesterday, Tiffith snapped a picture of TDE's release schedule for the year with comments and notes assigned to their artists and the current status of each work. Next to Kendrick Lamar's name it says, "??? (get Top on the phone)", while it also shows that Schoolboy Q's next album is waiting for a sample clearance and SZA's album is at "4th stage creative" – check out the image above.
Last month, Kendrick Lamar explained in an interview before his Grammys performance that his recent habit of debuting untitled and unreleased songs during television appearances is his decision to recycle songs from a "chamber of material" left off 2015's 'To Pimp A Butterfly':
"You see all these performances on these late night shows—I got a chamber of material from the album that I was in love where sample clearances or something as simple as a deadline kept it off the album. But I think probably close to ten songs that I'm in love with that I'll still play and still perform that didn't make the cut."
Listen to Kendrick Lamar's feature on Kanye West's No More Parties In LA above.
Kendrick Lamar's recent album 'To Pimp A Butterfly' is out now through Top Dawg Entertainment/Interscope (buy).