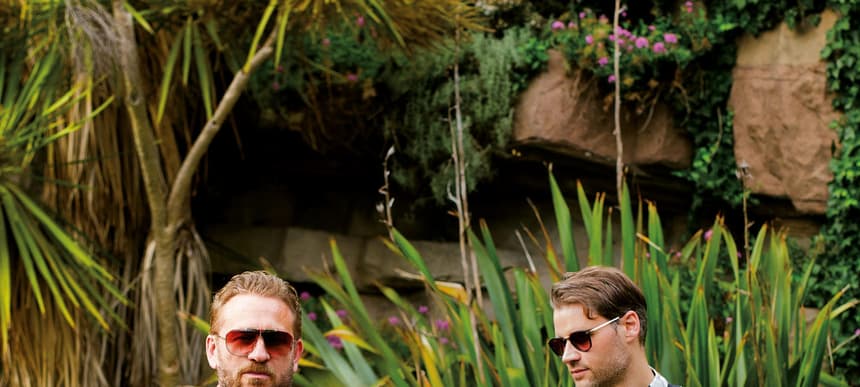 15.01.2020, Words by Felicity Martin
The 10 Best Esoteric Anomalies, according to Psychemagik
"A lesson in remix perfection..."
Known for their compilations of rare tunes, Psychemagik are the UK duo continually on the hunt for overlooked gems. As much crate-diggers and DJs as they are producers, the pair recently released their 'I Feel How The Night Should Look' album, a record which delves into dreamy, orchestra-backed jazz and beyond.
The duo are known for their vast record collections, and one half of the duo – Danny McLewin – dusts off some of the pair's favourite esoteric anomalies, despite differing tastes. "Tom and I, despite having often different points of reference musically and inspirationally, have managed to secure and create an alchemy between these points," Danny says.
"Tom was more house and techno, where as I was more into psychedelic music, deep soul, reggae and disco. With folk music, we met in the middle somewhere. Here's some of the tracks we were zoning out to when we first met, many of which became inspiration for the album."
1. The Byrds – 'Bad Night At The Whiskey '
"Seminal slice of rock and roll hall of fame by the Troubadours of Folk Rock, faultless and heartfelt tales of woe and life from this monumental band who have more jams than a faulty ink printer. Warms the soul, invigorates the heart, perfect late night soul searching. I wish some of our worst nights sounded this good."
2. Egyptian Tomb – 'Mighty Baby'
"This encapsulates the transition from the post Action mod sound into the 20th century consciousness and mindful colourful psych/progressive music soon to permeate the switched on minds of the early '70s. Beautiful melodies and structures. Tom was living above Superdrug in Canterbury and I moved in so we could make music non-stop. This track conjures up vivid memories of redecorating the entire flat to this track on constant rewind."
3. The Pawnshop – 'My Shade'
"Coming out of Italy in 1971 by The Pawn Shop, one of library legend Alessandro Alessandroni's pseudonyms. When it comes to top drawer Italian music within the Library/psych beat calibre this is pedigree. It appeals to those aware of its cache as much as those leaning in curiously to the magic within. Perfect tune, alas still not fully recognised."
4. The Makers – 'Don't Challenge Me'
"The Makers have a certain way of drawing you in on familiarity but also leaving you in awe that you don't actually know anything. What the hell is this? This offbeat stand alone is a perfect hybrid of a band channeling all that we like but cloaked in a totally unique style. Sounds like the Meters kicking it with a hugely sedated Betty Davis via a time machine made of lysergic crystals. Best psych/soul track of all time? Probably…"
5. Alan Hawkshaw – 'Oddball'
"Coming off the much-loved Themes International library label here we have two of the UK's finest sessions players Alan Hawkshaw & Brian Bennett preempting effectively what would be known as trip-hop. The interplay between the drums and synth (which is weighty and heavy) is phenomenal, this is a perfect example of when musicians are given pure artistic licence to create pure dialogue and just incredible sounds."
6. Luv Machine – 'Everything'
"Luv Machine had something special and although it's pretty hard psych they had a real warmth in many of their songs. Probably due to their Caribbean roots via Barbados. This euphoric ray of sunshine still resonates now as much as ever. We first heard this gem via Godsy aka Cherrystones who hipped us to so many good tunes and also gave us the Jodorowsky inspiration/project name. Mad love the the original G!!"
7. Peter Green – 'Slabo Day'
"Legend Peter Green of Fleetwood Mac showing his dexterity and limitless talent post Mac. Do you know anyone who does not love this early now-established Balearic classic? Stoned and sunset evoking horizons, beautiful expressive axe-work and a calm and gentle feel that is as informed as his incredible talent. Beautiful music that still plays the heart strings."
8. Headless Heroes – 'The North Wind Blew South'
"Incredible nostalgia here, heavenly vocals riding on top of such beautiful strings which sit pitched against a dreamy arrangement – this never fails to give us both goosebumps. This cover of the Philamore Lincoln lost classic is given total justice which is a tall order."
9. Caribou – 'Melody Day (Four Tet Remix)'
"Such restraint in the remix is a real learning curve, and here Four Tet demonstrates a sympathetic approach and care for the original while not hindering its intent. More realistically embalming it and letting the colours within flourish and be reborn, the guitar melody and chimes have a haunted feel but the truth lies in its ability to recall emotion than dismiss its original destination. This is more of a baptism than an announcement of self. A lesson in remix perfection."
10. Copt Gliders – 'North Sea Radio Orchestra'
"Incredible modern music who wistfully channel the more pastoral and coastal inhabited aspects of folk. You can almost feel the clean sea air in the music as much as visualise swarms of birds and clouds gathering. In essence, it's very visual music that evokes great landscapes in our minds to allow calm and peace within."
Psychemagik's 'I Feel How This Night Should Look' is out now.