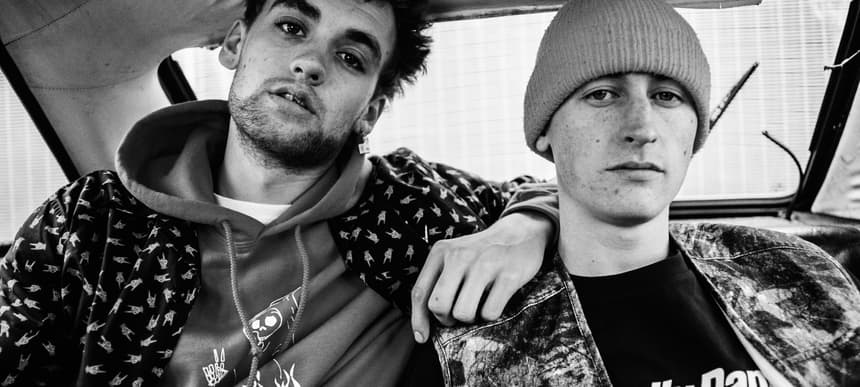 14.11.2019, Words by Felicity Martin
The 10 Best New Acts Coming Out of Brighton, according to Para Fiction
"These guys are all representing the true independent underground movement..."
Brighton has always been a place synonymous with music, and rising duo Para Fiction – like many other acts before them – emerged from the creative seaside hub. Drawing parallels with golden era Beastie Boys, the unruly duo is rapper James and producer Jules, who both grew up on a diet of punk rock before meeting each other at a drum 'n' bass night.
Recently dropping their 'Episode 2: Epidemic' EP via Parasitic, the record combines influences including '80s prog-rock and poetic hip-hop, delivered with their raw, DIY spirit. Having already shared the stage with the likes of JPEGMafia, Black Josh, Skinnyman, CHLOBOCOP and Slaves, Para Fiction are well at home amongst other acts injected with punk spirit. Below, they select their ten favourite acts emerging from their hometown.
1. BADOR
"The YG Bador dropped his debut EP 'Seasons' this summer. It's a super chilled collection of self-made tunes and beats from Noyang. Definitely give the whole EP a listen and keep your eyes peeled for future music."
2. Dereck D.A.C
"Dereck is a true independent artist, he makes everything himself, even this video. He's got a lot of music coming with us very soon, so keep an eye open."
3. Yadasofi
"Yadasofi are a Middle Eastern jazz outfit. They've been going for a few years and have really picked up momentum. Nadav Schneerson (drums) and George Richardson (double bass) front the project and are constantly involved in the Brighton scene and have been listed as ones to watch in Brighton."
4. Nokia Mansion
"Badrr and Sly Fieri coming with the flames on this one with Sly Fieri doing the visuals himself. The video's out now so go check it out as well. These guys are all representing the true independent underground movement."
5. CMPND
"CMPND bring a super unique sound to the UK hip-hop scene, with an absolute slapper on this one. These guys have been doing their own thing since day and it's always worked for them. Make sure you check out the album 'Eagle Court'."
6. SLY FIERI
"SLY FIERI with his solo project out now and again the self-made visuals. Keep your eyes peeled for the 'FLAMEBOY ADVANCE' EP dropping soon."
7. Verbz
"Verbz is from Croydon but he's been a big part of the Brighton scene for time. Make sure you check out his 'Lessons Of Adolescence' EP with Mr Slipz for some more flames."
8. Harvs Le Toad
"Harvs is a sick lyricist and producer, and this album slaps!"
9. Renelle 893
"Renelle's got some bangers and we've got some tunes on the way with these guys that are sounding lit. Check out his other tunes and freestyles on YouTube."
10. Para Fiction
"We made this tune ourselves and filmed the video with our mates. It's about going past the point of no return and people waiting for things to happen without getting up and acting on things. The clocks are always ticking away and at some point it will be too late, if it isn't already."
Para Fiction's 'Episode 2: Epidemic' is out now via Parasitic – buy/stream it here.