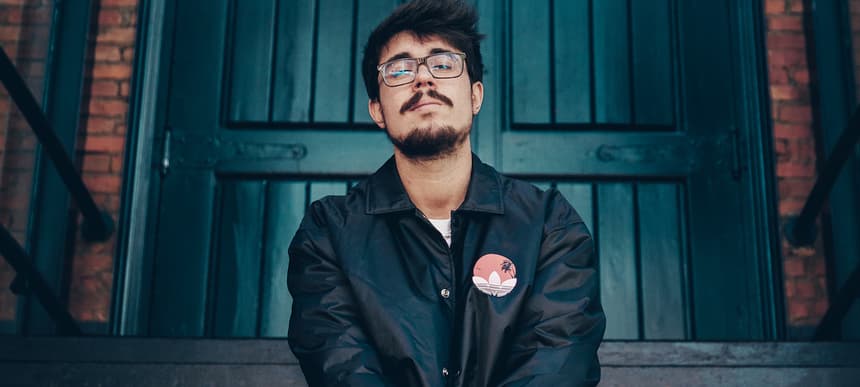 03.02.2020, Words by Felicity Martin
The 10 Best Examples of the 'New Lisbon Sound', according to PEDRO
"One of the most talented producers I've ever seen in my life..."
Lisbon has long been a hotbed for electronic music, with an exciting club scene that's made it a go-to destination for partygoers. At the forefront of its blossoming club scene are pioneering producers like Branko and labels like Enchufada with a focus on raw, percussion-focused sounds. Hailing from the suburb of Damaia, PEDRO is one of these artists, and something of Branko's protégé.
Incorporating the sounds of tarraxo, kizomba and kuduro into his club-centred constructions, he's been a key member of the Enchufada family since 2017 when he established himself with his 'Damia 2.0' EP. He's just released 'Calores', a wide-eyed percussive jam and the first taste of his 'Da Linha' debut album, set for release in March. As one of the purveyors of this 'new Lisbon sound' that we're seeing more and more of, below PEDRO has named ten of the best tracks of this burgeoning strand of music.
1. Branko ft. Dino D'Santiago – 'Tudo Certo'
"This track by Branko, featuring Dino D'Santiago, is maybe the best response I have nowadays when people ask me what's currently the sound of Lisbon. Branko, in my opinion, is one of the main figures that led this new generation of artists to seek new sounds, breaking down barriers with connections between genres and cities throughout the world. He released his second album in 2019, called 'Nosso'."
2. Dino D'Santiago – 'Fogo (Nu Fazi)'
"Dino D'Santiago is, nowadays, one of the main figures and the portrait of this 'new Lisbon sound', combining elements from a lot of places and transforming them into one unique sound. Maybe the best live performer I've seen for the past couple of years in Portugal, in 2018, he released 'Mundo Nôbu', that, in my opinion, is one of the best records that I've heard and that I got the chance and pleasure on working on."
3. Dotorado Pro – 'Sweet Afrika'
"Dotorado Pro is one of the most peculiar and special artists in Lisbon at the moment because everything he releases is a club banger. His melodies are really hypnotic, the rhythms he makes won't let you stand still and you can be sure that if you play one of his tracks at the right moment, it's guaranteed you'll get an awesome reaction."
4. Conan Osiris – 'Coruja'
"Conan Osiris is an artist from Cacém, Linha de Sintra, and he's one of the most talented producers I've ever seen in my life. I've been following him for such a long time and it's amazing to see that nowadays he's one of the main figures of the sound of the city and one of the most special acts there is."
5. Julinho KSD – 'Sentimento Safari'
"Julinho KSD is young singer and rapper from Linha de Sintra who is responsible for some of the biggest hits of 2019 in Portugal. Tracks like 'Sentimento Safari', 'Vivi Good' and 'Hoji N'Ka Ta Rola' have gathered millions of streams on Spotify and Youtube, making him one of the biggest wonders of this sound Lisbon is living."
6. DJ Nigga-Fox – 'Talanzele'
"Nigga-Fox is one the most unique producers that I've ever seen. You can tell when a track his produced by him just by listening to it for a couple of seconds and that's an amazing thing because he has such a specific identity. With a new album on Principe called 'Cartas Na Manga' and releases on labels like Warp, he is and stays one of the main and leading figures of the Lisbon club scene."
7. Nenny – 'Bússola'
"This young girl has been making a lot of buzz since the beginning of 2019, dropping tracks like 'Bússola' and 'Sushi' and she's slowly becoming one of the main female artists of the city. One of the most interesting paths I've seen an artist make last year."
8. Apollo G – 'Tempo Antigo'
"Apollo G is a rapper that comes from Queluz, Linha de Sintra, and is one of the main afro-trap artists in Portugal. Besides that, he has a really energetic live show that will get into your skin, blending Portuguese, Creole and English lyrics into one great package."
9. Mayra Andrade – 'Tan Kalakatan'
"Mayra Andrade is a Cape-Verdian artist that's responsible for making some of the best lusophone music throughout the years. In 2018, she released an album called 'Manga' that's possibly one of the best records including afrobeat, Cape Verdean rhythms and the Lisbon Sound, that I've ever listened to. Also, she has a terrific live show."
10. Pedro Mafama – 'Lacrau'
"Pedro Mafama is an obvious result of everything I've been talking on this list. Bringing sounds and influences from traditional Portuguese music and blending all that with a lot of different rhythms and electronic music, makes him one of the most exciting new artists in the scene right now. 'Lacrau' is a track I've made with him that contains all that I've described before."
Listen to PEDRO's 'Calores':