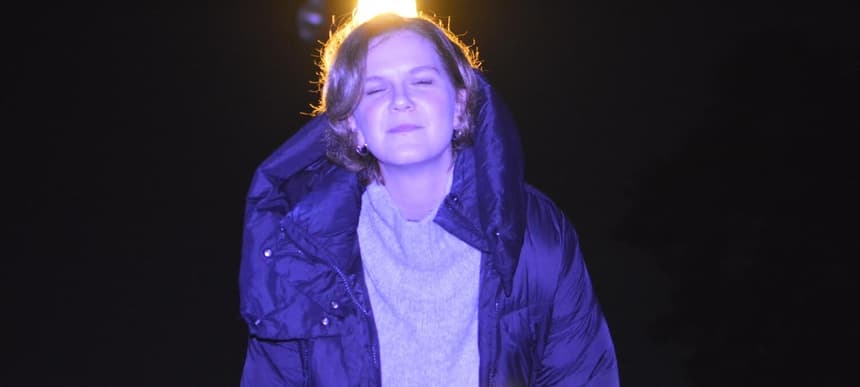 13.05.2021, Words by Felicity Martin
The 10 Best Tracks To De-Stress To, according to Violet
"People who know me are aware I go on about this track a lot. And here I am again!"
If there's one thing that we can agree on, it's that people's mental health has been tested over the pandemic, with everyone adjusting to new difficulties. This week is Mental Health Awareness week, and the organisation Mind has emphasised the need for mental health support at the moment, with millions of us experiencing a mental health problem or witnessing a loved one struggle. Issues with musicians' mental health have been well-documented, with studies showing that musicians are three times more likely to face mental health difficulties than the average person.
Mind wants to do something about this, and so has published a new set of guidelines for the music industry in collaboration with Ninja Tune, Paradigm, Percolate and Poly, including guides specifically for organisations, artist managers, employees and freelancers. "No two days are ever the same in the music industry," Ninja Tune's Kyra Santiago says. "With such a huge diversity of roles, responsibilities and relationships, everyone's wellbeing can be affected in so many different ways. This last year has definitely been a challenge to say the least, and we know we're not alone in saying that."
naive label head Violet has long been a champion of understanding and supporting mental health. The Portuguese DJ and producer understands the importance for musicians and those in the industry to take the time to work on gaining a healthy headspace, and has teamed up with Mind previously. In line with Mental Health Awareness week, we asked Violet to talk through her favourite tracks to de-stress and get some mental space to.
1. DJ Lycox – 'Solteiro'
"Lisbon royalty DJ Lycox can do no wrong and in this piece he really channelled that celestial optimism that we all strive for. It warms your whole body, this one – it feels taken straight outta the archetypal source of loving energy that keeps us alive and going."
2. Solange – 'Losing You'
"Any Solange track would be a great option, but i'm gonna go back to what feels like her first real-real single back in 2012. The pads are so warm and lush, and the melodic progression is nuanced and really eases my mind and senses. Out to Blood Orange for the amazing production. Solange's vocals are just as beautiful, honest and vulnerable but still very deliberate."
3. Hole – 'Celebrity Skin'
"Tackling anxieties, frustrations or stress also involves a bit of catharsis and this track is one of my favs for that. Maybe it's the teen memories attached to it, maybe it's just cause it's a dope song that has just enough sass, irony and California rock 'n' roll energy to make us feel like we can overcome whatever obstacle comes our way."
4. Jurassic 5 – 'If You Only Knew'
"A classic retrospective track that looks back at a band's efforts and vision that fills me with a dual feeling: not taking oneself too seriously while putting in the work – all through a lens of love. It's also kind of sassy and cool in its generosity, which is dope. I'm a sucker for a piano hook on a dope boom-bap beat. And these are some of my fav rappers: so crisp and fun and intelligent. The lines are so honest and concise in their multiplicity, I love it: "If you only knew / The trials and tribulations we been thru / But if you only knew / We're real people homie just like you / We humble / But don't mistake us for some corny ass crew / What we do / Is try to give you what you ain't used to – soul music something we can all relate to."
5. Claro Intelecto – 'Peace of Mind'
"People who know me are aware I go on about this track a lot. And here I am again! But in all honesty, how could I not? The title is very appropriate, and the song really delivers what it promises. The long, scintillating intro gives way to a warm bass synth that sings to you while it hugs you (I swear) – an introspective and tender dance-not-dance track that makes me feel less lost each time I go back to it."
6. Edward Artemiev – 'Meditation (Tarkovsky's Stalker OST)'
"A meditative piece with experimental sound-making alongside traditional instruments. It's the soundtrack to an unsettling, mysterious but ultimately deep and beautiful movie, and it takes me back to watching it slowly progress, mesmerised by the images, sounds and words."
7. Tinashe – 'Life's Too Short'
"This whole album kept me company for hours on end, pre-pandemic – in and out of planes and clubs and things, which could be overwhelming for a generally shy person like me – having this on my headphones really did help me ease my mind and coming back to it felt so comforting. It still does. This song with the beautiful lyrics, wildly good vocals, magical vocal choirs towards the end, plus the shimmery instrumental, got me in goosebumps every time, believing there are still reasons to smile amidst the confusion that life can trap our heads in."
8. Brian Eno – '2/1'
"The record that includes this track really is iconic for a reason. To me it feels like it pours out all the beauty one can absorb. All tracks are masterpieces but I'm gonna suggest this one as a particularly spot-on one for a moment of letting go and finding something bigger than our bodies/worries/pains. The vocal choirs with their clean, harmonic digital quality really take you to a plane that feels heavenly – that's the only word to describe it. It's like those new age relaxation tracks (I love them, by the way) but reduced to the their essential juice."
9. Photonz – 'No Body'
"I know I'm biased but this might be the most beautiful piece of music I have ever heard. It speaks of hope but also cries alongside you with no judgement until the tears become redundant and you're reminded that life is nothing but a passage, that love is eternal and pain temporary."
10. IAMDDB – 'End Of The World'
"'The world is ending but my love grows for you,' IAMDDB sings on the chorus. What could resonate more than this in a pandemic hellscape of an era where bonds between people seem like the only real life-saver we can lean on? The minimalist instrumental has so much substance and is a total vibe-setter. All of this track is pure loved-up stoner bliss, such an accomplished work of art."
If you are struggling with mental health issues, here are some links to services that may be able to help: samaritans.org, giveusashout.org, mind.org.uk.