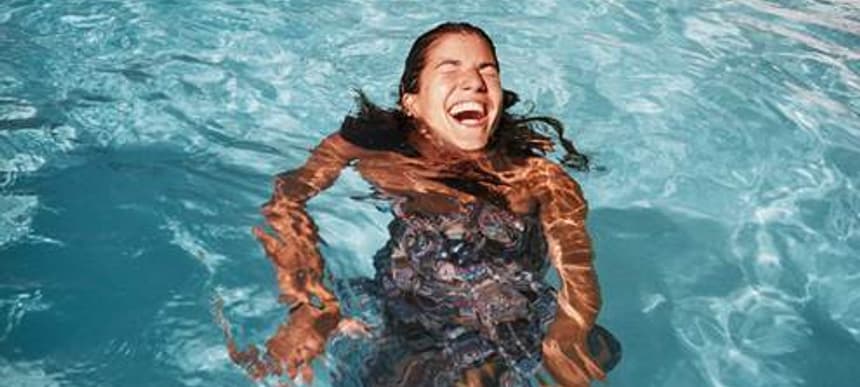 20.05.2014, Words by Anthony Walker
The 10 best tracks for festival sunsets, according to Nadia Ksaiba
Can you feel that? Yes, we're on the verge of the summer festival season, which amongst the endless stretches airport lounges, train platforms, and windbreakers, also holds the promise of glorious pockets of sunshine and truly unforgettable music moments. The sunset hour is a particularly rich time of the day for such transcendental feelings, and we thought who better to guide us through it than Nadia Ksaiba, the London-based DJ/singer/producer with an ear for funk and disco plus last year's excellent single Virtual Lover under her belt.
As she embarks on her own festival scedule – with Plisskën in Athens, Greece next up in early June – her top ten tracks for festival sunsets go heavy on sun-kissed vibes of KC & The Sunshine Band, Inner City and early Madonna, but also leaves room for the moody EBM of Nitzer Ebb too.
Marcus Cabral & Shux – Lifetime Groove

Nadia Ksaiba: "The team behind MJ (minus Quincy)'s Balearic boyband funk, check the dubbed out epic edit of New Edition's Once In A Lifetime Groove from Marcos Cabral and Brennan Green for twelve minutes of feel good sunshine vibes."

Madonna – La Isla Bonita

Nadia Ksaiba: "It's all in the title. This is the ultimate holiday song and surprisingly gets a great reaction whenever I've dropped it on a sun-kissed whim. This one was rejected by Michael Jackson, but Madonna heard it and added a Latin twist."


D.J.F.T. Band – Fun Funk

Nadia Ksaiba: "Italo funk made for dancing. This is perfect for the outside Rizla stage at Bestival, or any rainy sunset at a UK festival, because of its personality."


Nitzer Ebb – Join In The Chant

Nadia Ksaiba: "This one is more for dusk and getting ready for all the harder late night sounds – funky industrial. It's one of the many Phil Harding/PWL Balearic classics."


Inner City – Big Fun

Nadia Ksaiba: "A singalong dance classic. It could be this or Good Life."


Larry Heard – The Sun Can't Compare

Nadia Ksaiba: "Sunset Acid."


Change – A Lover's Holiday

Nadia Ksaiba: "A feel good sunset disco classic. It's always good to watch a legendary band like Chic or Kraftwerk for the sunset. Bestival is good for that."


The Mole – Lockdown Party (DJ Sprinkles Crossfaderama)

Nadia Ksaiba: "The party's pumping, the dancefloor's warming, and this track just embodies this and the last hour of sunshine."


Marquis Hawkes – Get Yo Ass Off My Grass

Nadia Ksaiba: "When it's lights down, it's time to jack, so we need some cowbells and something pumping. This sounds like tounge in cheek homage to the Junior Vasquez classic Get Your Hands Off My Man, but I've played that to death already."


KC & The Sunshine Band – Get Down Tonight​

Nadia Ksaiba: "Sunshine funk from Miami, setting the tone for the rest of the evening, no doubt."
Phantasy Sound released 'Virtual Lover' on 23rd September 2013. You can catch Nadia Ksaiba DJing at Plissken Festival in Athens, running on 6th and 7th June (full details and tickets here).