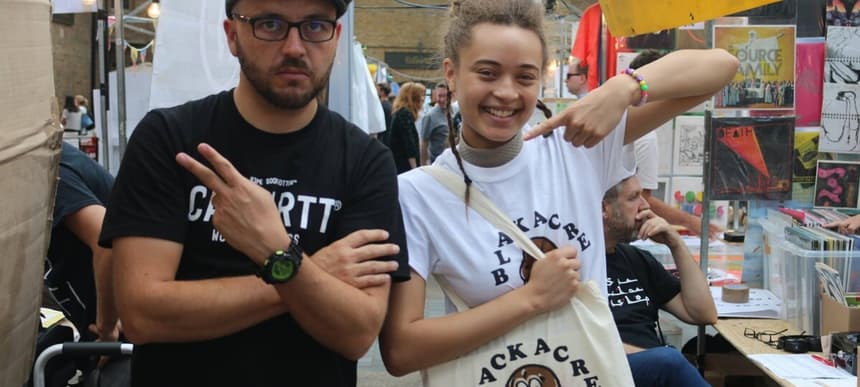 19.12.2017, Words by dummymag
10 of the best Black Acre tracks, according to Black Acre
You can achieve a lot in 10 years, but sometimes it is what you do in that time frame that makes you stand out. After a decade in the game, Black Acre continues to go from strength to strength. Founded in 2007, the imprint has hosted everything from Dark Sky, Commodo and Dan Shake through to new school names like Romare, Prayer, Rocks FOE and more – the realest hip-hop and rap to the bounciest house music. In conjunction with their 10th anniversary, label bosses Ian Merchant and Eva Greene sat down with us to break down 10 tracks that have defined Black Acre over the years, both old and new, which say much about where the label came from and where it is going. Over to you, guys….
Blue Daisy – Space Ex (2009)
Ian: "This was the moment I found my direction for the label. I clearly remember the first time I played this and was desperate to get this guy on the phone and work out what the hell he was thinking. Great producer, incredible human and friend for life."
Akira Kiteshi – No Glitch (2009)
Ian: "Akira Kiteshi was often misidentified as a jump up producer, he's a proper sound scientist and when I found him he was breaking hip-hop to pieces. He went on to mix a couple number one records and got two Grammy nominations, he's a solid guy with a long catalogue with lots of secret pseudonyms…he came to my wedding in a kilt with a dagger in his sock."
Fantastic Mr Fox – Evelyn (2010)
Ian: "Last of the magic three is FMF, with Kwes & Tommy. They got me through some of the most difficult times in my life and gave me the strength to keep Black Acre alive when all seemed lost. I consider these guys to be the foundations of Black Acre."
Romare – The Blues (2012)
Eva: "I've long been a collector of hip-hop and house tracks with flute samples and this is definitely in my top three of all time. This was released the month I joined Black Acre and hearing it was a strong deciding factor in making the move!"
Clap! Clap! – Kuj Yato (2012)
Eva: "We knew we had to release Clap! Clap!'s debut album after such a quick reaction to the Tambacounda EP which sold out after several pressings. The last song on the LP, 'Kuj Yato' was never officially pushed as a single but quickly became a firm favourite. The talented young director and animator Wild Wilou and Loup Blaster approached us to do a video, and since then Loup Blaster has made more videos for us and toured with Clap! Clap! providing the most amazing visuals!"
Connie Constance – Answer (2015)
Ian: "Con is a polymath with relentless energy and drive, when I first heard her tracks I was besotted with the way her imagination crashed against her blunt lyricism."
Wallwork & TSVI – Facts (ft. Nico Lindsay) (2016)
Eva: "I received a demo of 'Facts' by email and put it on the speakers, Ian ran in from the other room to ask what it was! We signed it within minutes of receiving. As a label, you can't beat the excitement of those first moments when you realise you've just been sent something you love."
Jun Kamoda – Blind Disco (2017)
Eva: "Jun approached us because he's a big fan of Clap! Clap!, but as a fellow hip-hop refugee and sample digger, he's one of the most 'Black Acre' artists on the label. His incredible 'Solid Steel' mix was a live set recorded to 4-track cassette. What a dude! Watch out for his debut album in 2018."
Prayer – Decline (2017)
Eva: "When Ian first played me Prayer's music I told him I couldn't give a true strategic opinion because I loved it so much. Probably still true. He's a talented young artist with plenty more to come, and whatever he releases I know I will end up listening to it on many late night trains between Bristol and London."
Rocks FOE – Nitty Gritty (2017)
Ian: "Another debutant who I think will go on to change the earth. I found Rocks trawling the internet for someone to contribute to Commodo's album, but went on to do so much more together. Hand on heart my favourite rapper from the UK. Currently underrated but time heals all."
Check out Dummy's curated playlists on Spotify.