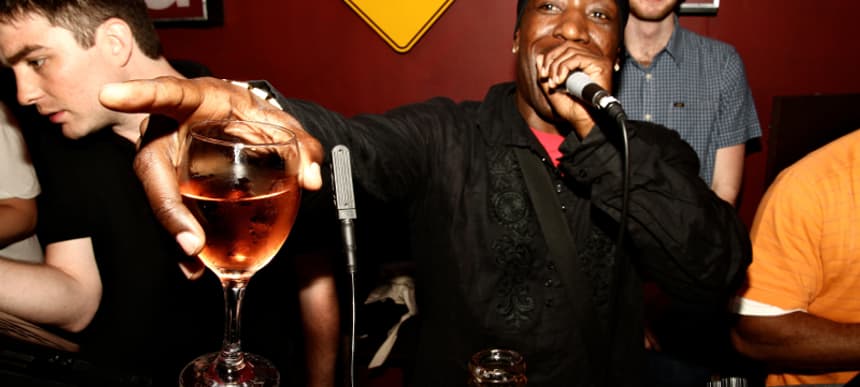 20.08.2013, Words by dummymag
10 tunes for Notting Hill Carnival, according to The Heatwave
The Heatwave are some of London's finest selectors. You'd be hard pressed to find a group of their stature with such an in-depth knowledge of soundsytem music – bashment, reggae, soca, dancehall – and such fine tastes when it comes to setting a dancefloor on fire. In anticipation of Notting Hill Carnival this bank holiday weekend – and their own warm-up party at Camden's Koko on Satuday 24th August – they've counted down their top 10 tunes for the weekend – "five 2013 anthems and five all time classics", in the words of Gabriel Heatwave.
Charly Black & J Capri – Wine & Kotch
Gabriel: The biggest bashment tune of the year. Has the most insane bassline: you will hear it from three streets away and you won't be able to stand still.
Popcaan – When Mi Party
Gabriel: One of Popcaan's raving anthems, this is all about getting drunk and having fun so it's perfect for carnival. The chorus sums up The Heatwave way of doing things: "when we party, we don't hold back".
RDX – Jump
Gabriel: Guaranteed to provoke scandalous dancing! Say no more.
Bunji Garlin – Differentology
Gabriel: The song you will hear pumping from ALL the soca floats. Early 90s rave piano, Spanish guitar lines and a rousing singalong chorus. One of those ones that will be stuck in your head the day after carnival.
Stylo G – Soundbwoy
Gabriel: South London bashment star don Stylo took this to the charts a few months back, scoring a top 20 hit but also a massive underground anthem. The first UK dancehall artist to chart in years and a great look for the scene.
Elephant Man – Pon Di River (2002)
Gabriel: Joyful, uplifting, fun-loving dancehall at its best. Everyone knows the dance to this as well so it always causes mayhem at carnival.
Sizzla – Just One Of Those Days (2003)
Gabriel: Simply a perfect song, so beautiful.
Damian Marley – Welcome To Jamrock (2005)
Gabriel: This was inescapable at carnival in 2005. Every car, every truck, every soundsystem was marching out to the sounds of Bob Marley's youngest son.
Tony Matterhorn – Dutty Wine (2006)
Gabriel: Girls LOVE this tune. From the opening line "attitude gal", it fills any dancefloor and scenes of reckless abandonment soon follow.
JW & Blaze – Palance (2010)
Gabriel: The song (and dance) we love to close our sets with. If you've ever raved with The Heatwave you will know how much fun this dance is and if you haven't then you need to get to know!