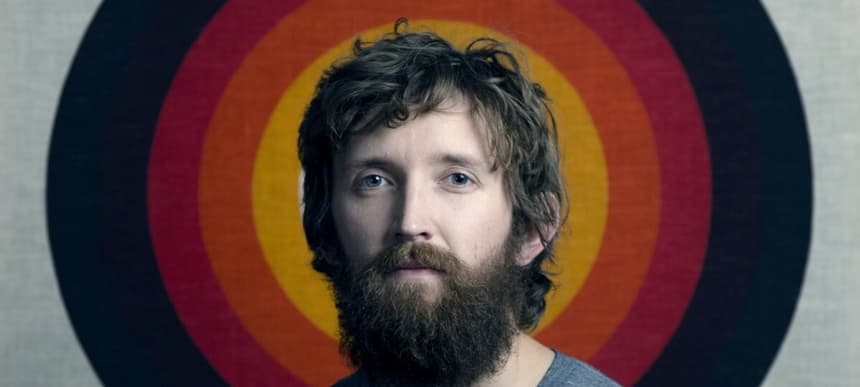 17.12.2015, Words by dummymag
10 underappreciated modern day sex jams, according to Nick Sanborn
One half of North Carolina based duo Sylvan Esso, Nick Sanborn, launched a new project this year. Going under the name Made Of Oak, Sanborn's new strain of music is inspired by hip hop and electronica, which was unleashed to the world via his 'Penumbra' EP on Partisan Records in early November and. A laidback five-tracker, it's a twinkling smörgåsbord of rich instrumentals perfect for Sail Away style candlelit bubblebath listening, or maybe as Nick Sanborn's list theme suggests…late night creeps.
Yes, to (belatedly) mark the release of 'Penumbra' and wet the head of his new project, Nick Sanborn has collated the 10 best 'underappreciated' modern sex jams. From the driving soundtrack of Air's Playground Love through to the strip-club ready sounds of FlyLo's Tea Leaf Dancers, this list is bound to take you all the way (or at least get you het up to the point of lighting candles).
Read and listen below, or hook yourself up to our YouTube playlist.
01. Dntel feat. Mia Doi Todd Rock My Boat
Nick Sanborn: "The song that inspired this whole list. I mean, everyone knows Aaliyah's Rock the Boat, but how many people have found it's perfect companion piece? Dntel's Jimmy Tamborello is at his minimal best here, creating a textural, intimate space for Mia Doi Todd to inhabit. Where Aaliyah's take on this turn of phrase obviously (and wonderfully) skews more overtly sexual, Todd's inverts it to the far more gentle, possibly unrequitedI wonder if you were aware / How much / You rock my boat. Elsewhere, she tosses off one of the most romantic verses of all time:
So I went out on a limb
Thinking maybe we could swim
Into the river of light
Into the ocean of pain
Where angels get their wings
Where babies get their names
I mean come on."
02. Ida Shrug
Nick Sanborn: "I can't believe this album is 15 years old. What a jam. The whole record is crazy romantic (like most Ida records), but Shrug is the lone dark, semi-aggressive groove in a sea of gentle acoustic ballads. Also: that maraca. Also: that outro jam that is somehow evil despite the fact that it prominently features a melodica."
03. Tune-Yards Powa
Nick Sanborn: "Plenty of people talked at length about the frank sexuality of Beyonce's Rocket, but I'd argue that Merrill Garbus one ups Bey here on that front. This song is just so raw – it's both completely vulerable and self-assured. And that vocal solo at the end is powerful as well as tasteful, which isn't necessarily what you expect from an "ok, this part of the song is me having an orgasm" moment."
04. Air Playground Love
Nick Sanborn: "Air has plenty of songs to choose from that could fit on this list, but I personally think this one fits the bill better than most. They distilled the entire vibe of driving home with someone you've always loved after a long night out and just made it a song. It's perfect."
05. Lindstrom and Christabelle Lovesick
Nick Sanborn: "I could literally have picked any song off this record. The whole thing is amazing. Go buy it."
06. Flying Lotus Tea Leaf Dancers
Nick Sanborn: "Strip clubs are not my thing at all, but if a friend dragged me to one for a bachelor party or something and as we walked in someone was dancing to THIS? I'd probably become a regular."
07. Le Tigre Eau D'Bedroom Dancing
Nick Sanborn: "The rare sex jam that is both hot AND a lesson in generosity."
08. Bjork Union
Nick Sanborn: "I know, I know, Bjork is not at all underappreciated, but I do think this song doesn't really ever get discussed as a "sex jam", which it totally is. It's a song as complicated as most relationships actually are – she doesn't oversimplify her relationship to fit it into a song the way most writers (annoyingly) do. It's a wonderful celebration of lasting love."
09. Mr Twin Sister Blush
Nick Sanborn: "Is there even a real me / or am I just a series of nights?"That line kills me every time. I absolutely love Mr Twin Sister (and have since long before the "Mr"), and this most recent record of theirs is easily their best. Double bonus points for the entirely unironic saxophone lament."
10. Dri Two Are One
Nick Sanborn: "Ok, so this one is more of a pining, morning-after jam, but it's so well written I had to include it. I always love it when someone writes a song about a universal experience that hasn't really been written before. Totally heartbreaking. Dri, if you're out there, I think you're great."
'Penumbra' is out now via Partisan Records (buy / stream).