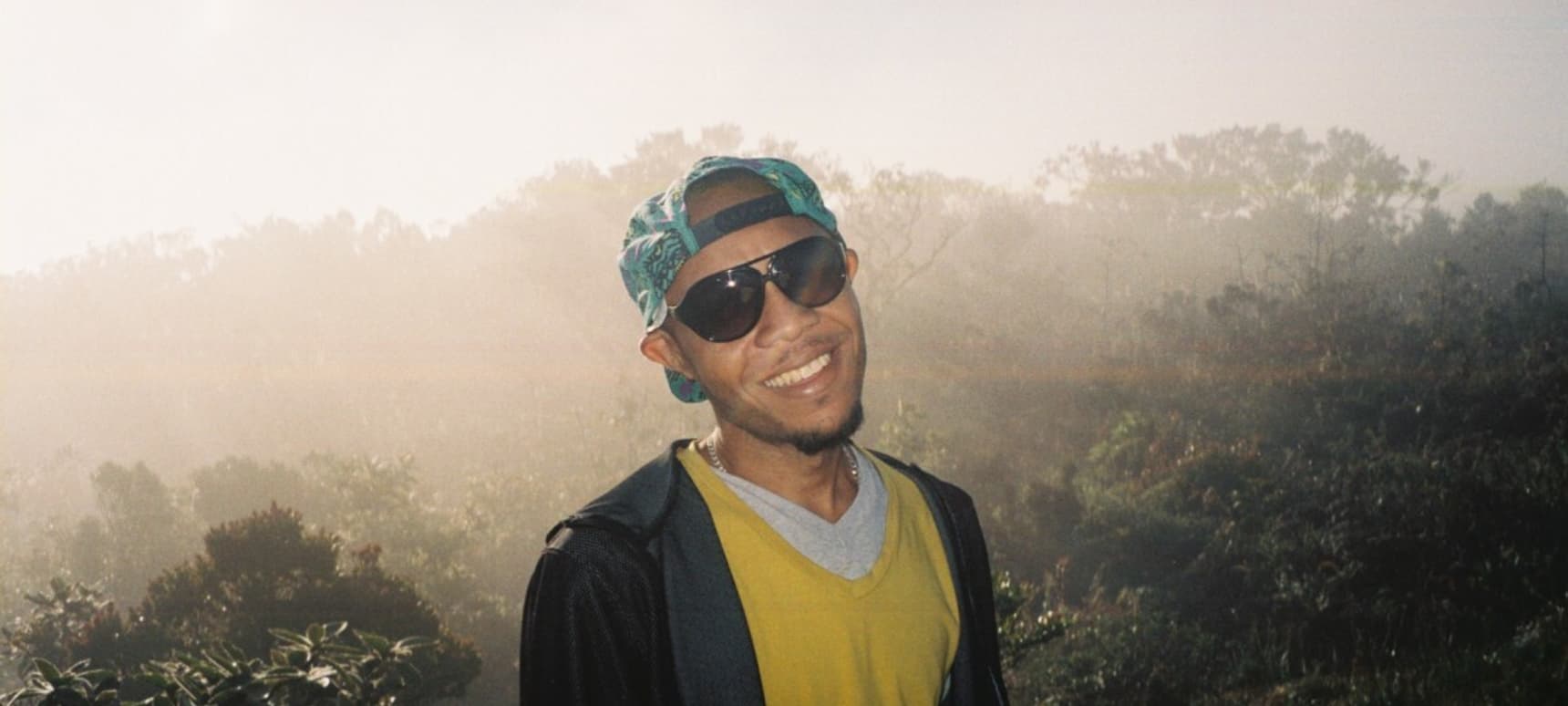 06.10.2016, Words by dummymag
The 10 best Bounty Killer collaborations, according to Gavsborg of Equiknoxx
After being championed by the godfather of Manchester Jon K and heralded by Boomkat as the "weirdest, most innovative dancehall squad from Jamaica right now," Kingston duo Equiknoxx are hot on the heels of global success after dropping the sunshine sounds of Bubble on Swing Ting this summer and signing to Demdike Stare's DDS label for their debut album, 'Bird Sound Power'.
A musical compendium, the release houses a host of Bobby Blackbird and Gavsborg's heavyweight riddims from the period spanning 2009-2016, darting from the vivid dancehall mutations such as A Rabbit Spoke To Me When I Woke Up to the insanely titled dubby cut I Really Want To Write On Her Purple Wall. It's basically a 2016 staple for anybody with a penchant for producer's whose output steadily challenges the norms to create genre-busting curveballs.
Heading over to British shores to kick off the second season of London club series Clock Strikes 13 this Friday, October 7th for DDS' first ever label showcase – the pair will join Micachu, Jon K, Demdike Stare, and Stephen O'Malley at Village Underground – we got Equiknoxx's Gavsborg to warm up by shower down some of his extensive dancehall knowledge on us. He went with what are in his eyes the 10 best Bounty Killer collaborations, from slide ups with dancehall royalty like Barrington Levy through to a hip hop don Masta Killa.
From first discoveries at school events through to headphone listening on his walks home, read through Gavsborg's selections below and dive into the collaborative world of one of Jamaica's biggest artists…(and hang tight for that pull-ups list he mentions).
In Gavsborg's own words:
"Bounty Killer is my favourite dancehall artist and through his career – now spanning over two decades – Bounty has been known for creating massive hits on both the local and international scene, as well as breaking new artists and creating some of the best dancehall collaborations. To some, the most obvious one would be Another Level featuring Baby Cham, but that one I may save for 'the 10 most pulled up tunes of all time in the history of Jamaican music' list."
Bounty Killer feat. Fugees Hip Hopera
Gavsborg: "During the mid-'90s to early '00s part of Bounty's career, he seemed to have existed both locally and internationally at the same time with two different sets of hits. I had the opportunity of turning on the regional television to see a local hit, and then switching to foreign television and seeing a foreign hit. In some occasions, what perhaps was working abroad, was also working in Jamaica, and Hip Hopera was one of them. I recall seeing the music video on BET's "Planet Groove" with Rachel Stuart, then switching to TVJ's "Entertainment Report" with Anthony Miller and seeing the same video and thinking, "wow" is this a Bounty Killer and Fugees collaboration?" I still get gassed by the intro alone."
Bounty Killer feat. Mobb Deep & Big Noyd Deadly Zone
Gavsborg: "Attending Wolmer's Boys School when this tune was released my friends had I generally had one common view: that we were all Bounty Killer fans. The first time we heard Deadly Zone was at a school event. Emperor sound system had set up and it was the first I was so up close to a system set-up – it felt like part time spaceship, part time dream. When the selector dropped Deadly Zone I couldn't contain myself, and I still feel the same way when I hear this tune."
Bounty Killer & Scare Dem Crew Scare Dem Way
Gavsborg: "It must have been 1998, and I was just a little kid spending summer holidays at my grandparents' home in Falmouth, Jamaica. Uncle Maxie had a "HiFi" living room sound, and there he played Scare Dem Way by Bounty Killer and the Scare Dem Crew, and for those three minutes of my life, nothing else mattered. I later got my own copy of the CD and spent the following summer ragging it out."
Bounty Killer & Special Ed Just A Killa (Remix)
Gavsborg: "To be honest I discovered this tune long after its release, unfortunately only receiving maybe the first 30 seconds as a .mp3 file in 2002. I couldn't get over the intro, it's like from 00:00 to 00:04 it had a subliminal message saying "sample me, sample me, sample me!" I never came across the full song until maybe 10 years later. In my opinion, it's not necessarily something for the dancehall or club, but for me, it is a "bad man chill time" playlist favourite."
Bounty Killer feat. Aidonia From Dem Diss
Gavsborg: "It was the year 2006 and regardless of a constantly evolving sound, one thing that never changed was the creation of Bounty Killer's combination "classics". It was the genesis of a new generation of producers, full of different ideas as well as artists with different delivery. At the time, Bounty Killer was already a staple figure with an excess of 10 years experience, and Aidonia already a force to be reckoned with. In my opinion, From Dem Dis remains one of the best hardcore dancehall combinations within in the last 10 years. Don't believe me? Just take it to your favourite dancehall, press play, and watch the "forwards" come in."
Bounty Killer feat. Ritchie Stephens Maniac
Gavsborg: "Ritchie Stephens and Bounty Killer always seem to hit on a pot of gold when they meet in the studio. Released on Ritchie Stephens Pot Of Gold label, with a star-studded musician line-up featuring Sly Dunbar, Danny Brownie, and Lenky Marsden – Maniac became an instant classic. The song, though an interpretation of Flashdance's Maniac, provides a totally different feeling and is a must play for '90s dancehall selections."
Bounty Killer feat. Barrington Levy Living Dangerously
Gavsborg: "Smash dancehall hit Living Dangerously was released in 1996 and featured Bounty Killer. Barrington Levy, though roughly 20 years deep in his career at the time, was still very relevant to the youth and this tune came in advance of Murderer – a massive collaboration Barrington had with Bounty Killer's then long-time rival Beenie Man – which makes it ironic to me as they are both versions of the tunes without Beenie Man and Bounty Killer. The difference with Murderer and Living Dangerously is that Murder was already a classic and Beenie Man gave a whole new life to it at the time. But with Living Dangerously, it's just not the same without Bounty Killer. It's one of those ones where you adlib Bounty's parts if the version without him is played."
Bounty Killer feat. Ninja Man Bad Man A No Cub Scout
Gavsborg: "This is one of the tunes that cemented Bounty Killer very early in the game, Bounty was somewhere between 19 and 23 years old when he recorded this piece but had the voice of a giant. Teaming up with "dancehall giant" Ninja Man, and released on the Kingston 11 label by the legendary King Jammy, Bad Man A No Cub Scout was an instant street hit and is a recipe for blank bussing and pulling up."
Bounty Killer & Masta Killa Eyes A Bleed
Gavsborg: "Bounty Killer linking up with Wu-Tang Clan was literally my dream come true. Eyes A Bleed also has a bit of a memory to it, making it even more special, as I first heard this tune on Patrick Terrace whilst walking home from school with a "Renaissance" dancehall tape in my headphones. I recall hearing Los Del Rio's Macarena then the MC, Jazzy T randomly changed the vibe to introduce Bounty Killer and Wu-Tang! I was 100% hyped when Masta Killa came in. This wasn't the only Bounty Killer and Wu-Tang collaboration either – Warface featuring Raekwon is also a favourite but Eyes A Bleed resonates loads. The imprint saying "RZA Remix" maybe even added some more bias."
Bounty Killer feat. Vybz Kartel, Baby G & Don Corleon High Altitude
Gavsborg: "I always looked forward to Bounty Killer and Don Corleon artist-producer collaborations, Corleon then was one of my favourite producers and Bounty, my favourite artist. So, I was drawn to High Altitude based on the imprint and then quite fascinated by title. I wanted to hear what kind of spin Bounty Killer and Vybz Kartel could add to the "Marijuana" topic after releasing So High on the Good To Go Rhythm not so long before. Again, with the title, I was even more curious as it also listed producers Don Corleon and Baby G as artists. This was 2006 and to list a producer in the main credits was not a done thing in Jamaica, and on that note, I struggled to understand why it was listed this way. At one point I thought It was a typo and it was an auto-tune drenched Wayne Marshall delivering the hook. In further months, I was advised that it was the hook was delivered by Don Corleon and Baby G."
Equiknoxx plays CS13 presents DDS alongside Demdike Stare, Stephen O'Malley, Micachu and Jon K on October 7th, 2016 at Village Underground (info).