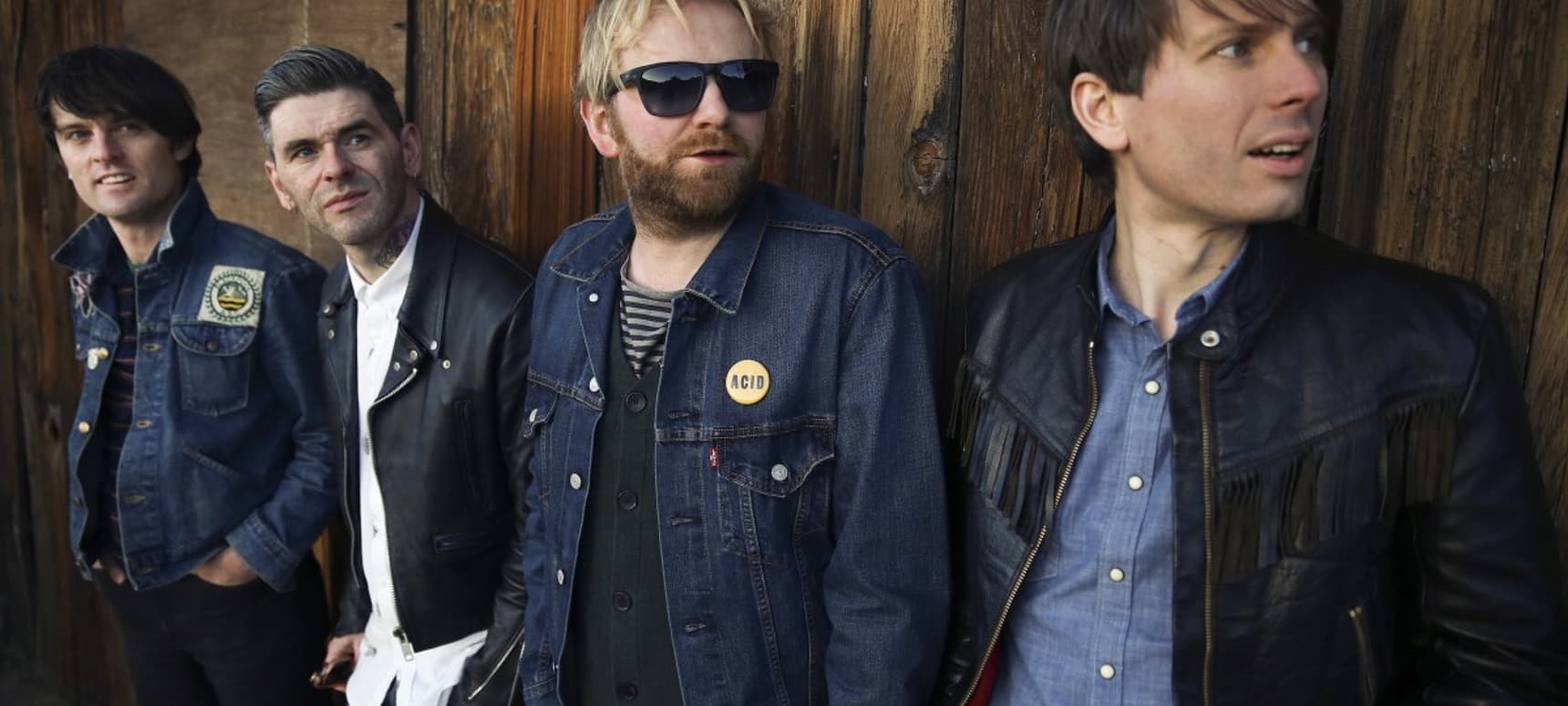 12.09.2014, Words by dummymag
The 10 best cover versions, according to Franz Ferdinand
Franz Ferdinand are releasing a new entry into the long-running Late Night Tales mix CD series next week, weaving together after dark cuts ranging from Can to Ian Dury to Oneohtrix Point Never.
As per Late Night Tales tradition, the band have also provided an exclusive cover version for the compilation – in this case, they've chosen Jonathan Halper's Leaving My Old Life Behind. But the compilation actually features three cover versions in total – besides their own, there's Kompakt producer Justus Köhncke putting his spin on a Neil Young song, while home recording hero R. Stevie Moore does a suitably rough take on The Beatles' I'm Only Sleeping.
With this in mind, and given that Franz Ferdinand are not averse to turning out the odd cover themselves, we asked the band's Paul Thomson to guide us through their 10 favourite cover versions, resulting in an eclectic playlist featuring black metal gone house and The Rolling Stones gone no wave.
01. The Soft Pink Truth Ready To Fuck
Paul Thomson: "I'm a huge fan of Drew Daniel. He also records as half of Matmos, who have made compositions entirely from samples of surgical procedures. This album is all cheeky electronic covers of black and death metal tracks, which you would imagine the original composers would detest when you consider the purity laws those genres steadfastly adhere to. But then, he did get clearance to release 'em, so maybe not."
02. The Business Dayo
Paul Thomson: "Supremely dumb Oi! version of the Harry Belafonte classic. Stupid. Just stupid. I got it at the Glasgow QMU bi-monthly record fair, the only place these days where you're likely to find NWOBHM-heads, skins, punks, goths, and mods in uniform, all in the same room."
03. R. Stevie Moore I'm Only Sleeping
Paul Thomson: "From Stevie's Beatles covers LP, which he recorded probably 'cos he felt like it. This version is mercifully free of John Lennon. Ugh. I first heard it trawling through his sprawling discography on his Bandcamp page. For the light R. Stevie user, get the Ariel Pink selects compilation."
04. Jennifer Lara I Am In Love
Paul Thomson: "Tearjerkin' lovers rock from the 'Studio One Women' compilation. Played it as the last song at a rooftop party above a casino in São Paolo last year – there was not a dry eye in the house… OK, it was just me and the guy that grabbed me and sang every word directly at my face."
05. Y Pants Off The Hook
Paul Thomson: "I didn't realise this was even a Stones song 'til Alex [Kapranos] told me. I listened to the original, but it didn't have that disorientating windscreen wiper rhythm and NY sass, so I prefer this version."
06. The Fall White Lightning
Paul Thomson: "Another tune where I had to look out the original. Mark E Smith would make an excellent C&W/rockabilly disc jockey as all the songs The Fall cover are belters, particularly this tribute to knock ye on yer back homebrew."
07. Justus Köhncke Old Man
Paul Thomson: "This version of Neil Young's original is taken from 'Spiralen der Erinnerung', a whole album of covers by Justus Köhncke. It always reminds me of Glasgow in the early 2000s, when it was practically twinned with Cologne."
08. Marquis Hawkes Sealion Woman
Paul Thomson: "The Dixon Avenue Basement Jams label is the most exciting thing about both Glasgow and house music at the moment. To describe it as 'gospel house' would be doing it a grave disservice. It makes it sound tasteful. It's not. I'd be more inclined to go to chapel if they banged this out every Sunday."
09. Frankie Rose Street Of Dreams
Paul Thomson: "Frankie toured the east coast of the States with us last year. I only realised this was a cover when Slouch, our long serving roadie, informed us that he was there when The Damned recorded it, having purchased a top of the range Fairlight synth the size of Frankie's apartment. Probably. I've never been to Frankie's apartment. Hi, Frankie."
10. Pixies Head On
Paul Thomson: "I bought 'Trompe Le Monde' from Our Price while on holiday in Blackpool when I was 15. I didn't realise this was a Jesus & Mary Chain song 'til five years later, when I heard it on the dancefloor at Potterow Union."
Late Night Tales release 'Late Night Tales: Franz Ferdinand' on September 15th 2014 (pre-order).