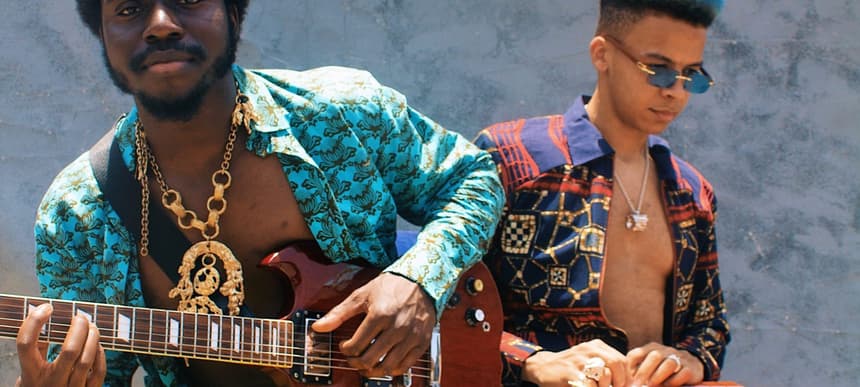 09.09.2021, Words by Billy Ward
The 10 Best Jazz Releases of All Time, according to Blue Lab Beats
"This is a masterpiece...it always baffled us at Blue Lab HQ why it was left unheard by so many"
It's safe to say that Blue Lab Beats, the north London production duo consisting of NK-OK and multi-instrumentalist MR DM, know a thing or two about jazz. Ever since the pair first met in 2013 at an alternative youth college in Camden, their artistic chemistry has gone from strength to strength, leading them to the beating pulse of London's renowned contemporary jazz scene where they've become two of its fastest rising stars. Combining left-field jazz and glitchy hip hop beats with aspects of grime, R&B, soul, afrobeats and more, their sound is a shining example of the youth-driven, boundary-breaking creativity that characterises the blossoming scene which is dominating the capital.
Despite still both being in their twenties, the pair, real names Namali Kwaten (NK-OK) and David Mrakpor (MR DM), have racked up an impressive list of achievements already. Producing for the likes of Jodie Abacus, Dua Lipa and Rag'n'Bone Man helped to cut their teeth in the industry, but it's as artists in their own rights where the duo want to leave a lasting impression. Luckily, they're doing just that: since their debut EP 'Blue Skies' charted in twelve different countries, their follow up album's 'Xover' and 'Voyage' have continued to impress as they've paved new creative avenues and marked out fresh sonic territory.
Exporting their kaleidoscopic fusion of UK and international sounds around the world, Blue Lab Beats are seen as pioneers of the 'Jafrobeat' sound, after a trip to Ghana saw their unique blend of afrobeat and jazz sensibilities recognised by local DJs. This year so far has seen the boys release their 'The Sound of Afrotonica' project, as well as chalk collaborations with Ghetto Boy on 'Sensual Loving', and Ruby Francis for 'Let Me In'. With more in store from the pair, who show no signs of slowing down anytime soon, Blue Lab Beats sit down with Dummy to get granular on their favourite jazz releases of all time.
1. John Coltrane – 'A Love Supreme'
"Recorded in 1964 by a quartet featuring bassist Jimmy Garrison, drummer Elvin Jones and pianist McCoy Tyner. For us at Blue Lab Beats HQ it's a classic gem of an album masterpiece thing! 'Acknowledgement', 'Resolution', 'Pursuance', and 'Psalm' a suite with 4 parts – call it whatever you want avant garde, modal, free jazz, hard bop. Doesn't matter to us it's just beautiful music. Many of our friends have been deeply influenced by this album."
2. Thelonious Monk with
John Coltrane
"This to us is a special album. It originally came from three different recording sessions so was not conventional. The album's start was the finding of three usable studio tracks recorded by the Monk Quartet with Coltrane in July 1957 at the beginning of the band's six-month residency at New York club. Producer Keepnews also included two outtakes from Monk's music album recorded the previous month, and one additional song from Thelonious himself recorded in April."
3. Herbie Hancock – 'Maiden Voyage'
"Maiden Voyage is his 5th album. It was recorded for the label we are on – Blue Note Records – and is actually a concept album all about oceanic atmospheres. People just did that back then! George Coleman, Tony Williams and Ron Carter joined Herbie in creating this piece of beautiful jazz. Herbie says he was inspired by artists like Count Basie whilst making this record."
4. Ahmad Jamal Trio – 'The Awakening'
"A classic Impulse recording. Rich amazing content. Probably one of the best melodic pianists of his day – a classic recording. Jamal is definitely an underrated musician. So if you are looking for a way in this is the very best route to get deeper into Ahmad Jamal."
5. Oscar Peterson Trio – 'Night Train'
"Night Train was recorded by The Oscar Peterson Trio almost 60 years ago in Los Angeles on December 15 and 16, 1962. It sounds fresh still today. Oscar is simply an incredible piano player, he swings hard with a bluesy feeling but is still technically brilliant. This trio – Ed Thigpen on drums and Ray Brown on bass, along with Oscar on ivory, set a standard for ensemble playing. These guys are just brilliant, the intensity of this music is so heavy you will always remember hearing this album – do yourself a favour. Fill your life with it!"
6. Wes Montgomery – 'Full House'
"This is actually Montgomery's 7th album and his first live album. People always say jazz music is meant to be heard live. So seeing an elite group improvise on the spot and create a unique take is what makes us all go and see jazz again and again. Montgomery was definitely a genius who would not read music. He had note perfect pitch he proved that he could play anything with anybody. So it didn't actually matter that he could not read, his feel and intricacy were so good."
7. Miles Davis – 'S0 What'
"Miles Davis' 'So What' is rightfully considered one of the most amazing compositions in Jazz, recorded In 1959, it is the opening track of the album 'Kind Of Blue'. The song is both complex and simple and thats what we love about it. The introductory piano chords, by Bill Evans, and Paul Chambers' bass riff are just magic. Its composition was credited to Miles Davis. The master…."
8. Art Blakey and the Jazz Messengers – 'Moanin"
"The album has one of catchiest jazz compositions ever written. A truly amazing piano and horn intro and a rhythm that Art has constructed, it's absolutely incredible. Drummer and bandleader Art Blakey provides the aggressive, driving pulse that propels the Jazz Messengers and is so characteristic of the hard bop style. The Jazz Messengers always were the hard bop group, they had the blues roots within their music. Blakey was 39 when this was recorded, Blakey always felt strongly that jazz was under-appreciated in America and was all about bringing it to a wider audience. That's a lot of what Blue Lab Beats is about – but we are not Art Blakey. He did teach us that collaborating is actually a great thing to do."
9. Bill Evans – 'Symbiosis'
"'Symbiosis' is an ambitious collaboration between Bill Evans and Claus Ogerman. It is a symphonic piece for a jazz trio and orchestra, it features Evans on acoustic piano and on the Fender-Rhodes e-piano. Here and there, his trio Eddie Gomez and Marty Morrell is augmented by brass sections and/or string sections. This is a masterpiece – and truthfully it always baffled us at Blue Lab HQ why it was left unheard by so many."
10. Wayne Shorter – 'Speak No Evil'
"Wayne Shorter changed bands regularly but always seemed to come up with great albums that changed the way people viewed him and his art. Shorter was not a copy, he was an original who just happened to have played with many of the greats at a really fertile time for jazz. Shorter's playing also had humour but was deep (hard to do). The album ends with the beautiful 'Wild Flower, Wayne Shorter' is just incredible."
Check out Blue Lab Beats' music video for 'Sensual Loving' ft. Ghetto Boy below.
Read next: The 10 Best Astral Jazz Tracks, according to Ishmael Ensemble's Pete Cunningham