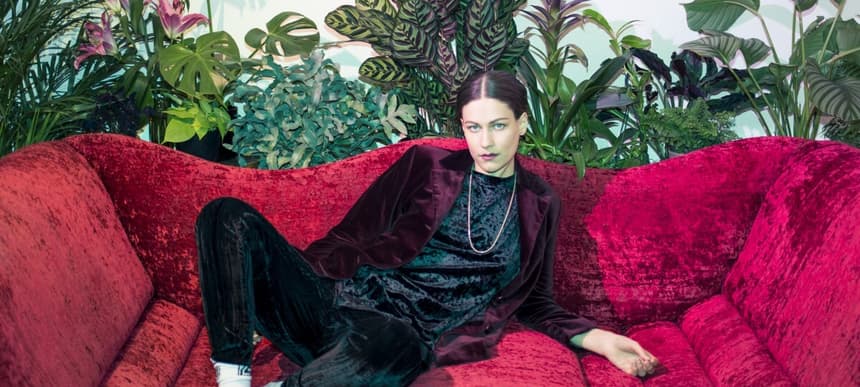 23.10.2018, Words by dummymag
The 10 Best Old Soviet Disco Records, according to Farao
While disco was a big sound in the Western capitalist world for much of the '70s and '80s, it also rose to prominence in the Soviet Union at the same time. Having previously gathered dust and been somewhat unfairly overlooked, records from this scene are starting to make their way to prominence.
Norwegian-born, Berlin-based Kari Jahnsen makes music as Farao, and has just released her second album, 'Pure-O – a prog-pop record that delves deep into themes surrounding sex and relationships. The multi-instrumentalist/singer/songwriter has a keen interest in Soviet electronic music, disco, and funk, and this is something that rears its head on her new record. "My choices for instrumentation and arrangement on the record were inspired by my falling in love with old Soviet disco (Eduard Artemyev, Zigmars Liepiņš, Aleksei Kozlov) and subsequent collecting of boutique, Soviet-era analog synthesizers," she's said.
Here she digs deep into the archives for her ten favourite old Soviet disco tracks.
–
1. Andreĭ Rodionov & Boris Tikhomirov – 'Pulse 1'/'Sport & Music'
"The 'Sport & Music' series consists of four records commissioned by the Soviet state to use for exercising and aerobics in schools in the '80s. This is how my whole obsession with Soviet disco/funk/electronic music started. All four albums are great and it's kind of impossible to choose a favourite track…"
2. Arsenal – 'Pulse 3'/'Sport & Music'
"…which is why I must include the third release in this series as well. This one is made by jazz orchestra Arsenal with saxophonist Alexei Kozlov as artistic director, making it more jazzy than the previous releases. Perhaps my favourite of the series, with 'Street Pulse', 'Festival' and 'Photorobot' being the highlights."
3. Adrian Enescu – 'Funky Synthesizer 2'
"Romanian composer Adrian Enescu released this record as a continuation of 'Funky Synthesizer 1' – a very confusing and challenging release. 'Funky Synthesizer 2', however, is where Adrian finally found his formula, especially on 'Cuvinte Incrucisate' – the banger of the album. 'In Vis' is also worth checking out."
4. Uku Kuut – 'Visions of Estonia'
"This guy is a legend. An Estonian funk producer, recording and releasing music from his studio in LA, Sweden and Soviet Union in the '80s. It's an unusual mix of American and Eastern European flavours. PPU have been releasing his unreleased home recordings in the past couple of years, and it's really great stuff."
5. ORM & Kamelie – 'Tropic'
"A Czechoslovakian masterpiece. The title track 'Tropic' is unbelievable. The synth flute solo, pitch bend chords, sample and hold Polivoks intro… I love it. This track has been a big inspiration for some of the songs on my upcoming album. I also recommend checking out 'Poseidon'."
6. Teisutis Makačinas – 'Disko Muzika'
"A nice Lithuanian album consisting of six tracks made using just a drum machine, a Crumar string synth and a Yamaha CS-15. The CS-15 is one of my favourite synthesisers and I used it a lot of my own album. All six tracks on this release are strong, some superb vocal harmonies too. I have no idea what they're singing about though."
7. Dimenzió – 'Dimenzió'
"The rest of this album by Hungarian jazz orchestra Dimenzió isn't that interesting, but the track 'Bamba' is so good it's worth a mention anyway. I love the foolish synth riff in the beginning, the vocoder part, the very impressive bass playing and the general overall vibe of this song, everything makes me feel so damn good. Walking down the street listening this is highly recommended."
8. Miha Kralj – 'Odyssey'
"Miha Kralj is a pioneer of Yugoslavian instrumental synthesiser music and he released three albums in the early '80s. Kind of a Giorgio Moroder of what is now Slovenia. His stuff is pretty out there. I also recommend his first album 'Andromeda'."
9. Yuri Buchma – 'Self-Portrait'
"Released in 1990, just one year before the Soviet Union collapsed. Some good use of FM synths on this one. Reminds me of Uku Kuut at times, but way more corny and Russian sounding. Some tracks on this album are too much for me, but is has a few gems and also some brilliant song titles like 'Chernobyl, one year later'."
10. Edvard Artemiev – 'Warmth of Earth'
"Legendary Russian composer, responsible for the soundtracks for Tarkovsky's Solaris and Stalker amongst other things. This album is a Soviet prog explosion and 'Meeting on the Milky Way' is especially fantastic. So many complex parts fitting perfectly together – it's taken me a year just to understand the different time signatures! I also recommend his instrumental electronic album 'Moods'."
Watch the new video for Farao's 'Marry Me':
Farao's 'Pure-O' album is out now on Western Vinyl – stream it here.