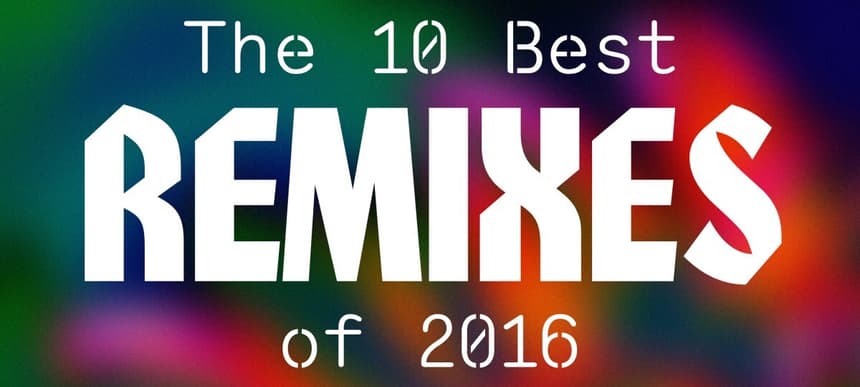 15.12.2016, Words by dummymag
The 10 best remixes of 2016
Similar to our tracks list, the remix game in 2016 was equally dominated by hip hop, R&B, and bass music, and with only 10 slots to play with it was hard to dive deep into the insane depth of edits and reworks that have cropped up across house and techno in the past 12 months. Instead, we opted for the remixes that have hit the highest counts on our playlists and stereos, or those that had an impact by being inventive to really stand out from the crowd.
So, from Badu's now-annual response-song-meet-cover-versions, an All The Way Up freestyle, and Conducta's finely tuned garage licks, glide through our selections below to fully feel the power of the rework.
10. Tayá Sweet Waste Of Time (Conducta remix)
It was almost impossible to listen to UK music in 2016 and not see Conducta's name pop up. The Bristol-born producer has already given his own take on tracks by the likes of Cadenza and Faith Evans, but it was his remix of Tayá's Sweet Waste Of Time that really stood out. Reworking it into a danceable number, the track oozes UK garage in its heydey with a subtle synth pattern and pounding high tempo drums. Yemi Abiade
09. Nicki Minaj Black Barbies
Minaj truly got into the barrel of Rae's wave with her equally infectious version of the Billboard-topping track, Black Beatles. Standardly taking on a Barbie reference, she went in hard, amassing 5.5 million streams on Spotify in two weeks. With lines like "you gon' be floatin' in dem rivers like you know Joan", there's no surprises why. Natalie Davies
08. Freddie Gibbs Cocaine Parties In L.A.
Freddie 'Gangsta' Gibbs hopped on Kanye West and Madlib's instrumental for No More Parties in L.A. and somehow managed to take it to another level. He is right at home as he spells out vivid tales from the trap with clarity and intensity, whilst remaining topical at the same time. Yemi Abiade
07. Sandboards Visa (Shinra remix)
The first release on Feel My Bicep that didn't come from the collaborative brains of its label owners, Visa is Dunedin duo Eden Burns and Tomas Krammer's synth-led masterpiece that followed the sexual preaching tones of their Cold Tonic debut, Nothing But A Freak. Strengthening the high-summer powers of Visa, London producer Shinra drops in a for a classic funk inspired re-jig that is reminiscent of days under the sun. Natalie Davies
06. Coco feat. AJ Tracey and Nadia Rose Big N Serious (remix)
Sheffield rapper Coco's breakthrough single Big N Serious was already on fleek, then he recruited AJ Tracey and Nadia Rose for the remix, and we had absolute magic. Serving as the bed between some fiery vocals from both guests, Coco outdoes himself in this flip, whilst West London's AJ From The Lane shows why he is one of the best new rappers in the UK. Rose does her thing flawlessly too, making for a sick update. Yemi Abiade
05. Avelino All The Way Up Freestyle
One of grime's newest legends, Avelino, absolutely bodies on his version of Fat Joe and Remy Ma's hit All The Way Up. The beat could probably make any rapper sound good, but the Tottenham up and comer is calm and collected as he coasts through the beat in swift fashion. A star in the making. Yemi Abiade
04. Erykah Badu Come And See Badu (The Official Badu and PartyNextDoor Duet)
After she utilised Hotline Bling to decimate her ex-beau Andre3000, Badu's hot takes on the year's rap hits are becoming an annual staple, which she continued in 2016 with a cover of PARTYNEXTDOOR's gooey ballad, Come And See Me. Not setting for a straight up cover version, she fuses hallmarks of response and diss tracks to really get her point across. Thankfully, she keeps it a bit more chilled that Eamon and Frankee. "Shit just got real, time to light an incense now." Natalie Davies
03. Blaze Lovelee Dae (Bicep edit)
Sun shining? Children smiling? No one of a sane mind can deny the blistering heat of Blaze's deep house cut, which was originally released almost 20 years ago on Derrick Carter and Luke Solomon's label, Classic. The story goes that Bicep lads initially threw this edit together for their Essential Mix back in 2014, but it didn't make the cut. However, two years later, it eventually found its feet via a vinyl release on the pair's label. Natalie Davies
02. Tory Lanez Controlla
If ever there was an advert for what good could happen if Tory Lanez and Drake put aside their years-long 'beef' then this would be it. The two Torontonians seem happy enough to carry on throwing snide licks and side-eye at each other, but on his version of Controlla you can't help but feel that Lanez might be able to show even Drake a thing or two about slipping silky over a beat like this.
The sign of a successful remix is generally when you can't help but hear it playing in your head – or wishing for it – when listening to the original version. By that measure, we're happy to call this little re-vox pretty successful. Will Pritchard
01. AJ Tracey and Last Japan Ascend (Silk Road Assassins Remix)
Ascend, AJ Tracey's collaboration with forward-thinking grime producer Last Japan, was one of the best tracks to come from the scene last year, and the Silk Road Assassins remix was an icy re-working of an already sub-zero production.
Fusing AJ's assertive baritone with glacial synths and a classic East London bass sound, the track struck the perfect balance between cerebrum and confidence, staying true to the theme of the original, whilst taking on a life of its own. Paul Gibbins