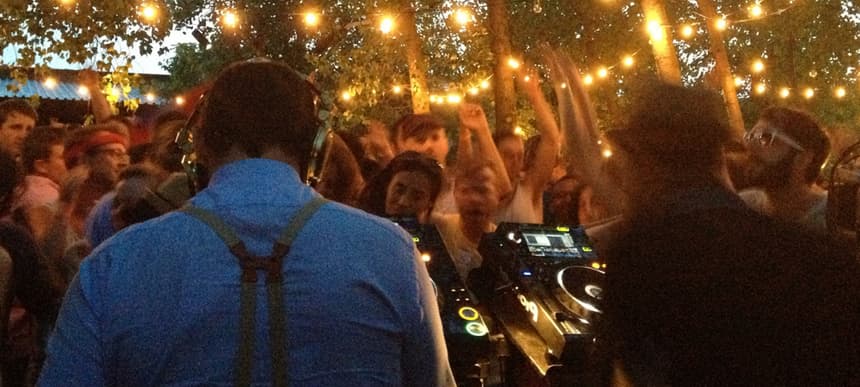 11.11.2014, Words by dummymag
The 10 best songs for the great outdoors, according to Justin Carter and Eamon Harkin
Justin Carter and Eamon Harkin have been running their Mister Saturday Night parties across Brooklyn since 2009. A staple of New York's nightlife community, Mister Saturday Night are recognised for their inclusive atmosphere (just read their rules for proof) and diverse music policy.
They're also recognised for their other party – Mister Sunday. Season and weather permitting, you can find Justin and Eamon spinning records in the open air the day after the main event as Mister Sunday, with the outdoor party bringing a new perspective to music that's rarely heard without being behind closed doors. With a new mix compilation, 'Weekends and Beginnings', recorded live at Mister Sunday and due for release just as the winter seasons start to hit, they've selected the 10 records that they love to play alfresco. From downtempo funk to heady acid bangers, here are some of the tracks that define their partes.
Mister Saturday Night are on the road right now, touring Europe – see if they'll be coming to your town here.
01. Exuma Exuma, The Obeah Man
Mister Saturday Night: "Exuma was a project that started in the streets of New York in the late '60s, but it feels totally like it was born deep in the wilderness somewhere. That's probably why it makes so much sense when we play it in our little outdoor-industrial haven in Brooklyn."
02. Ma Spaventi The Jungle
Mister Saturday Night: "It doesn't get more outdoors-y than the jungle."
03. Earth Wind & Fire Zanzibar
Mister Saturday Night: "The guitar solo, the amazing hand drum solo, the trumpet solo, the dense vocal harmonies: they all resonate perfectly in between the buildings where we did Sundays this summer. We've played the track indoors before, but it's most fitting when the sounds can just escape up into the air."
04. Environments Gentle Rain In A Pine Forest
Mister Saturday Night: "Sometimes we'll play this over and between songs, especially when it looks like it's gonna rain (which thankfully didn't happen too much this season). It's also really just lovely to listen to."
05. Conjunto Son San Cumbia San Pablera
Mister Saturday Night: "Cumbia seems to have been made for the outdoors. (Our YouTube benders of cumbia musicians killing it on street corners tells us this is true.)"
06. Daniel Avery These Nights Never End
Mister Saturday Night: "Perfect outdoor tracks aren't all vocal heavy happy-clappy affairs. A good portion of our party is held after the sun goes down, especially as we get later into the season. There's something sublime about dancing under the stars to acid house."
07. Martin Buttrich Stoned Autopilot (C2 Version)
Mister Saturday Night: "Another one that works perfectly after the sun goes down. Although this is a Martin Buttrich track, the magic is all about the expansive touch Carl Craig applies with this remix. A Mister Sunday classic."
08. B Beat Girls For The Same Man
Mister Saturday Night: "A list of music for the great outdoors wouldn't be complete without the classic New York block party sound."
09. Kerri Chandler 6 Pianos
Mister Saturday Night: "Kerri Chandler's ode to Steve Reich. You get the repetitive, trance-inducing qualities of Reich with the masterful house production of Kerri Chandler. Too big to be contained in any room, this song is begging to be played outside. We've seen the Mister Sunday dancefloor go crazy for it."
10. Arthur Lee Everybody's Gotta Live
Mister Saturday Night: "It sounds like a campfire singalong, but it can still make people dance. Plus the sentiment is perfect. It was the last song we played at the finale of this year's Mister Sunday outdoor season."
Mister Saturday Night Records release 'Weekends and Beginnings' on November 17th 2014 (pre-order).