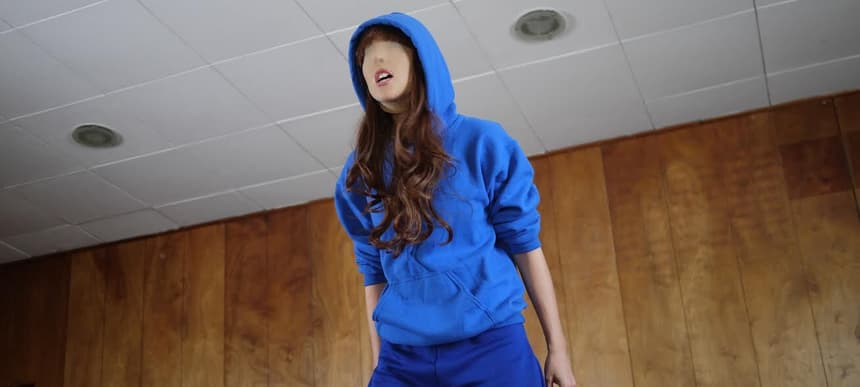 27.10.2015, Words by Natalie /
The 10 best songs for when you're alone, according to Gazelle Twin
Gazelle Twin is Elizabeth Bernholz's 'creation' and performance persona. Actively releasing music since 2010, a big chunk of her releases have come via blog-meets-label Anti-Ghost Moon Ray art collective, including her debut album, 'The Entire City'. Gathering rapid momentum last year, her sophomore album 'UNFLESH' was released on Anti-Ghost Moon Ray and Last Gang Records and scooped The Quietus' Album Of The Year 2014. Gazelle Twin also lent her dusky vocals to AMC's The Walking Dead series five finale earlier this year – with a toned-down cover of Love and Mercy by Brian Wilson – released on Universal Republic Records.
She's not limited to noise either; the Gazelle Twin aesthetic can be spotted a mile off, muted salmon artwork slicked with moody or limp poses struck in her trademark blue tracksuit…with the occasional bit of ribby raw meat. What's more, Elizabeth is no stranger to Dummy; having spent time in the Moog Sound Lab residency at Ace Hotel, Shoreditch this summer.
With multi-venue film and music showcase Illuminations on the horizon and primed to take a grip on East and Central London, Gazelle Twin is gearing up for an appearance at Village Underground on November 8th with the man, the mouthful – Oneohtrixpointnever. Whether solitude is an unwelcome bugbear or seeked out as solace, Gazelle Twin shares 10 tracks to soundtrack the times when you find yourself alone – from Iggy Pop's moody masterpiece Nightclubbing to ABBA's desperate "existential disco" plea, The Day Before You Came. Listen to Gazelle Twin's selections below or seamlessly via YouTube.
01. ABBA The Day Before You Came
Gazelle Twin: "I heard this for the first time a few months ago and it blew me away. It's existential disco. It got me thinking about the whole undercurrent running through a lot of disco…it's quite a desperate feeling."
02. Scott Walker and Sunn 0))) Lullaby
Gazelle Twin: "It doesn't get bleaker than Scott Walker, until Sunn 0))) steps in. I love this landscape of gentle clicks and electricity, with Scott's deadening words hammering nails into your soul."
03. Portishead Deep Water
Gazelle Twin: "This is one of my favourite Portishead songs ever, for it's inky isolation and extremely well done deep south blues feel."
04. Wire I Feel Mysterious Today
Gazelle Twin: "Everything is humming loudly…everyone is coming this way. This captures that in-between state of being that definitely emerges from the bowels of the city. Or maybe for one with a bit of social anxiety. It's those moments where time caves in on itself, everyone feels threatening, and electrical environments take over your body."
05. Iggy Pop Nightclubbing
Gazelle Twin: "We walk like a ghost. I always felt this was an entirely grim existential song, like the mind of someone trapped in a drug-induced world having to sort of remind themselves of their role inside their own head, just incase they drift into oblivion and let go completely."
06. Kode9 + The Spaceape Sine of the Dub
Gazelle Twin: "Probably the ultimate stoner cover of a Prince song ever recorded. I love the way Stephen delivers the lyrics. It's as dark and deep into a moment as you can get, but still kind of a laugh as well. Sublime."
07. Powell The Ongoing Significance of Steel and Flesh
Gazelle Twin: "I've had this on my iPod since May, mostly on loop during train or plane journeys. It feels like it's coming from and going to somewhere endless."
08. Vanishing The Return
Gazelle Twin: "I'm not aware of any official releases by this band so they're a glorious secret (for now). I caught the very end of one of their sets recently and it was like walking into a furnace. It pushed me back against the wall. This is bleakness and aggression on an industrial scale. It sounds like hell, for all the best possible reasons."
09. Dean Blunt Demon
Gazelle Twin: "I love the marginal areas that DB haunts, especially in his musical style, which hovers in a weird grey area between the sounds of daytime TV coming from another room, the remnants of down-trodden soul and pure noise. It never really rests on any one thing. Like his reputation, it's hard to fathom, and you're unsure whether you should be quite as into it as you have become."
10. Odetta Bald Headed Woman
Gazelle Twin: "The stark, self-accompanied recordings of Odetta hurl me into deep space. You don't have to be religious to feel the power of her presence and words."
Gazelle Twin plays at Illuminations with Oneohtrixpointnever on November 8th at Village Underground (tickets).