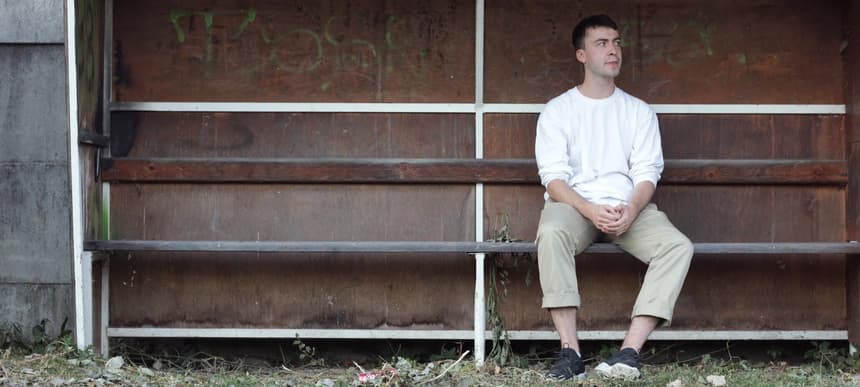 19.10.2016, Words by dummymag
The 10 best tracks to soundtrack a potential French election disaster, according to Basile
A member of Gang Fatale, French producer Basile's releases and gigs never disappoint – as his incredible set for Boiler Room Paris recently testified. With a production style somewhere between melodic and otherworldly soundscapes, his influences are at the crossroads between Ryuichi Sakamoto, The Neptunes, and Timbaland.
In present-day France, the social climate is tense, with the upcoming 2017 election seeing the return of many scandal-stained politicians via social division and discrimination, budget cuts, and terrorist attacks. Following the robbery of Kim Kardashian in Paris during Fashion Week, a shroud of hate on Twitter, and a political misuse of the incident, it briefly saw the city branded "no-go zone" by many major media outlets.
This Guardian article by Christelle Oyri shows presidential candidate and former President Nicolas Sarkozy's stance on the ancestors of the French people, who are apparently "the Gauls". Of course, he is incorrect, but it opens the window to the inner workings of a nation that is grappling with serious racial discrimination and civil unrest.
Nevertheless, for Basile music is a tool for communication. So, to shed some light on the frustrations of a conscious young generation that clearly sees the crisis their country is in, the producer has selected some profound French tracks, many guided by politically-charged rap and poetry, to express his thought on the current affairs in France.
Read through Basile's selections below, and listen seamlessly via our YouTube playlist.
Saian Supa Crew La Preuve Par 3 [2000]
Basile: "Saian Supa Crew is, in my opinion, one of the coolest French rap crews. In this track, they go on full derision mode about usual racist bullshit that still resonates true almost 16 years later."
Rocé On S'habitue [2002]
Basile: "This might not be the tightest song if you don't understand the lyrics but the beat, by DJ Mehdi, has a very nice progression which goes so well with the rapper narration. I used to get goosebumps listening to this song. He's talking about there used to be structural discriminations against people with former French colony origins, even for the ones who are trying hard to get into the French cultural 'norms'."
Dee Nasty Délirer Un Peu [1984]
Basile: "This track and his LP 'Paname City Rappin'' takes us back to the first days of hip hop in France, in the early days when it was really funky and electronic. I'd love it if we were more influenced by this kind of hybrid between rap and extremely groovy drums, synths, and basslines. He's just trying to have a bit fun on a grey and dark day in Paris – the city we all love and hate at the same time.
He's one of the first French people to have spread the hip hop culture in Paris after a trip to New York in 1979, the movement progressively found a big echo in the French metropolitan youth from the popular neighbourhood. (Thank you, Simon, for the recent talk about this guy)."
Kalash Chanson Du Mwaka [2014]
Basile: "Kalash is from Martinique, one of the french Caribbean territory. Recently he's been releasing a lot of bangers, where he raps and sings in French and Creole, which gives him a unique style. The song is very dark and it sounds a bit like a Nguzungzu production."
Léo Ferré Ecoute-Moi [1970]
Basile: "Poet, anarchist and composer from the last century, his body of work is so unique to me. It's really goosebumps music when you're a bit drunk and melancholic, and it's very necessary from time to time. His lyrics are pure poetry and his composition is epic without being cheesy at all."
Préface Palace Hôtel (Extended Version) [1986]
Basile: "This one is pure fun music. It's so groovy and so clever – every musician is so on point. We can't always be serious. This palette of sound has so much influence on me. Préface is composed by three well-known musician-producers who have long careers in the French music industry, it's like a super-band one hit project. Thanks to Samuel for the discovery.
(Also, if someone reading this has a decent digital version, get in touch plzzzzzz!!!! It's so expensive and rare on Discogs)."
Dosseh African History X [2016]
Basile: "Dosseh illustrates the mindset of where the French rap scene is at right now. Heavily influenced by Chicago drill and Atlanta trap. It's about how disenchanted a part of the French youth are these days and how today's post-colonial climate in French politics is re-opening some social wounds. From these wounds, it creates a really desperate relationship with money and wealth. All he wants is a Bugatti."
Booba 92i Veyron [2016]
Basile: "This one illustrates the same mindset as the one before. It's quite an anthem for me and a lot of the French youth. I remember being at an event in Paris last Spring where there were people from many different generations (from 15 to 30 years old) and different social backgrounds. When this song been played everyone was rapping the lyrics by heart, which was such a stunning collective experience. I don't think it's necessarily a good thing as it's a nihilist and disenchanting song, but it just really resonates with some social realities in France – like PNL's massive success at the moment."
Fabe Au Fond De Nos Coeurs [1998
Basile: "We go back almost 20 years ago with French rapper Fabe, who is probably one of the most respected in the scene. This one is such a personal favourite. In my opinion, this song explains what's really missing in France. It says how people are afraid to open their hearts, and explains why it's always about love and trust with people you're close to, and the people you interact with in everyday life."
Loto Retina Parallel Submarine
Basile: "For the last one, I chose something quite different. Loto Retina comes from Rennes in Britanny, just as I do, so we know each other. His music is really from another galaxy, also really honest and simple. It allows you to reshape your mind and relax, which is much needed. Last summer we spent an afternoon together recording keyboards jams in Paris, it might turn into a collaborative ambient, tempo-less, new age album at some point."
The new Gang Fatale single 'Key Amour / On Ligne' (TD Nasty, Basile & Neana) is November 4th. Basile's new EP 'Harmony Of Tension' is coming soon.