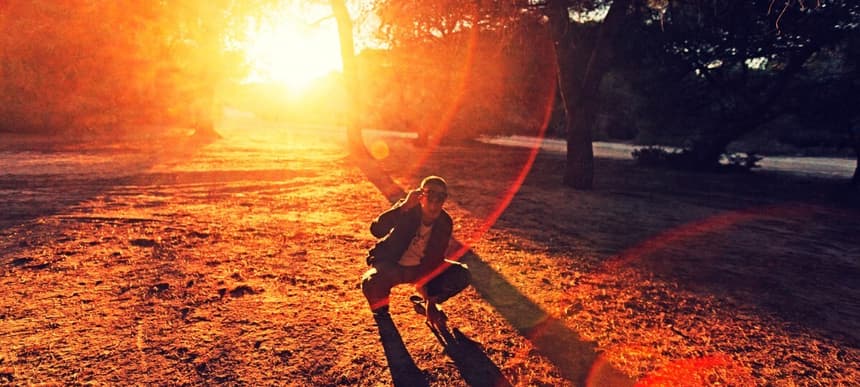 05.07.2016, Words by dummymag
The 10 best sunset tracks, according to Mark Barrott
Active in music since the mid '90s, Sheffield native Mark Barrott has found paradise in music. Starting his label International Feel whilst in Uruguay eight years ago, it was a way for Mark to buck current music trends and find enlightenment in a more mellow sound. In 2012 he relocated International Feel to its spiritual home of Ibiza, and has steadily become a champion for one of the White Isle's most prolific cultural exports – Balearic music.
The label's aesthetic is at one with nature, and is easily identifiable by its swathes of sun-soaked palettes and tropical birds that evoke the feeling of a lazy day in high summer. And we all know, that after the daytime comes that hazy sunfall. Invigorated by the cinematic feels of a dramatic sunset, Mark Barrott marks the release of 'Sketches From An Island 2' with his 10 best tracks for this illuminating time. Whether you're laying on white sands, up high on a city rooftop, or staring wistfully out of a bus window – here's a soundtrack for that moment of inner peace, when the light falls in all the right places.
In Mark's own words:
"DJ'ing is a sacred art. It has the ability to put yourself and the people listening into the 'present moment'. This is, in reality, the only way you can achieve what Buddha called 'being an individual unit of happiness' and this is never more apparent than DJ'ing the sunset, which is something I do every Thursday from May to September at La Torre, on the West Coast of Ibiza.
It has the most spectacular sunset I've ever seen and that includes Polynesia. The 'moment' of the sunset is what we're all there for, when the sun first kisses the ocean and you can feel the mood changing, when people (finally) stop taking selfies and look out to sea and through the 'window' of nature's beauty.
To put it simply, it's why I DJ and why I make music. And with that in mind, here are my 10 favourite sunset tracks – some obvious, some not so – but they all just 'work' and provide the perfect harmony to this majestic moment of suspended beauty."
Read Mark Barrott's sunset-ready selections below, and listen seamlessly via our YouTube playlist.
​The Advisory Circle Sundial
Mark Barrott: "Jon Brooks is a wonderful musician, known as part of the Ghost Box circle that focuses on Boards of Canada type '70s public information film, half remembered, slightly twisted nostalgia. This is, for me, his finest moment."
​A.r.t. Wilson ­Sun Sign Cancer
Mark Barrott: "Andras Fox in his A.r.t. Wilson 'new age' guise. This guy is my favourite of all the current crop of new(ish) producers. He always keeps it simple (and there's a beauty and bravery in doing that) but his sense of space and melody is wonderful."
Boards of Canada­ Zoetrope
Mark Barrott: "This is one of my 'slightly alternative' sunset picks. At first it seems to throw people off centre but then they slide into and and watching the sunset, the ocean and the people, with this as the soundtrack, seems to turn everything into slow motion, like a more obvious choice of say Brian Eno's Apollo would also do, but in a more interesting way."
​Daniel Kobialka ­Blue Spirals
Mark Barrott: "This is just beautiful and deep, deep, deep. Serene and intense, people just melt into it and I never tire of it."
Spooky ­Orange Coloured Liquid
Mark Barrott: "This is another very deep track which encompasses you and draws you in. It has two of those vital sunset ingredients – drama and emotion."
​Stringtronics ­Dawn Mists​
Mark Barrott: "And speaking of drama… This turns your life into a movie, if only for a few minutes!"
​Vangelis ­Abraham's Theme
Mark Barrott: "Just beautiful. Almost life changing. It has what I call 'Positive Pathos'. Slighty melancholy, but the ability to totally change your mood into a reflection of nostalgia and a memory of what might have been."
Woob ­Wuub​
Mark Barrott: "20 years ago (god is it really that long?) Paul Frankland made two seminal ambient albums as Woob and this is the standout. Put this on, stare out to sea and imagine the infinite possibilities of all that ever has been, can be and will be."
Ashra ­Sunrain
Mark Barrott: "A drug free intense sunset trip from Manuel Göttsching (E2­ E4), which of course became Sueno Latino, which of course (more or less) launched the whole Balearic movement!"
Mark Barrott ­Deep Water
Mark Barrott: "As I said, it's why I make music."
Mark Barrott's 'Sketches From An Island 2' was released 1st July on International Feel (buy).