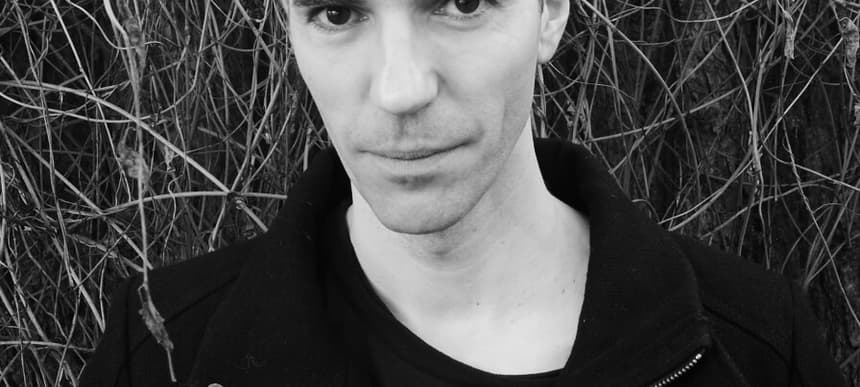 10.02.2015, Words by dummymag
The 10 best tracks by the Spaceape, according to Martyn
In October last year, Stephen Samuel Gordon, better known to the wider music community as vocalist, poet, and MC the Spaceape, died following a five-year battle with a rare form of cancer.
The Spaceape rose to prominence through his work with Kode9, with whom he released Hyperdub's first record, the foundational Sine of the Dub, in 2004. While it was the continued collaborations between the two over the years, and the eponymous Spaceape from Burial's first album, that are most well-known, Gordon also worked with a range of artists over the years, including The Bug, Redshape, and Dutch producer Martyn.
Is This Insanity? was the first collaboration between Martyn and the Spaceape, appearing on the former's debut album, 'Great Lengths'. Written shortly after the birth of Gordon's daughter, Is This Insanity? deals with, as Martyn's puts it today, "the rollercoaster of emotions one goes through taking care of a new life. You carry on because there's a responsibility, but at the same time you ask yourself whether this is insanity?"
Martyn is reissuing Is This Insanity? on 12", backed by Ben Klock's heavyset 2010 remix of the track and a previously unreleased production called Camberwell Green, in memory of his friend, bringing their old collaboration to a new audience (original vinyl pressings are hard to come by today).
"I treat this record as a memory," Martyn says of the re-release, "But you're more than welcome to bang it out in the club of course!"
To mark the reissue, Martyn remembers some of the Spaceape's best work. His selections serve both as a reminder of Gordon's unique talent and considerable range, as well as an entry point for those unfamiliar with his music.
01. Kode9 & Daddi Gee
Sine of the Dub
Martyn: "The Spaceape's very first appearance, still as 'Daddi Gee'. This song was a turning point for me and my whole musical existence. It was so radical to record nothing more than a bass note, reggae stab, and a vocal performance, and still Kode and Spaceape managed to bring so much depth. Although it doesn't really sound like it, this has become the blueprint for the dubstep movement."
02. Kode9 & the Spaceape Backward
Martyn: "Contrary to the smoked out vocal styles of Sine of the Dub, Backward has a more upfront, aggressive vocal style. It reminds me much more of Stephen's earlier live gigs with Kode. Backward is not a tune with a vocal whacked on at the end – the arrangement follows the vocal. Kode & Spaceape, far ahead of the game in 2006!"
03. Burial Spaceape
Martyn: "Can't really leave this track out of a top 10 of definitive Spaceape tracks! This song made him a household name far outside the (still small) London scene of '06. Listening back to it, it actually sounds much more like a Kode9 track from that era than what we now know has become Burial's sound, with his signature crackle, hall reverb, vocals layers, etc. Great song though, with great rhythms, though I feel vocally there are better Spaceape tracks."
04. Kode9 & the Spaceape Time Patrol
Martyn: "I think this song didn't get the attention it deserved. Stephen's vocal is more like a sampled texture here than a real lyric, but I think this track shows they were exposed to more techno sounds, possibly from gigging with people outside the dubstep world (like the Brainfeeder lot). The video is amazing too – total 1984 vibes."
05. Jerry Dammers Orchestra with Hypnotic Brass & Spaceape Ghost Town
Martyn: "Stephen played gigs, but never on a touring schedule as relentless as Kode, so I think a lot of people have not witnessed them live. Usually with Kode the sets were extremely energetic – he would really get into the lyric, go in the crowd and engage with them, move and jump around; really bringing that energy. Quite far removed from headnodding and not an ordinary MC performance at all. In this clip however, with the Jerry Dammers Orchestra (The Specials, Fun Boy Three), he does an amazingly serene rendition of Ghost Town. He worked briefly with Jerry and they became good friends. Jerry also wrote a great obit in The Guardian here."
06. Spaceape On The Run
Martyn: "When travelling and studio time became more and more limited, Stephen kept recording his vocal ideas at home. He did a few songs based on Haitian folk percussion records he had, and out of that came the 'Xorcism' EP, of which this is one of the tracks. The lyrics on this are so strong and personal. The video for this is also amazing!"
07. Redshape Until We Burn (feat. Spaceape)
Martyn: "From Redshape's album 'Square' – I really love this collab because you can tell both artists drifted away from their 'sound' to approach the other. One of the more unusual (and underrated) Redshape productions, but executed really well."
08. Martyn Is This Insanity? (feat. Spaceape) (Ben Klock remix)
Martyn: "In my opinion this is the best remix Ben has done. I know he loves it as well and still plays it as a staple in his sets. Initially I was a bit underwhelmed with it as the original has a lot of layers and percussion going on, but I think he found the essential elements of the track and built a tough Berghain-esque stomper around it. Stephen's lyrics on this ring true to this very day!"
09. Cult of the 13th Hour Wickedness
Martyn: "I wanted to include a Cult of the 13th Hour track as Kevin [Martin, aka The Bug and one half of Cult of the 13th Hour with Spaceape] was one of Stephen's best friends, and he brought out a different, more driving Spaceape sound in this song. Like with Backward, the vocal really guides the arrangement in a beautiful way – shows the two were on a level together!"
10. Kode9 & the Spaceape The Devil Is A Liar
Martyn: "Clearly inspired by trap/footwork sounds (and also grime), but immediately taking it to a real high level by Kode, this is the final chapter. Maybe because of the trap/footwork inspiration, or because of being removed from (the real) dubstep, Stephen moves away from the patois and actually sounds slightly more 'American' on this EP. Again a magnificent video by Hiroo Tanaka, who also did On The Run."
3024 re-release Is This Insanity? on February 16th 2015 (pre-order).