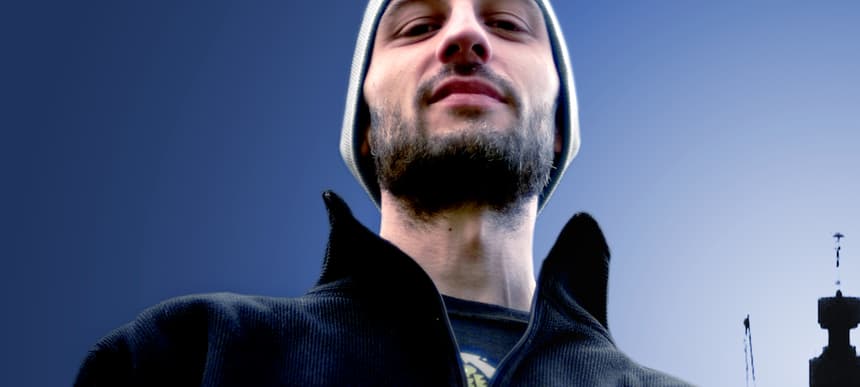 27.04.2015, Words by dummymag
The 10 best weird disco songs, according to Luke Vibert/Kerrier District
Luke Vibert is a man of many aliases – Plug, Wagon Christ, Spac Hand Luke, etc. etc. – but for our money, one of his best has always been Kerrier District.
Kerrier District has been an outlet for Vibert's bizarro disco excursions since 2004, when he released his stellar debut album under the name through Rephlex Records, as well as an unfuckwithable remix of Black Devil.
Although he's only occasionally returned to the moniker since then (one single in 2006, another in 2011), everything that Vibert has produced as Kerrier District has been gold. Combining oddball grooves, funky drum samples, and hints of acid with Vibert's outrageous sense of humour, it's the sort of grin-inducing dance music you wish you could hear every day.
Just as we thought Vibert's Kerrier District days were behind him, he announced a new record under the name. '4', due out via Hypercolour in May, is a great record that can only be described as classic Kerrier. Before its release, Vibert takes a look at some of his favourite weirdo disco tracks. "Disco" might seem like a loosely-fitting descriptor for some of these, but every track is loose, louche, and funky as hell.
01. Gary Davis & His Professor The Pop
Luke Vibert: "Always love a drum machine beat with loads of loose, funky percussion and handclaps, and a few synths thrown in for good measure. The tiny record label this came out on – Chocolate Star Entertainment Group – is still going!"
02. Danny Gold TSOV Groove
Luke Vibert: "Totally ill disco funk synth madness. Love this boogie era – 1983. So much funky yet synthesized shit."
03. Alex Cima Deception
Luke Vibert: "None of these tracks are conventional 'disco', and certainly not this one! Sounds a bit like Can, but possibly even more strange and funky. Tons of lush vocoder (one of my favourite things in life) all over the album. Geezer's still going strong today."
04. Ronald Snijders Kaseko Attack
Not on YouTube
Luke Vibert: "Self-released pressure here from 1980… and Ronald plays every instrument (very well!). Dark, funky, and sexy!"
05. The Flyng Lizards Money B
Luke Vibert: "Only released as the b-side to the ingenious hit single Money in certain territories on 7" (shame), this is a filthy dub version of the a-side, with some of the loosest bass playing ever put to tape (a good thing)."
06. Sweet Potato Pie Hot Disco Night (Are You Ready?)
Luke Vibert: "Originally just the percussion track of Delicado by El Coco, they released a gloriously edited long version in 1978 on the 'Hot Disco Night' comp on AVI Records, much bootlegged ever since. Rinder & Lewis are heroes of mine – they never really put a foot wrong."
07. Chris Craft Discosmic Sinfonia
Luke Vibert: "I adore the entire album this is from, 'Discosmic Dance', but this one seems particularly prescient. Used to see it fairly cheap all over Europe, but the originals have all but dried up now. Discosmic is the word!"
08. Script UFO's Fly Again
Luke Vibert: "Kinda hilarious, kinda sad story running all the way through this track. A very Black Devil electronic disco sound, but possibly made before that (in 1977)."
09. Jah Wobble, Jaki Liebezeit & Holger Czukay How Much Are They?
Luke Vibert: "Filthy, dubby, synthy, poppy, classical (yes) disco madness abounds. Loose as fuck, but lovely with it."
10. Edwin Birdsong She's Wrapped Too Tight (She's A Button Buster)
Luke Vibert: "Again, this track is kinda loose as fuck (a running theme here) but incredible. Lots of Mr. Birdsong's stuff was great – Rapper Dapper Snapper, particularly – but somehow I find this one the most pleasing. Yet again, it combines live sounds with electronic ones. Thanks Edwin."
Hypercolour release '4' on May 18th 2015 (pre-order).