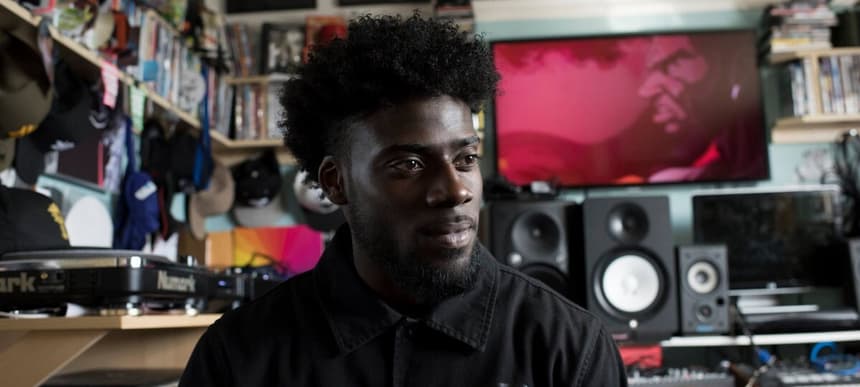 09.06.2016, Words by dummymag
The 10 tracks that remind me of Bedford, according to Lil Silva
There's no place like home – it's a phrase that we can all agree is a truism, whether our feelings veer towards negativity or shines with positivity. Some people never leave, but some fly as far away from the nest as possible – but whatever home means to you, it resonates an emotional attachment that few other places can.
Bedford is the place that TJ Carter aka Lil Silva calls home. Pinpointed between Birmingham and London, Bedfordshire's county town is where he was born, raised, and still resides, in spite of the usual tendency for artists to head to a larger city. Working from his bedroom, Silva's maintained a career as a musician that includes achievements such as releasing the prototypes of UK funky, solo EPs on Night Slugs and Good Years, and writing for and working with Adele, Mark Ronson, and Banks. Yes, there's no place like home to Lil Silva.
Following the release of his new EP 'Jimi' (aka 'Journey Into My Imagination'), Carter has given us a roadmap of his head in the form of ten songs that remind him of his hometown. His A-Z includes some early UK funky tracks, first wave grime, and a nostalgic trip back to dinner with the Carters in the form of Bob Marley. Here's what he had to say about the theme:
"I wanted to pick ten songs that remind me of home and growing up. I felt Bedford had so much character and taught me a lot about music and club scenes really early on, plus I feel the songs I've picked show a real reflection on the sounds I heard when I started out making music and where I still draw a lot of inspiration from nowadays. There's a lot of different moments of discovering music for me growing up that I can remember – from hearing music out of cars to hearing songs early at raves (when I was too young to be inside) and songs that I'd only hear at home. All of these different situations remind me of Bedford and these tracks will help give you a little insight into one part of where my musical journey started."
Read Lil Silva's picks and stream 'Jimi' below.
The Mitchell Brothers Routine Check (feat. Kano and Mike Skinner)
Lil Silva: "Routine Check was a song that came out when there would be routine checks for no reason and this song was showing the funny side of that. Although it wasn't all that funny at the time, we could all relate to The Mitchell Brothers and Kano when we heard it, so I guess it became a go-to track whenever the MiniDisc was out."
Kamikaze Ghetto Kyote
Lil Silva: "Ghetto Kyote is one of the earliest grime tunes I remember – just the riff alone was so captivating for me, with those haunting strings and harsh drums. This tune stood completely in its own lane and had you hooked by the first four bars. I remember my brother playing this out a lot around Bedford when he did DJ sets. It's funny that it's as relevant today as it was back then, and I guess the simplicity of it is timeless and you still can't beat the way this makes you feel in a club or on headphones."
Klashnekoff Murda
Lil Silva: "Murda was so big that it became like a default ringtone in Bedford. I didn't listen to loads of UK rap growing up, but I feel like this was one of the early tunes that crossed over to me. Along with channels like Channel U and MTV Base, the video played a big part. I feel like after school when we put these on just to listen to new tracks, it was this video that got played so much. I guess at that age when you didn't have what we have now for discovering music when you see something getting supported that much across radio and tv, you just naturally gravitate towards it and it made me a fan of Klashnekoff, 100%. Plus, who can argue with a lyric as good as, "K! lash your rasclat neck off"?"
Macabre Unit It's All About
Lil Silva: "Macabre Unit's It's All About is a favourite of mine. I still think their sound was way ahead of its time and they were the first producers I started working with in Bedford. I learnt my way around Reason because of them and that helped craft how my stuff sounded early on. I remember playing their tracks at the early Night Slugs parties and getting such a huge reaction. It's nice to hear Macabre getting played in a lot of different DJ sets across the board, now."
Bob Marley One Drop
Lil Silva: "Never fails – such an inspiration. It's a song that would get played every summer without question; it reminds me of home and it's something that I can relax to if I don't want to have to think about music and instead just allow it to take me somewhere. A lot of Bob Marley was played in my house growing up; it goes hand in hand with Sunday dinner at the Carters'."
Roy Davis Jr Gabriel (feat. Peven Everett) (Live Garage Version)
Lil Silva: "The classic end of night track. It didn't matter what time this dropped for me during the evening, all that I cared about was that it was played. It's kind of hypnotic how it would work in clubs; it's so mellow and just would set the tone for the dance floor. One of the best garage records for me, no question."
Swiss Cry feat. Sharifa
Lil Silva: "Such a wicked vibe on this track – the sample and the delivery on the verses – it's a classic. Cry was the original coming-out-of-car-windows track around town, but I also remember watching the video for this just as much. I connected with Cry a lot growing up; the message behind the song was very honest to what goes on in certain parts of the U.K."
Lil Silva Seasons
Lil Silva: "I have to remember where it started musically. Seasons was done on an old PC I had made at my parents on Fruity Loops before dinner and the track that allowed me to progress to the next step, got me out of Bedford, and allowed me to travel all over playing my music. It's nice that I can still play this record amongst a lot of different music that I have in my sets today and it still sounds just as good as it did then. It still makes me feel the same as it did the first time I heard it out in Bedford."
The ENDZ Are you really from the ends
Lil Silva: "Everyone would listen to this and probably think it's talking about where they are from and I was no different, ha! Are you really from the ends was a real mandem record with great energy that just gave the people who would sit down in clubs a reason to stand up and jump about. Being in school at the time, we would have it playing a lot throughout lunchtimes and after school. It was also one of those early records I owned on vinyl that wasn't my brothers."
D Malice Gabryelle Refix
Lil Silva: "Bedford's very own, D Malice! Massive riddim which started on the club scene in Bedford first and quickly became one of the biggest U.K. funky records to date. This track changed a lot for producers coming out of Bedford. As it just so happened that at the time of UK funky, both I and malice had songs that were representing where we are from and getting played everywhere. They were so particular sounding; the kids in Bedford were reacting to the sound when we would go out and play local club spots to test out records for the first time and that played a huge role in helping us realise there was a sound we were creating and it was coming from us being there. It's nice that they still get played now, and, for Bedford it was like our "are you really from the ends?" moment' :)"
Lil Silva's 'JIMI' EP is out now through Good Years (buy).