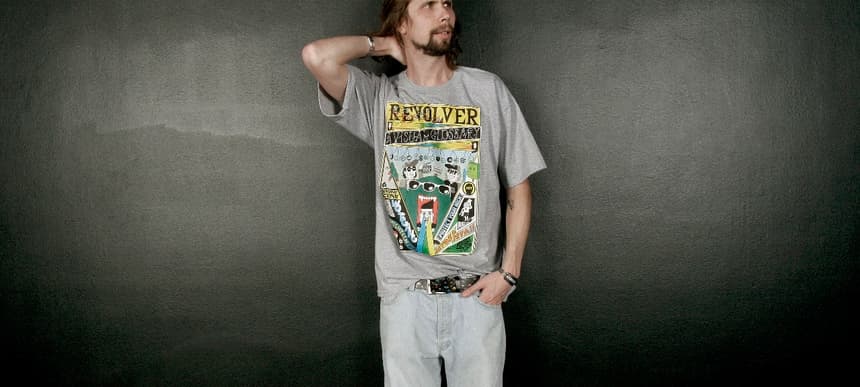 21.12.2015, Words by dummymag
The 13 defining Ed Banger songs, according to Busy P
10 years is a long time. In the same timeframe, Pedro 'Busy P' Winter has managed to establish an empire that caused worldwide hysteria. Ed Banger Records was established off the back off Mr Flash's meandering hip hop inspired instrumental Radar Rider, and is still going strong. Managing Daft Punk in the '90s through to 2008, Pedro has an ear for a decent synth jam and the label snowballed to incorporate producers such as the late and great DJ Mehdi, the way-before-her-time party rap princess mademoiselle Uffie, religious blog-haus leaders Justice, leftfield connoisseur Krazy Baldhead and in more recent years, Para One and Boston Bun.
Known for their insanely colourful and detailed record sleeves created by the label's art director So Me, Ed Banger was many 00's teens first rung on their step up the electro, disco and house music ladder. To celebrate 13 years of the label and pre-gaming for his set at Sankeys New Years Day party at Victoria Warehouse in Manchester, Busy P shares a 13-deep selection of some of the most defining tracks on Ed Banger. From Pop The Glock to Lucky Boy, it's a perfectly balanced list of throwback gems and more recent heat from one of Paris' most notable music outposts.
Read and listen to the list below to see why 13 years on, Ed Banger are still banging.
Mr Flash Radar Rider
Busy P: "The reason I started Ed Banger records. An unknown producer came by the office, looking for a manager…He played me his music, I wasn't into managing anyone except Daft Punk and DJ Mehdi. I told him I'll start a label to release his music. I was just blown away by his beats. I think Mr Flash is underrated, if Madlib and Moroder had a kid, he will be called Mr Flash."
Justice Waters Of Nazareth
Busy P: "Probably the record that set up the 'sound of Ed Banger'. Slayer meet Nile Rodgers, we like when it sweats, when it bleed and when girls cry at the end. I have to admit I did not understand the first time I've heard it. I think Justice are genius. Can't wait to share their 3rd album, no delivery date yet…"
DJ Medhi Lucky Boy
Busy P: "This is the first album we released on the label. As you can imagine it sounds very emotional today. This album is everything for me, this is how Ed Banger records sound, feel and vibe. We miss Mehdi everyday, he is in my head and heart all the time. Fun fact : Mehdi came up with the name Ed Banger records."
Breakbot Baby I'm Yours
Busy P: "For an indie label it's always hard to talk about a 'hit', I think Baby I'm Yours is a pure 'hit'. The video is also something we can be proud of. It took four months to do, 1200 hand painted pages and a lot of poetry. This is a modern love song to dance on. Breakbot new album will be released in February 2016, get ready!"
Cassius I <3 U So
Busy P: "I met the Cassius boys back in 1995… it's been 20 years. Oh my! Releasing something from the godfathers of 'French Touch' was important for me. DJ Mehdi and I picked up some demos at their studio and put together one of the strongest EPs ever. Kanye & Jay Z even sampled it. Cassius new album is due for June 2016."
Mr Oizo-Gaspard & Augé Rubber
Busy P: "This soundtrack is so deep! The weirdest producer of the crew Mr Oizo teaming up with Gaspard of Justice, no one expected it. The music is just brillant, the movie is insane. Even if we did not sell a lot of them, it's one of my favorite releases."
Boston Bun Paris Groove
Busy P: "Boston Bun is the last artist I've signed on the label. I travel the world with him spreading house music in clubs. He is a great producer and an handsome boy. This song is about Paris nightlife. After November 13th this song means a lot. We're standing up against violence, Paris is united and we still dance."
Sebastian Embody
Busy P: "It's very important for me to work with people that are not like me. Our difference make us stronger together. He is very shy, very secret and very very talented. He is a workaholic, he is producing so many stuff at the moment. His first album 'Total' is a masterpiece, something that defines the '10s so well."
Uffie Pop The Glock
Busy P: "Releasing her album was hard, too many people were involved…I am very proud of the producers we put together: Feadz, Mr Oizo Sebastian and Mirwais. Either we released too late or too soon I still love to listen to it, it's also exciting to see she inspired a lot of modern pop singers."
Mickey Moonlight Close To Everything
Busy P: "The Soulwax brothers introduced me to Mickey Moonlight. I knew him for producing the amazing album of Zongamin. I'm very proud of this record, it's very important to show Ed Banger records is not only about heavy metal disco. This record is pure freedom, it will take time for people to understand it, but once they will, they will become addicted."
Busy P Rainbow Man
Busy P: "I've playing with my MPC 2000 since 1997. I like to spend some times in the studio jamming with my friends."
Krazy Baldhead Revolution (Para One remix)
Busy P: "More than 10 years ago we've asked Para One to remix young Krazy Baldhead. I signed Krazy Baldhead in order to explore a more leftfield side of electronica. The man was influenced more by Prefuse than Prince. Asking Para One who was already a producer I loved at the time was the perfect idea. I am so happy he joined Ed Banger records in 2015. Both Krazy Baldhead and Para One are attracted by African music, and making bridges between electronic and african music is always exciting."
Feadz Population Shift
Busy P: "If you're still wondering if you can be touched by a robot song…this one gives me goosebumps."
Busy P plays Sankeys at Victoria Warehouse Manchester on New Years Day (tickets). Listen to Busy P's selections via our YouTube playlist.