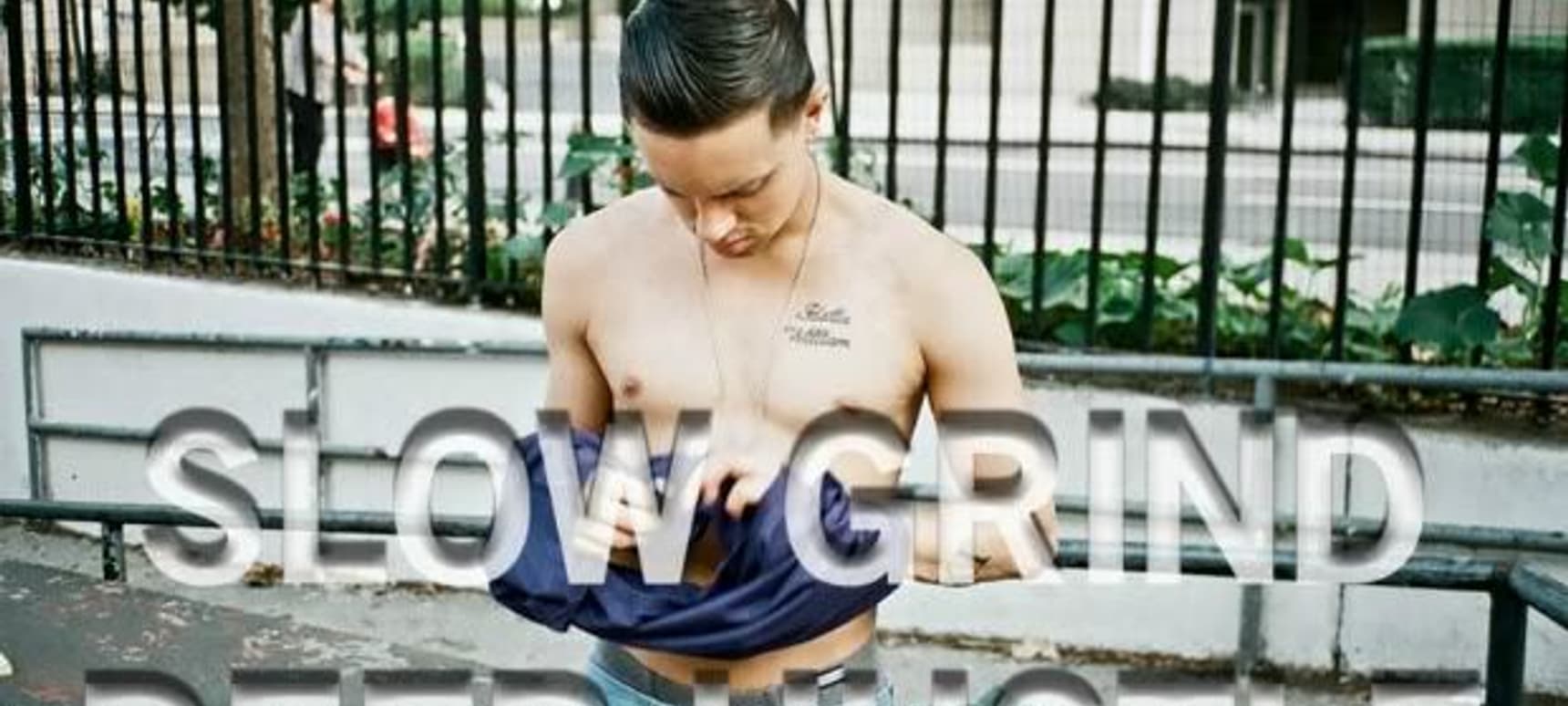 09.07.2013, Words by dummymag
The 20 best Dummy Mixes so far
A grand re-launch is as good a reason to get dewy-eyed, nostalgic and self-congratulatory as possible, so today we're looking back on our Dummy Mixes. Ranging from considered deep house to lunatic footwork, house party throwdowns to studies on what can even be considered a "mix", we've collected 20 of the best to ever grace these pages.
Rather than rank these according to the subjective tastes of our writers, we figured we'd let the figures do the talking – so here are the 20 most popular, most listened-to mixes that have ever appeared on Dummy, presented in ascending order, and available to stream on the left of the page.
If you put the vowels back in, "SND" becomes "SOUND". Mark Fell and Mat Steel are sound obsessives, and if you ever needed evidence of this then than look no further than their mammoth-sized Dummy Mix, a session consisting entirely of tonal, non-rhythmic music and sound. You'll probably need to take a tea break or five if you plan to get through it in one sitting – the mix clocks in at three hours.
When we first posted this mix, FaltyDL described it as "as close to an influences mix as I could make". It's a good set of influences too, with Kerrier District, Konk, Derrick May, Theo Parrish and Underground Resistance all accounted for. The mix starts slow and builds its tempo from there, taking in a few more contemporary producers along the way and closing with Strings Of Life.
Ahead of the release of her debut album, Panorama Bar resident Steffi offered a deep session for dark rooms, taking in music from the likes of MCDE, Gerd and Kink. It's a straightforward mix but a very effective one.
Holy Other's mix dropped before he'd released anything tangible (a 7" for Transparent and a split cassette followed not long after) but seemed to act as a mission statement for his own music. As he told us when we posted the mix, "[i]t's a bedroom mix for singles. Slow(er) jams + fragile dance tracks for pillow weeping sessions."
Dummy Mix 76 // Horse Meat Disco
Before putting out their double disc 'Horse Meat Disco 3' compilation, London's sleaziest whipped up a fantastic Dummy Mix, opening with Dusty Springfield's slo-mo classic Baby Blue. Sadly, the mix was lost to the great Dummy crash of 2011, and only the first 10 minutes of it exist online anymore. Still, just imagine how good it sounds.
Dummy Mix 48 // The Juan MacLean
The Juan MacLean's all-vinyl mix takes in both modern and vintage deep house and mixes it in such a way that you can't tell what era each record comes from. Its theme is deep and soulful throughout, opening with Aaron-Carl's Crucified – Juan made the mix as an ode to Carl, who had died not long before the mix was recorded.
Legendary garage producer MJ Cole dropped a Dummy Mix for us back in August 2010 exploring not-quite garage music – inflections of dancehall and grime abound across the mix, which covers music from Mz Bratt, Wiley, Baobinga and Drop The Lime.
Babe Rainbow's is a mix of two halves. The first takes in abstract dance forms, the second abstract hip hop. Coming in the days before the term "cloud rap" had become such a large part of the discussion, Babe Rainbow gave an erudite, eloquent summation of the music's appeal: "it's undeniable (to me at least) that the most exciting thing happing right now are these kids building mini empires for themselves. Artists like Main Attrakionz, Lil B, Odd Future (and Soulja Boy before them) are making music for the internet generation. And like the internet, their music is bizarre, hilarious, occasionally unfocused, but always engaging and full of personality."
First, a bit of history: Jackmaster had put together a list of Youtube videos for the Fabric blog under the heading "top 10 90s commercial house bangers" and for his Dummy Mix, recorded not long afterwards, he decided to take this idea one step further and put the cheese together. And yes, every tune is a classic – Paul Johnson's Get Get Down, Stardust's The Music Sounds Better With You, Armand Van Helden remixing Tori Amos, Intro – it's the ultimate house party mix.
This is a straight-up Machinedrum set, and a solid one at that. Frantic rhythms, footwork mutations, unreleased HudMo – Machinedrum has a way of making all the music he plays sound like his own.
Pariah's Dummy Mix is a quick tour of UK garage. It's all "classic" stuff, featuring both the original teachers – Steve Gurley, Wideboys, El-B – as well as the wave of artists that acted as the gateway to these sounds in the first place, with the mix being bookended by The Streets and Burial.
When Kowton made our Dummy Mix, he seemed destined to be one of those guys that puts out consistently solid music yet never seems to get much more recognition besides lingering on the fringes. That all changed with a few collaborations – with Pev and with Julio Bashmore – but if you want to return to an era where Joe Cowton was serially underrated, check this techno-leaning mix from the man.
Dummy Mix 100 // JD Twitch (Optimo)
JD Twitch from the legendary Optimo put together a love-themed selection to celebrate our mix centenary. In true Optimo spirit, it's a dancey mix but not necessarily a dance one, and it's way rough around the edges, but that's worth it when you have everything from A.R. Kane to Deee-Lite to the Art Of Noise to The Monks to Levon Vincent rubbing shoulders with one another.
Dummy Mix 94 // King Midas Sound
Although it's an interesting selection of tracks in itself, King Midas Sound's mix sticks out for the way each cut is manipulated, with Kiki providing revoices to many of the selections that litter the tracklist. And where else will you hear a King Midas Sound and Death Grips duet?
Dummy Mix 80 // Andrew Weatherall
Andrew Weatherall's second Dummy Mix was recorded live at Vintage Festival in 2010 and flicks between vintage club tracks (Acid! Disco! Energy Flash!) and modern yet vintage-leaning club tracks (Midnight Magic! Visti & Meyland!). It's thoroughly excellent all the way through, but coming from Andrew Weatherall, it was always going to be.
Brenmar made two Dummy Mixes for us, both complementing one another. Dummy Mix 111 is his second one, and is primed for the dancefloor. Modern R&B, re-edits, dancefloor mutations and roof-raising tunes.
Dummy Mix 79 // Blood Diamonds
Blood Diamonds' Dummy Mix can act as a primer for the wave of alternative musicians that crossed over during 2011. Rather than showing off his favourite tracks of all time, the mix shines a light on more contemporary indie and alternative acts – Grimes, Baths and Chad Valley all appear, a short while before their crossover.
Dummy Mix 39 // Andrew Weatherall
Where Weatherall's second Dummy Mix was a live recording of a DJ set, aimed at the dancefloor, his first mix captures the more varied, esoteric tastes of the dapper gent. Rock 'n' roll, soundtracks, modern punk, krautrock and Mad Professor are some of the items on this mix.
Before he was Kanye West's BFF, Evian Christ made us an excellent, fascinating Dummy Mix composed entirely of his own material. Explaining the concept of the mix to us, Christ said: "Duga-three is a four-part piece of music I wrote after reading about a Soviet signal transmitter of the same name. It was characterised by the repetitive tapping sound it broadcast, which was sufficiently powerful enough to intercept transitions across the world. After 28 years of transmission, the Duga-3 array was abandoned as mysteriously and unexpectedly as it had appeared." Consider this less a standard mix and more an Evian Christ release (in fact, Tri Angle would agree with this – they committed the mix to wax for Record Store Day earlier this year).
Brenmar's first Dummy Mix is, so far, our most popular of all time. Subtitled "Slow Grind, Deep Hustle Vol. 1", the mix is a collection of R&B jams. Put this on with friends and the reaction will always be the same – absolute joy. Mario's Let Me Love You sits alongside Mariah Carey's It's Like That and J-Lo's Love Don't Cost A Thing. Pair this with Jackmaster's mix and you have a good portion of a house party sorted – play it loud.