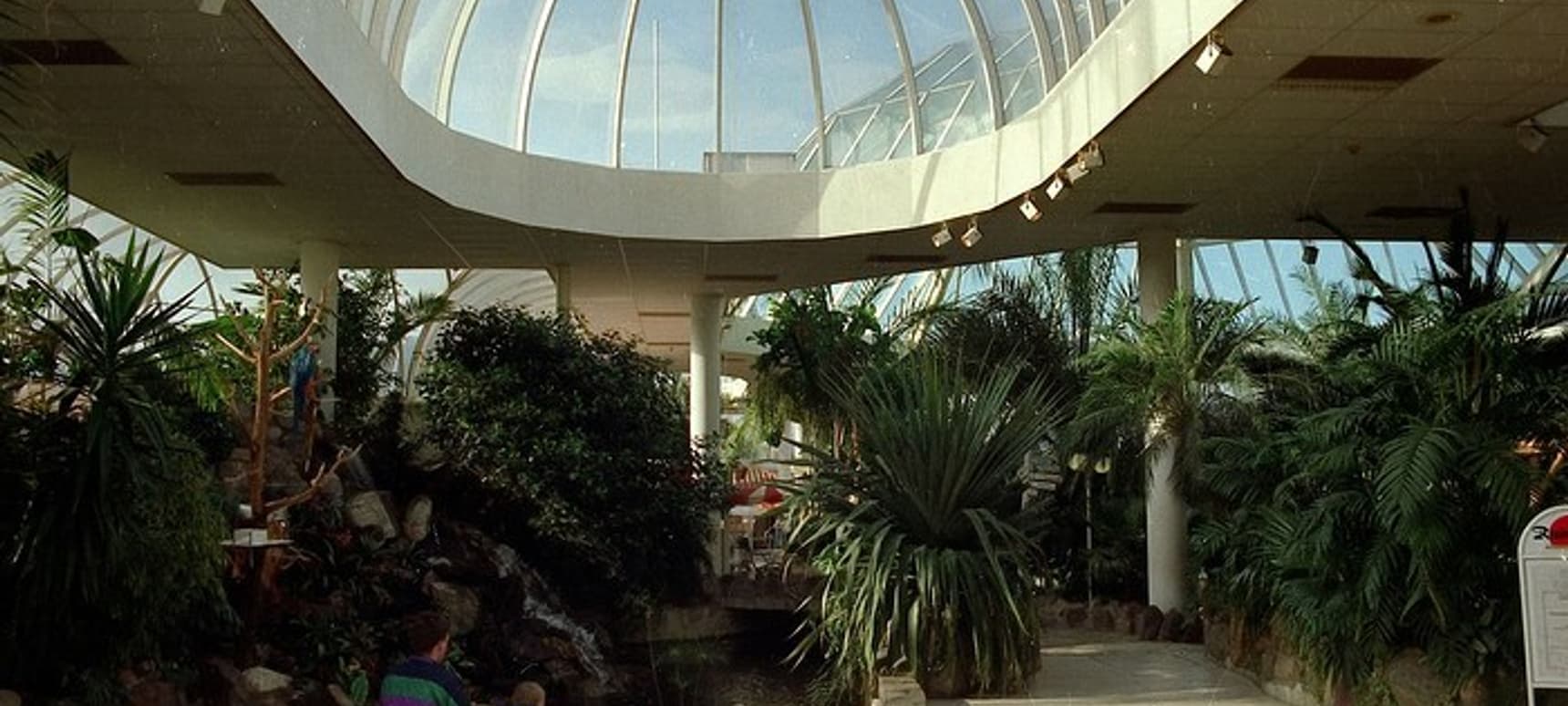 18.02.2016, Words by dummymag
14 things that inspired Betonkust & Palmbomen II's 'Center Parcs EP'
Have you ever been to Center Parcs? It's a massive bourgeois bubble full of squash playing childless couples and children shitting in jacuzzis. There's koi carp and climbing walls, water slides and a burger bar called Crispins, palm trees and forced fun. It's the ultimate postmodern puzzle: a forest built inside a dome which itself is inside a forest. This is the simulacra with a swimming pool. Or at least it used to be. A recent visit left us realizing that everything in life changes, everything fades, everything dies. The carp are all gone. Crispins is now Cafe Rouge. There's probably still shit in the jacuzzi. That which was, is no more. I'm happy to report that the rapids are still sick, though.
Two guys who've presumably spent many a happy time in the bubble are Betonkust and Palmbomen II. Their upcoming EP on world famous dreamy house label 1080p, 'Center Parcs' sort of sounds like wandering round the tropically heated biodome after dark, when it's just you and the sound of parrots being piped into the plastic lushness. The bars are shut. No one's playing short tennis and the wave machine's being given a few hours respite. Oh, to be there now, amongst it all, badminton racket in our hand and a head full of dreams…
Sorry, got caught up in a memory there. To get you in the same headspace that we're currently floating in, we asked Palmbomen II, aka Kai Hugo, to give us the lowdown on the 14 videos that inspired the EP. See you by the plunge pool!
Electronome Bro
Betonkust & Palmbomen II: "Most certainly one of the best tracks ever to come out of the Bunker/Viewlexx universe. Its tempo and distorted breakbeats definitely inspired us to create 24×33."
Lapti & Nocow Sirenas
Betonkust & Palmbomen II: "While we were at the resort, good friend Antenna sent us this gem. Fantastic chords and melodies accompanied by a brilliant video. A E S T H E T I C S."
Center Parcs Videonet
Betonkust & Palmbomen II: "Center Parcs has its very own TV channel. This particular video contains some commercials (even for rolling paper!) and a live report from the subtropical swimming pool."
Lnrdcroy Land Repair Refuel
Betonkust & Palmbomen II: "This music is like fresh fruit and mineral water. A beautiful cassette, released on 1080p."
Lhasa The Attic
Betonkust & Palmbomen II: "Recently rediscovered this one. Nice choir sounds. People on dancefloors tend to respond really well to this, especially in Lithuania."
Georgina Verbaan
Betonkust & Palmbomen II: "Georgina Verbaan is the Dutch Mila Kunis. She is Betonkust's biggest source of inspiration."
Legowelt Myst
Betonkust & Palmbomen II: "This album has been a favorite for more than a decade. They re-released the whole thing on vinyl recently."
Burns & Hawk Janice Will Deal With It
Betonkust & Palmbomen II: "This release deserves more attention. For us this is a HIT record! Also check out Becoming Nice, which has the same house organ loop."
I-f The man with the stick
Betonkust & Palmbomen II: "I-f has produced haunting atmospheric masterpieces as well as tracks that are powerful enough to destroy the entire planet. He's probably THE most influential person in the Dutch underground."
RTL4 leader
Betonkust & Palmbomen II: "RTL4 is a Dutch TV channel that tries to make you feel WARM and AT HOME. When everything else is terrible, you can always watch RTL4."
CCCP Made In Russia
Betonkust & Palmbomen II: "NEW BEAT is a huge inspiration, especially when the sky is grey. We love Belgium."
Flodder
Betonkust & Palmbomen II: "Some people say there's no such thing as a 'Dutch identity'. Dick Maas proves them wrong."
Petra & Co Laat Je Gaan
Betonkust & Palmbomen II: "As mentioned before, we love Belgium."
Kindernet
Betonkust & Palmbomen II: "This will make any Dutch person born between 1980 and 1990 cry."
Betonkust & Palmbomen II's 'Center Parcs EP' is out February 26th on 1080p (buy).