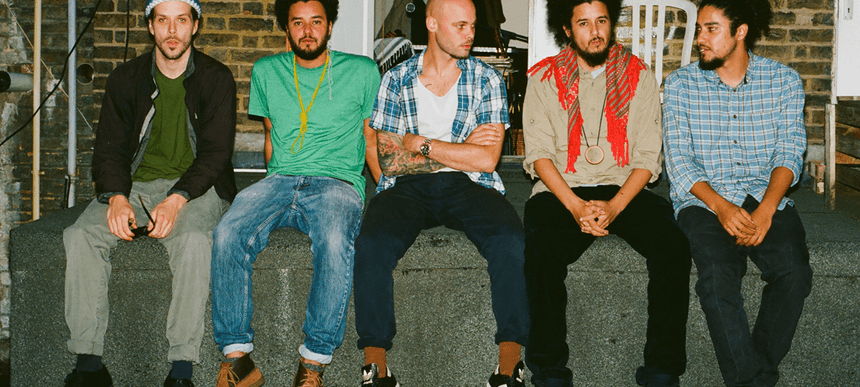 24.10.2014, Words by dummymag
22a: get money, put record out, get money back, do it again
The buzzer doesn't work at the flat that Reginald Omas Mamode IV shares with Al Dobson Jr and Jeen Bassa. After giving him a call, I'm soon welcomed into a set up which is likely a familiar one: Mo Kolours, Al Dobson Jr, and Jeen Bassa are spread across two dangerously deep-seated sofas, Reginald is pouring coffee into six neatly arranged cups on a congested coffee table, and a haze of smoke hangs over the modest lounge-cum-kitchen. Tenderlonious stands perched at the side alongside a set of shelves stacked with records, taking charge of the turntable in the corner and turning over the roots reggae LPs that play throughout the couple of hours I spend there.
I probe Tenderlonious about the origins of this loose collective and of 22a, the label he runs that's been a vehicle for releasing the group's music. One of the older members of the room, he fires facts and opinions at you with a frankness that's in contrast to the measured, deliberated responses of the others.
This upfront approach is no doubt one of the reasons that he started up the vinyl-only concern towards the end of 2013. Three releases in, 22a has now provided a home for music by each of the five artists, as well as (the sadly absent) Henry Wu. The music spread across those three EPs could, roughly, be categorised as instrumental hip hop: there are always lifted, looped drum breaks, and grooves that often cut short almost as soon as they're allowed to settle. That said, you're just as likely to hear a muffled kick drum thudding amidst thick, oozy synths as you are to hear a half-slung beat slackly hung across a rare groove sample.
While it's difficult to pin down any kind of genre for them, what marks them out against the spates of other lo-fi, woozy beats is their uniquely disjointed rhythms, which consistently sit as the clicking, clattering heart at their core. Mo – who is brothers with Jeen and Reginald – carved out some space for this loosely stitched, rough style of beatmaking with his EPs for One-Handed Music, the first of which he put out in 2011. The debut release on 22a, a split 12" between Tenderlonious and Al Dobson Jr, followed in that same wonderfully hazy template, and promptly flew off the shelves at iconic record shop Sounds of the Universe, where it had been picked up as an exclusive.
When I ask Tenderlonious how he went about pressing up that EP, his response is typically matter-of-fact: "It's just money," he says, "I'm not thinking about getting promos out, or any of that. What I'm thinking is: I get the money, I put the record out, people buy it, I get the money back, and I do it again." He soon emerges as the one leading the conversation, continuing, "The music is just there in abundance. These guys provide the most amazing hub of beautiful music. There's never a shortage."
As a collective, they're tied together by having shared houses, stages, and parents, as well as a shared musical understanding that's audibly evident in their roughly shorn productions, which cut straight to the point. That first 22a release set the template for the two that followed: a split release between two artists with a nondescript, slightly clunky typeface simply displaying the label's name, sitting atop the titles of the handful of tracks on each side. This no-frills approach to putting out records may not be a novel one, but it made sense as a way of getting their music out at a time when, for most of them, talks with labels were stalling.
"It's just money. I'm not thinking about getting promos out, or any of that. What I'm thinking is: I get the money, I put the record out, people buy it, I get the money back, and I do it again." – Tenderlonious
Although there had been a few releases before this – namely, Reginald's debut on Five Easy Pieces and the triptych of EPs released by Mo Kolours on One-Handed Music – having 22a as an extra outlet has notched up the exposure of all involved, and placed the music of each artist in the context of their fellow labelmates. When the beats they produce are viewed alongside one another, the interpolation of styles and influences among them becomes increasingly evident. There have been numerous collaborations across their releases – on or outside of the label – and they point out that there are also many handclaps, snatched vocals, and small suggestions or ideas which they never bothered to credit. More recently, there have been EPs on Rhythm Section and IZWID for Dobson Jr, with Henry Wu having a release lined up for Alexander Nut's Ho Tep imprint.
Now that those releases have established the core 22a personnel, Tenderlonious says that the plan is to expand beyond the DIY model that they've been operating in so far. "That was just a little, 'This is who we are, this the family, nice to meet you!' Now the EPs are done, we've done the trilogy." Future releases will be artist-focused with fleshed-out artwork, the first of which will be coming from Tenderlonious himself.
When I look to establish what it is that ties together the group's musical interests, Dobson Jr picks out hip hop as the genre where he first found as common ground between himself and the others. The influences on their productions range widely, but in many ways it's the samples foundational to hip hop that acted as a route into music for many of them. Reginald outlines its importance in the way that he consumes music as much as making it. "That's how I started to listen to other music," he says, "I often start with samples. For me, when I sit down, I listen to music."
Hearing jazz samples in A Tribe Called Quest pushed Tenderlonious to delve further into that world, and he spent the past five years honing the saxophone and working as a session musician before returning to making beats. "For me, I found Yusef Lateef, and then [sampling] wasn't enough for me. I had to get into playing." While all of their recording setups involve playing live in varying formulations, there is still a frayed, dusty quality to much of their music which seems connected to the well worn grooves of the records providing them with inspiration.
Reginald details his upbringing with fellow Deenmamode brothers Jeen and Mo, where Mo would take an addictive approach to tracking down samples and exploring undiscovered music. While samples may only play a part in the way they make music, the rough and ready spread of ideas across a set of two or three-minute cuts sits firmly in the template of the hip hop beat tape. There is a consistent ethos – in the looped drum breaks and idiosyncratic rhythms underlying most of the productions – traceable to the lineage that descends from the Slum Village material that was formative for each of them. It's an ethos which lends itself to the incorporation of disparate influences and ideas, something which they now explore in different ways. What remains is a prolific, unpolished style in their way of making music, which Dobson Jr characterises as an almost childlike way of approaching the creative process. "In terms of progression or advancement, for me it's not the application, but what comes out the speakers. It's how it makes you feel, not how you got there."
At one point, Mo refers to the fact that Jeen and Reginald are his brothers: "You know, in that we have the same dad." He goes on, "But all of these guys are my brothers." The more time I spend in their flat, the more clear it becomes just how sincere he is about this. The affectionate laughs that follow Tenderlonious's bursts of enthusiasm and the easygoing understanding between the five of them is quiet proof of what a tight group of friends they are. It seems as if this is built, in part at least, on a shared way of thinking about making music. "If anything, that's the thing that truly connects us all, the idea that we all approach it from the child's perspective," Reginald says, "You just do it instinctively."
There are no contracts in the 22a set up, and it's Tenderlonious's close friendships with all of them that has made discussions over what music they release an easy process. "The only thing I want to hear is what I feel like is them," he says, "And I feel like I know them pretty well. I care about them, I feel that's reciprocated, and I want the music to have the same feeling."
In terms of other ways in which their influences overlap, Reginald points out that restricting their output to vinyl is another reflection of where their shared musical appreciations lie. "We all have a feeling for music of an older era: we're all into soul, jazz, and reggae from the '60s and '70s. We spend a lot of time listening to old, dusty records." He says, "I don't really listen to anything but old music in my spare time. I'm just listening to old reggae and stuff like that." It's also a decision founded upon Tenderlonious's distaste for the convenience of buying music digitally, rooted in his own upbringing, far flung from any outlets for the music he grew up with. "If it's on vinyl you have to go out and get it," he says, "I'd have to go and get on a bus. It'd take me an hour and a half to get to Salisbury from my village, to go to Stand Out Records and talk to DJ Bong – a white guy with dreads, all kooky and offish – who after two years suddenly likes me. You had to build that bond – it meant something! Coming home with those records, it meant something."
Doing things solely on vinyl has also got them noticed where otherwise they might have slipped under the radar. Tenderlonious details how he had handed a promo CD into Sounds of the Universe for another project of his a while back, but nothing had come of it. "They never listened to it. I gave it to them in a little CD, all nicely packaged. I thought about it. This time, I didn't think about it – I just went with the test pressing, not bothering to write anything on it." It was off the back of that impromptu delivery that the Soho institution called back later that day offering to take on the EPs as exclusives. Mo put forward the idea to pitch the debut edition to that particular shop, with the huge volume of second hand records passing through the store's basement and its globetrotting Soul Jazz imprint matching their own tastes and aspirations.
Another space in which their inspirations intersect is an appreciation for the use of percussion. Jeen says, "Drums, generally, and percussion, is a big thing with all of us." All three of the Deenmamode brothers have sprawling drum collections and Mo draws my attention to the miniature Hungarian drum hanging from his neck as a neat bit of evidence of this. I try to suggest to him an idea of these exotic collections and far-flung samples being a way of holding strands of different cultures and places alongside each other, but instead he argues that their compositions are intended to produce a kind of universality. "We're drawing similarities between everywhere. If you break it down, there are always similarities between bits of music from all over the world. If you can unite that somehow, I feel like we do that."
"If it's on vinyl you have to go out and get it. I'd have to go and get on a bus. It'd take me an hour and a half to get to Salisbury from my village, to go to Stand Out Records and talk to DJ Bong – a white guy with dreads, all kooky and offish – who after two years suddenly likes me. You had to build that bond – it meant something!" – Tenderlonious
The conversation dissipates into a debate over what the most primal form of music is – drums or vocals – but eventually I manage to steer Tenderlonious back onto how he sees their music in a broader context. "We've been trying to define this 22a stuff. People compare us to Theo Parrish, Andrew Ashong, and people like that. They're safe, but we don't listen to that, we don't own their stuff. For us it's Roy Ayers or John Coltrane, and Theo Parrish would say the same thing of those cats. We're just doing world music: we're just combining all of our influences, which they share as well. It's an appreciation for sound." The others are quick to point out the associations attached to 'world music', and he makes clear that it's not that kind of world music: "We're not talking about Enya or any of that shit."
Three of them have been in this flat for the past two years, with all of them, barring Tenderlonious, having lived together in different flats in and around Peckham. Amidst the gradual change in the area as it treads the well-worn path towards the gentrification of an inner city community, it's tempting to draw some significance from the South East London locale in which they've largely found themselves. It seems to make sense to hold it up as the ideal creative hub for them to produce the prolific rafts of beats that each of them are sitting on. In truth, though, they don't seem all that bothered by what's going on around them. Their 'world music' is expansive in the way that they try to reach out to other sounds and cultures, but it's not new music that they're incorporating into their productions. Their location doesn't seem so important as the borrowed handclaps and the sample-worthy records which have been passed and traded between them in those various homes they've occupied.
Indeed, it's as I suggest samples as a means of communication that Jeen says, "I think we speak to each other through music all the time." Whether it's through a break from Conga Solo 3 that's been lifted off the back of an excavated bit of wax, or a particular riff he was alluding to when recording the keys, Mo says that he always has them in mind when he's making music. "I think about all these guys, and if they'll recognise what I'm trying to say and do."
22a release Tenderlonious's 'Thoughts of You' EP on December 15th 2014 (pre-order).