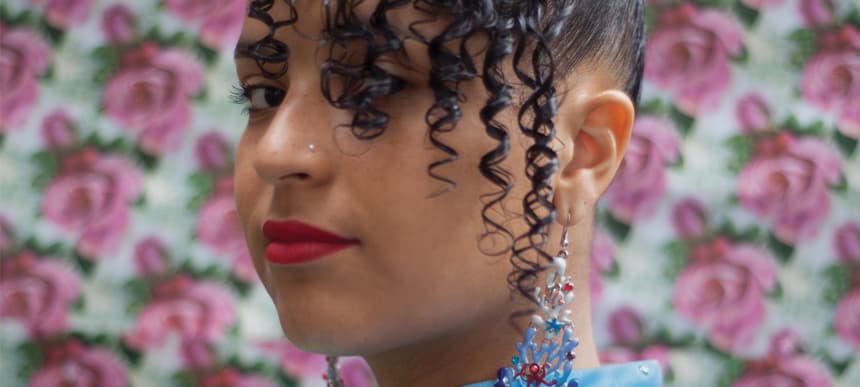 14.05.2014, Words by dummymag
Album of the Week: Fatima - 'Yellow Memories'
There's a line on Redlight – a live version of which features as a bonus track to Fatima's debut album for Eglo Records – that stands out: "The spirit of the past, mixed up with the present." Dropping in at a breakdown six minutes in to the rippling groove, it's certainly a literal translation of what the singer is about, making it more a footnote to the album's main body, but still a neat way of summating much of what unfolds through 'Yellow Memories'.
Fatima is an educated voice, not in terms of musical training, but as a soul singer carrying an appreciation for the debt she owes to Ella Fitzgerald, to Betty Davis, and to the many others that built the foundations through which she climbs. Even the most gifted singer can fall under the weight of over-playing a debt of this nature – releasing music that may appear funky and soulful on the surface, but unable to rise above the stiffness of a retrograde flow. But as a hip hop lover and '90s kid who came of age with R&B, Fatima's music has always peppered those spirits of the past with freshness and forward thinking. The six producers who appear on 'Yellow Memories' – from Floating Points through to Computer Jay – reflect the collaboration-heavy template of many modern rap albums, while the merry-go-round beat from Scoop Deville for Ridin' Round has a wonky twang that's reminiscent of Timbaland's finest (he happens to be a dream collaborator for Fatima).
It's testament to the marvel of her voice (sometimes raw, sometimes silky, always instinctive) and the support of Alex Nut and Floating Points' label that, despite the range of producers, 'Yellow Memories' is so cohesive. That's not to say that this isn't an album that moves in waves or through several definable sections. Opener Do Better finds Floating Points continuing the big ideas of his "Ensemble" work (which was all over the recent King Bromeliad); the rousing strings and horns are like engine fuel for Fatima, and its cosmic twinkle ripples through to Sun, Star, Solar, the first of two a cappella tracks. The album's mid-way point displays a pair of Fatima and labelmate fLako's studio jams: Family is a sweet, punchy ode to her upbringing in Sweden. Later, things get smokier and more downbeat, and closer Gave Me My Name is the gutsiest and most unrefined Fatima has sounded.
There's much that's enjoyably direct and genuine about 'Yellow Memories'. The album's artwork doesn't opt for an over-thought image: rather just Fatima looking fly in baby blue and long, flowing earrings. Like much great soul music, Fatima's lyrics come unfiltered and from the heart: Underwater goes deep under the surface of a relationship, as if muttered in the midst of a dream. It may be Talk, another Floating Points-produced turn, that's the album's lasting surprise. Situated in the midnight hour and dealing explicitly with loss, it's the "depths of loneliness" it delves into that really leave a lingering taste after 'Yellow Memories' has faded out.
8/10
Eglo Records released 'Yellow Memories' on May 12th 2014 (buy).