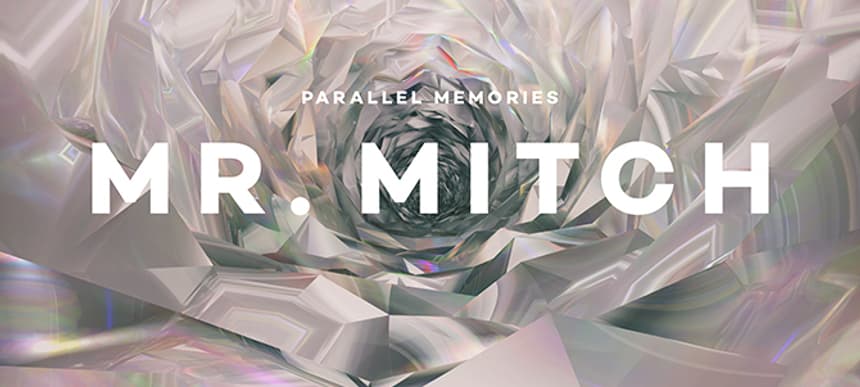 03.12.2014, Words by Aurora Mitchell
Album of the Week: Mr. Mitch - 'Parallel Memories'
Grime's mutations and fractured subsections have swelled with a force this year. Instrumental grime has been a particularly intriguing strain to follow: gunshot sound effects have been abstracted, replaced by the sounds of cameras flashing and staplers clacking, while in-your-face, gritty production has been paralleled by beautiful melodies.
One of the gatekeepers of the instrumental scene is Mr. Mitch, who both co-runs Boxed (the clubnight that's been pivotal for shifting the agenda of underground music back towards grime) while also heading up Gobstopper Records, giving many of the movement's producers a platform to be heard. When Mitch first started Gobstopper back in 2010, his first few releases championed instrumental grime in its most straightforward form – gravel tones and harsh low-end thumping demanded an MC to jump on the tracks, chiming with his work with MCs like Skepta and Riko Dan around the time.
As he put out more music, the sharp corners and turns of Mr. Mitch's sound were gradually sandpapered down into fluid melodies that were wistful and dewy-eyed, standing on their own without an MC. His debut album, 'Parallel Memories', is a fully-realised and refined version of the sound that Mr. Mitch has been building toward. Although 'Parallel Memories' still sees him glimpsing over his shoulder to earlier work – bursts of static noise and booming low-end splintering grime lullabies – the record keeps most of its focus on this smooth-edged production. Synth blocks fall delicately like fractured shards of glass onto carpet, tiptoeing their way around serene, quiet melodies. It's as if the listener is asleep and that Mr. Mitch doesn't want to disturb them, merely infiltrate their subconscious.
'Parallel Memories' lies in that half-asleep, derealisation state where everything fades in and out of consciousness, the sounds of the record pulsing and disappearing in sudden waves, recreating the feeling of repeatedly jolting awake, then relaxing. It all ties into Mitch's vision for the record: when he listens to his own music, he envisions himself in impossible situations, creating the idea that these are memories of his life in another dimension. It's something that's reflected in the album's imagery: the wavy black hole draws you into music that's crystal clear at first glance, but with a dark sadness lying beneath, sucking you in as you delve deeper. Ominous closer Hot Air ricochets and echoes violently, like its elements have been trapped in an icy cavern, the sounds becoming more claustrophobic as the space gets tighter.
Everything about 'Parallel Memories' feels suited to the cold and winter, the soundtrack to crunching through the snow on a suburban pathway or watching rain drops fall into each other on a window as you're safely inside. But while the record conjures up feelings of coldness, it's not frosty in tone, with emotive flourishes resonating throughout, especially on melancholic, after-hours cut The Night. Stretching the possibilities of grime's new direction, Mr. Mitch presents us with a realm that's emotive and moving on 'Parallel Memories'.
8/10
Planet Mu released 'Parallel Memories' on December 1st 2014 (buy).