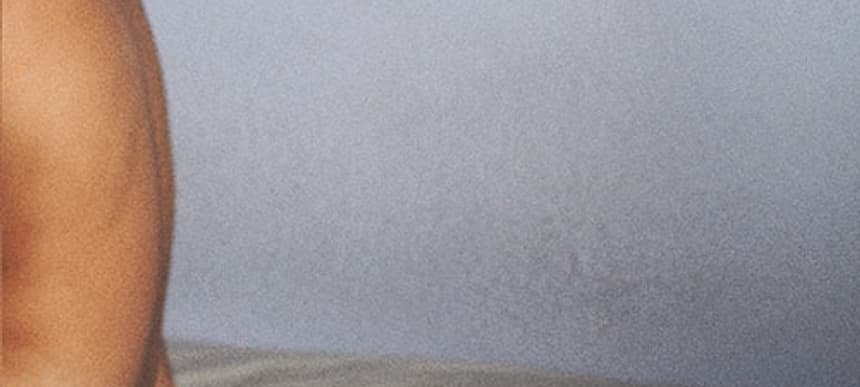 11.06.2014, Words by Steph Kretowicz
Album of the Week: WIFE - 'What's Between'
If someone said to me that Tri Angle was releasing an album by an ex-black metal singer writing epic ballads largely inspired by Irish folk music and feelings, I probably would have laughed. But then this is a label with a knack for resurrecting all kinds of corny combinations, whether it was as an early witch house definer with their stoner-sounding slow downs of early millennial hip hop and R&B, or launching the mangled pop and post-dubstep careers of AlunaGeorge. Not such a stretch, then.
Even less of a stretch is the fact that James Kelly's 'What's Between' – his debut album as WIFE since parting ways with his last band, Altar of Plagues, in 2013 – is actually quite good. It would be, when you've got cult live act Roly Porter as well The Haxan Cloak behind its production (the latter sound fetishist already producing for US sludge metal duo The Body) and joining you for IRL recording sessions. The result is an uneasy combination of breathy vocals moaning sentimental lyrics over the dark and sensuous undulations of your typical Tri Angle stablemate. Except that while label owner Robin Carolan also has a hand in the production of 'What's Between' (producing as Lie), there's much more to this unconventional marriage of morose and murky musical production and its exploration of emotive masculinity.
There's the growling low-end of A Nature (Shards), as a whining violin trembles under the weight of a bassline, and the titillating loop of muted, electrified guitar strings forming the insistent, shivering rhythm of Living Joy. In Tongue, more strings emerge through the blown-out swell of its filters, before disappearing into the crush of the booming crashes and clashes that quiver above a surgically disrupted sonic canvas. Kelly calls: A lie is what I prefer to the truth in Tongue, while Like Chrome taps gingerly at the metallic chimes of its opener before a winding reverb drop strides up and over his half-breathed delivery.
Sometimes I find myself struggling to come to terms with a vocal that comes dangerously close to the sentimental leanings of a band like Elbow, or (to make an even lazier, though equally apt comparison) Coldplay. But when I mentioned the "uneasiness" of this record earlier, it was by no means meant as a detraction but an affirmation of an attempt by Kelly to bring the oppositional forces of light and dark, masculine and feminine – as gleaned from those cracks 'between' – to produce something that is as beautiful as it is disturbing. Because when an organic drum line is drilled through by a tunnel of white noise in the snarling march of Salvage, I'm reminded that it's precisely for trailing hazardous stylistic territory that makes Tri Angle as much a tastemaker as Kelly is a talent.
7/10
Tri Angle released 'What's Between' on June 9th 2014.