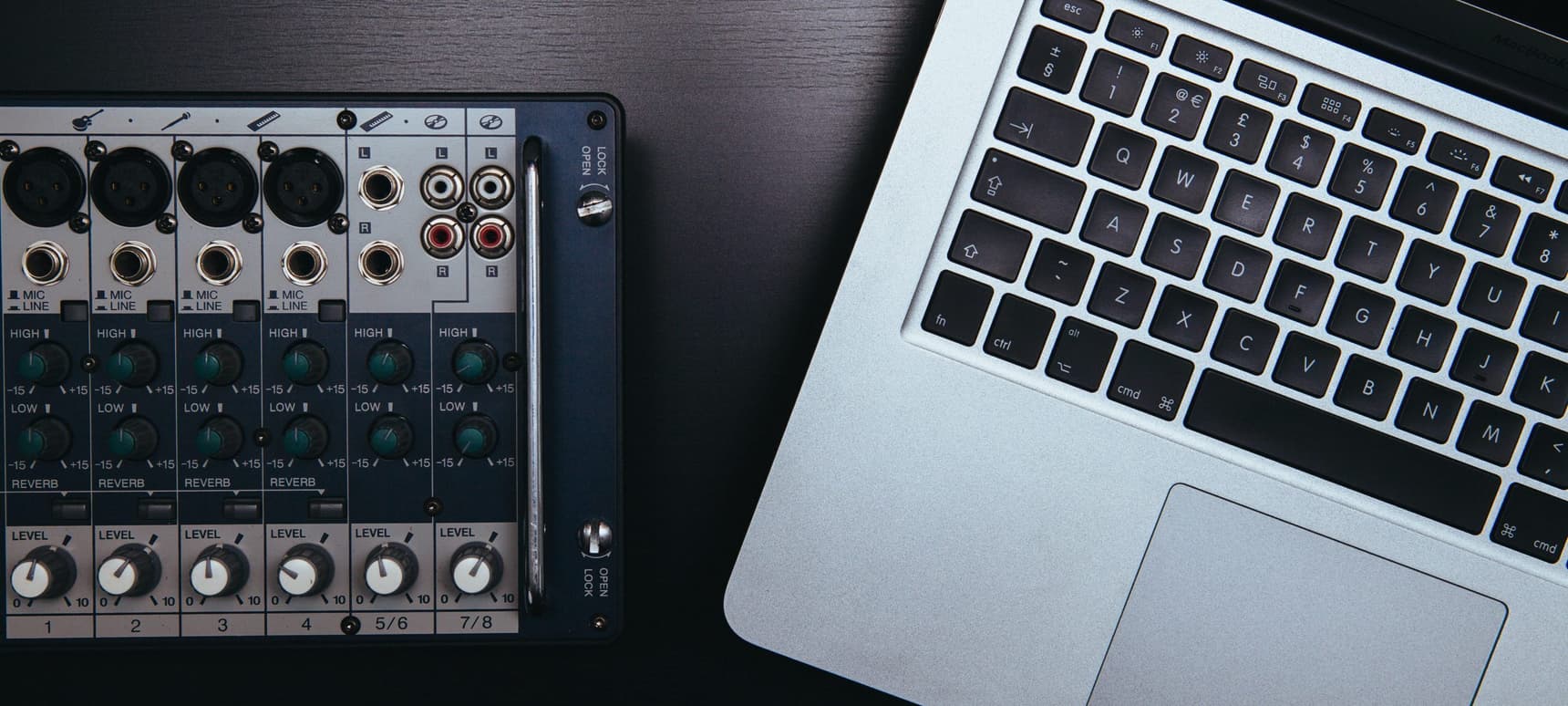 07.04.2022, Words by Billy Ward, Photos by Little Visuals
Bandcamp x Epic Games: What does the takeover mean for the future of indie platforms?
The merger has been a hot topic of discussion within the music community over the last month. We present both sides of the debate so you can make up your own mind.
Earlier last month, music and gaming fans alike were left surprised when Bandcamp, the online music store celebrated by independent artists, announced its acquisition by Epic Games, makers of Unreal Engine, the Epic Games Store, and Fortnite.
Bandcamp's CEO Ethan Diamond immediately positioned the deal as a positive move for artists, commenting on how the two companies shared a wider vision of "building the most open, artist-friendly ecosystem in the world" and how the move would help to "create even more opportunities for artists to be compensated fairly for their work."
Alongside the music platform's aim of expanding their artist-first ecosystem, they have promised to keep their widely-loved revenue model which puts a net average of 82% of every sale into the pockets of musicians, retain artists' control over how they offer their music, and to continue Bandcamp Fridays along with their editorial content.
Bandcamp is joining Epic Games! Read more here: https://t.co/dvLEhURZYG pic.twitter.com/4t1MRvugmG

— bandcamp (@Bandcamp) March 2, 2022
Why are some people worried?
Despite Diamond's attempt to reassure fans, the involvement of Epic Games in Bandcamp's acquisition has left some musicians and users disappointed that the indie platform has sold out to a video games company. Bandcamp has positioned itself as a music 'community' rather than a market place, so the fact the community was given no say in the fate of the company has left a bitter taste with some of its fans. It's not gone over people's heads that, despite sounding good on paper, press release promises are by no means legally binding and in some situations, big business acquisitions of smaller companies can end up benefiting the umbrella company more than anyone else.
In worst case scenarios, they can reduce the acquired company to a shell of its former self – you needn't look back too far to when Rupert Murdoch's News Corp. bought Myspace in 2009 for $580 million. Just a few years later, Murdoch sold the then obsolete platform for $35 million after a series of mishaps which included users losing all of their music overnight, with the early social media giant never fully recovering in popularity from its big business acquisition.
There's nothing to suggest at this early stage that anything as drastic or as devastating will happen to Bandcamp and it's still unclear what the future holds for the music platform, but fans and commentators have taken to social media to air their concerns. With the bad memories of Mypsace's takeover still lingering, some people are rushing to download their Bandcamp MP3s before history repeats itself, while others are speculating about the integration of NFTs within the platform.
One of the biggest talking points online surrounds the Chinese tech conglomerate Tencent, who owns a 40% stake in Epic Games and are also one of the top shareholders in Spotify, as well as owning 10% of Universal Music and 2% of Warner Music. This has made some wary that the core ethos Bandcamp was built upon may not align with the interests of its new investors. We're now faced with a situation whereby a platform heralded for its indie status has become part of a web of big business shareholders and corporate music ownership, something the company initially set out to provide an alternative to.
Epic Games money is TenCent money
TenCent money is Spotify money
Spotify money is now Bandcamp money

🪦 tell me more about bandcamp ethics 🪦

— John Elliott (@MineralDisk) March 2, 2022
Bandcamp was started in 2007 to give artists a place to sell music in a fair way during a time where distribution started to become more focused on digital sales. From the beginning, the site has focused on giving creators full control over how they sell their work, allowing artists to select their own prices while putting money in their pocket in a more immediate way than Apple Music, Spotify and YouTube. It has been a stable force in the music industry for many years now and has played its part in the recent revival of vinyl albums, with fans encouraged to purchase merchandise directly from their favourite artists.
Bandcamp Fridays has also proved to be a (mostly) popular initiative, with the platform agreeing to waive its fees during the pandemic to financially assist musicians whose income was impacted by a lack of live events and other opportunities. This has continued to become one of the platform's main attractions for artists looking to release new music, and paid out £40 million in the first 12 months of the scheme.
Music writer and author Ted Gioia stated in a blog post that there's no reason for these core values to disappear with a new owner, but the involvement of big companies could present problems going forward: "I have no objection to them being large. The real problem is that they have higher priorities than music."
"The key decision-makers in the music world no longer have the same goals and ambitions as musicians and their fans. That's why Bandcamp's independence was so important. Artists felt they were part of an organisation sharing their interests and worldview," he adds.
i fear larger artists will begin to use bandcamp as a result of tencent's 40% stake in epic games. that might sound like a good thing but bandcamp has always been a platform for small independent artists. im scared they will be forgotten with the introduction of billboard artists

— MUTANTS MIXTAPE (top 0.1% of mixtapes for mutants) (@mutantsmixtape) March 2, 2022
What do Epic Games want with Bandcamp?
Many were left scratching their heads at the news that the people behind Fortnite had decided to purchase an indie music platform. While some people have taken to social media to joke about certain Bandcamp genres and artists being incorporated into the online Battle Royale game, many more have been searching for answers and wanting to know what Epic Games has planned, and whether their priorities are with music and artists, or something else entirely.
Since its founding in 1991, Epic Games has largely remained under the control of CEO Tim Sweeney, who has taken the company from indie obscurity to being one of the biggest players in the booming video games industry. Similar to Bandcamp in the way it takes a relatively small 12% cut from developers as opposed to Apple's 30%, Epic claims to share a vision with the music platform and wrote about what the future holds in a statement on their website: "Epic and Bandcamp share a mission of building the most artist friendly platform that enables creators to keep the majority of their hard-earned money. Bandcamp will play an important role in Epic's vision to build out a creator marketplace ecosystem for content, technology, games, art, music and more."
It seems that Sweeney's vision for the company goes beyond video games and the acquisition of Bandcamp could be seen as part of a wider plan of consolidation from Epic Games, establishing the infrastructure for the company it sees itself being in the near future. Sweeney has been one of the biggest advocates for the metaverse in recent years and wants his company to be at the forefront of building the next version of the internet, positioning themselves as a direct competitor to the likes of Meta and Apple.
Some commentators online have pointed to Epic Games' take-over of Rockband developer Harmonix late last year, suggesting that Bandcamp is the next step towards implementing musical capabilities and interactive experiences into Epic's vision for a metaverse. However, despite all of the metaverse discourse surrounding the acquisition of Bandcamp, Music Business Worldwide founder, Tim Ingham, believes Epic Games' reasons are much more straight forward.
Speaking in his weekly Talking Trends podcast, Ingham claims that the video games company has acquired Bandcamp as a sharp tool in a long-running battle to reduce the commission it has to pay on the world's biggest app stores, such as Apple's, Google's and Samsung's. As it stands, Epic has to give up 30% retail commission of in-app transactions to Apple and Google when its titles, such as Fortnite, are downloaded via stores other than its own.
It's no secret that Epic Games failed to force Apple to reduce its high commission rates in a heated legal battle last year, meaning the video games company continues to lose out on millions of dollars annually to their competitors. Epic argued that its own app store was able to operate effectively by only taking a 12% cut from game developers who sold their titles through Epic, however, Apple managed to expose a lack of profitability in the video game company's online store to justify their higher commission rates as an obvious business decision.
This is where Bandcamp comes in. By acquiring the digital music store, Epic now owns a profitable online retailer that charges its customers just 10-15% commission, and when Bandcamp Fridays happen, no commission at all. Ingham makes the point that Epic can now gesture to Bandcamp to further highlight the high prices other companies charge, giving them a powerful asset in its fight to force big tech to reduce their commission rates, thereby maximising their own profit as a company.
Hear me out tho, if epic games bought Bandcamp with the foresight of making it part of their web3 entry strategy. This could be great for artists. They currently own the most commercially successful metaverse (centralized). Adding a web3 layer to the marketplace wouldn't be hard

— DnyceXDesign.eth (@dnycexdesign) April 5, 2022
How could the move benefit Bandcamp artists and users?
Bandcamp saw some growth throughout the pandemic thanks to its Bandcamp Fridays scheme but this was nothing compared to the boom the video games industry witnessed. One of the most obvious areas the acquisition could potentially benefit Bandcamp, which despite being popular with indie artists and music hobbyists is still a relatively niche platform, is by introducing it to a much wider audience.
As long as Bandcamp continues to offer a better redistribution of wealth model for artists than other streaming services, which seems unlikely to change in the near future when considering Epic Games' legal battle history with Apple, then more sources of revenue and more ways for people to listen to independent music that fairly compensates artists is not a bad thing and may actually offer hope for the future of the platform.
One user wrote online: "Seems everyone is ignoring the growth potential and business opportunities this creates for Bandcamp and its user base of artists and labels. Bandcamp now has the opportunity to build out sync rights for artists using Epic Games as the distribution platform. Epic Games featuring artists and labels from Bandcamp and potentially capturing those artists and their established fan base as new unique customers."
As a father of Fortnite players, Epic seems to me to be slightly less awul than a lot of games publishers, which is pretty faint praise, I know. I think they can run Bandcamp sensitively if they feel like it. /4

— Tom Nelthorpe (@nelthorpe) April 1, 2022
In Danielle Partis' article for Games Industry, sound designer and composer Kenny Young claims that Epic Games could help optimise Bandcamp's user experience to bring it more in line with modern expectations – something the platform is known to have fallen behind in with its outdated and clunky interface on both desktop and mobile. As it stands, Bandcamp users are only able to purchase music on desktop, cutting out a big proportion of potential buyers who mostly use their mobile phone to discover music, via TikTok or other apps.
In the weeks following initial news of the take-over, Bandcamp is already beginning to improve its user experience. They recently introduced a queueing feature to the mobile app which allows fans to queue up albums and tracks from their collection for hours of uninterrupted listening.
"Queueing is just the latest in a series of recent app improvements designed to make Bandcamp collections more valuable, and to encourage more fans to directly support artists," a statement from Bandcamp read. "Fans can also download albums and tracks for offline listening, plus we've added support for CarPlay, Android Auto, and Chromecast. We've also made checkout faster for the million+ Bandcamp fans with a saved credit card."
waiting for epic games to announce we can now use bandcamp creator codes so i can make purchases under kero kero bonito on fortnite

— themexicangamer (@weirdlilmexican) April 1, 2022
Whether you're for or against the takeover, or waiting to see what happens before passing judgement, Bandcamp will remain a topic of hot discussion in the coming weeks and months. Despite all the speculation surrounding the platform's future now that it has been acquired by Epic Games, it seems people are most disappointed by the circumstances of the sale itself and what it suggests for indie platforms as a whole going forward. One Twitter user wrote: "we're being reminded that there's no room in the current way of the world for a modest, sustainable success that generally benefits everyone opting into it. The sane option just never stays on the table very long."
Bandcamp has never been the perfect platform and has received criticism for a number of reasons over the years but following the pandemic appeared to be more popular than ever. The platform never claimed to be the silver bullet in shifting the power balance of the music industry in favour of independent artists, but it has been a reliable and consistent alternative that can benefit anyone who chooses to use it.
Despite the on-going debate raging on social media and blogs about the future of the platform, musicians and fans can hope that the optimistic vision laid out in both company's press statements are respected and stood by, enabling the platform to go from strength to strength while putting artists first.
Do you think Epic Games' takeover of Bandcamp signals the end of indie music platforms as we know it? Or could the merger create exciting new opportunities for artists and creators wishing to release music?
Join the Do Music Yourself community on Discord to have your say.
Follow DMY Artists on Bandcamp to stay up to date with all of our latest releases. Also follow Do Music Yourself on Twitter and Instagram.