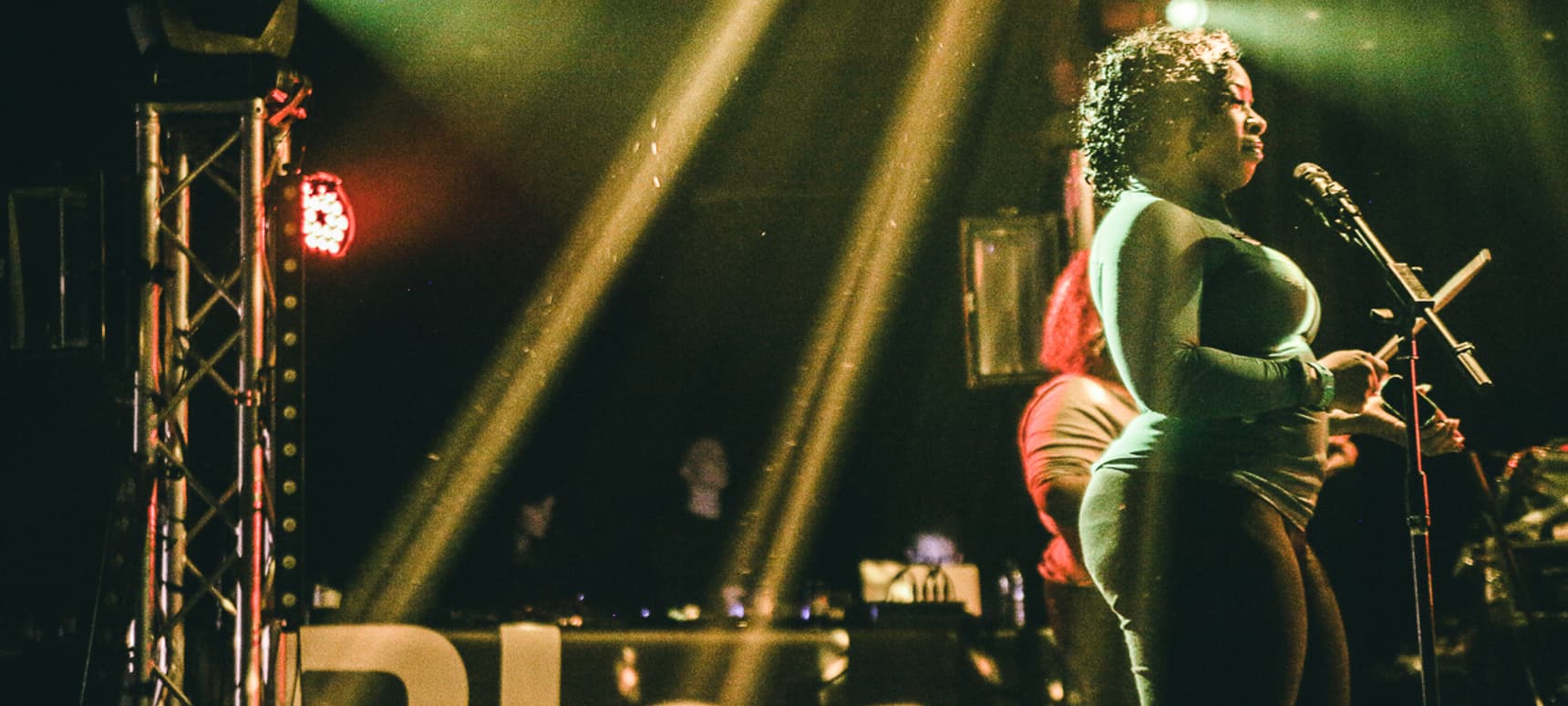 19.03.2015, Words by dummymag
Festival report: Bloc 2015
Click on any of the images above to launch the gallery.
The last edition of Bloc was a bold move to London in 2012 that backfired horribly. Away from their natural surroundings of seaside holiday resorts, that event proved to be a traumatic one: severe overcrowding resulted in the whole thing being shut down prematurely, leaving lots of disgruntled attendees and the organisers seriously out of pocket. Two years on, Bloc's organisers return to the familiar surroundings of Minehead on England's South West coast, to once again repackage Butlins' family-intended surroundings for their hedonistic purposes.
Traumatic as it surely was, it has to be said that the flop in the capital was probably for the best. Sure, the appeal of taking over a gritty, ex-industrial locale in East London is easy to identify with, but those kinds of parties really are ten-a-penny. In Minehead, there's a uniquely strange vibe only possible in an event that crams 5,000 ravers into a family holiday park. Trotting through the arcade machines and fast food chains on your way to the odour-retaining, carpet-laid dancefloors, the incongruousness of it all is part of the fun.
Although the festival has always represented different corners of electronic music, there's no doubt that this year's line up held a particular deference to techno. This focus felt especially noticeable in the music we saw on the Friday; one of the particularities of a festival focused on dance music is the opportunity to scrutinise its distinct yet closely affiliated strains alongside one another. Livity Sound's live set was a great place to ease in, with the trio of producers stretching out an engrossing hour of dubby and atmospheric machine music. Call Super adopted the open-minded approach which he's spoken of in interviews, opening with a bizarre recording of the shipping forecast, followed by a flurry of uptempo material that embraced difference while maintaining the feeling that he was in absolute control.
Robert Hood's closing set for the night was neither measured nor eclectic: the rapid, cavernous kick drums typical of his material were the basis for a set of big room party techno by the Underground Resistance veteran. The contrast between music heads and hedonistic partygoers was especially visible in the many (hilarious) misnomers of "Robin Hood!" and topless guys having it large throughout. Having that mix is undoubtedly part of the weekend's appeal, though: the enormous room's rapturous, fist pumping reception for his own We Magnify His Name couldn't have been powered by clued up anoraks alone.
After many a reviving visit to the pools and waterslides of Splash World, the first port of call on Saturday was the Red stage, where Carl Craig's Detroit Love was the banner for a showcase of the city's heavyweights. Warming up was Levon Vincent, who played an open, inviting set that plotted a steady upward trajectory for Omar-S to step into. Rather than continue the steady climb, however, Omar's set jumped all over the place and, as always, featured a few of his own productions, including vintage cut Day. He was quick to get rough with the crossfader, amping up the excitement in his mixes and showing the kind of character in his DJing which you don't often see. Moodymann followed this with the kind of party selection ideally pitched for a festival: Floating Points, Jay Dilla and Funkadelic were amongst some of the crowdpleasing tracks that he worked into his set, as well as a 20-minute appearance from Three Chairs compatriot Rick Wilhite at the end.
Centre Stage was the location for a relatively rare set from Warp IDM grandees Autechre. They rejected the lasers and strobes of the enormous lighting rig to play in the dark for set of skittish, alien noises that developed an edgy staccato rhythm as it progressed. Jeff Mills followed and played a solid three hours of rapid, spacey techno, dropping in the likes of The Bells as well as regular interjections of his masterful, live exercises on the 909. Gimmicky as it may be, it's undoubtedly satisfying to see him introducing rhythms and shifting pitches up and down with such ease.
Even with the reduced number of stages open on Sunday, there was still a sense that the crowds had thinned out somewhat, with many presumably making the trip back for work the following day. Nonetheless, there were still plenty of people in the Centre Stage for Ostgun Ton's showcase. Answer Code Request's set was an atmospheric slow builder, one of the best warm up sets of the weekend, gently working into tougher material ahead of Marcel Dettmann and Ben Klock's closing set.
Luke Vibert took a totally different approach on the Jak stage, with ravey UK breakbeats from the likes of LFO, where sci-fi vocals and big sub bass sat in contrast to the austere main room. More UK-styled nostalgia from Dillinja closed out the festival, with rapidfire mixing of rubbery basslines and amen reworks in the Red stage's jungle special. Given crowds at Bloc's open minded readiness to move to whatever's on offer, the big blowout of Dillinja's set felt like the right way to see off a weekend that never took itself too seriously.
All photos by Aoise Tutty.