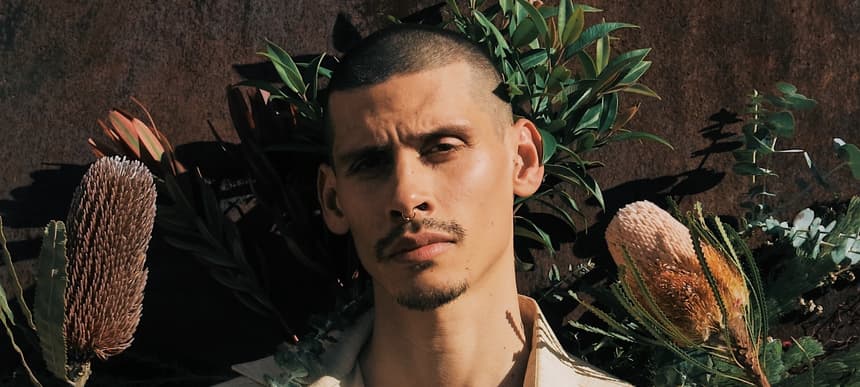 31.10.2019, Words by Felicity Martin
BRAND NEW: Dummy meets 18YOMAN
We chat to the rising vocalist, producer and songwriter from Sydney...
In the first of a new series, Dummy meets some of the artists on our BRAND NEW Spotify playlist: a weekly-curated selection of all the best up-and-coming acts. Today we chat to 18YOMAN, a vocalist, producer and songwriter from Sydney who is one of Australia's most prominent loop creators.
Having just spent his summer in the US contributing to tracks for some top-name rap/R&B artists, today 18YOMAN – real name Vin Goodyer – shares the video for 'Swimming', released by London's Limited Health label. Tapping emerging vocalist Mia Elnekave, the shimmering cut reveals Goodyer's talent for producing warm R&B sounds. We fired some questions his way, and you can watch 'Swimming' below.
How are you today?
Pretty tired to be honest, literally homeward bound on a plane from LA. Very excited to be home. My heart is full and I'm very skinny now.
Are you actually 18 years-old?
I get this question a lot, haha. I'm actually 28.
Can you think back to your first musical memory?
When I was about five or so we used to have an old piano that was also a pianola. You would put the roll into the piano and pedal with two feet and it would just play these amazing songs. I remember just sitting there for hours playing all this old music and pretending I could do it.
If you could teleport to any show in any era, what would it be?
Tough question, but I'm gonna have to go with D'Angelo's Voodoo Tour in 2000. Probably one of the tightest bands out. Roy Hardgrove on trumpet, Pino on bass, Questlove on drums, Spanky on guitar… not to mention Anthony Hamilton on BVs. Truly amazing!
We heard you used to be in a metal band years ago. Can you select three of your favourite tracks from the genre?
I thought I'd never get asked this question in an interview, haha. It's true! It's true! I love metal and I love screaming. I used to play in a metal band when I was 15, and I guess it was my introduction to how far you could take music. Top three tracks are…
Lamb Of God – 'Hourglass'
Meshuggah – 'Perpetual Black Second'
The Red Chord – 'Like a Train Through a Pigeon'
Describe your sound in one sentence.
Like sifting through a bag of grains.
'Swimming' was inspired by a fear of cold water, right?
It was, I really really don't like swimming in cold water. It's my New Years resolution to have ice baths every day. I've been studying Wim Hof, he can regulate his body temperature and climbed Everest in his underwear.
What's been your favourite day so far this year and why?
I have no idea how to answer this. I'm living my best and worst life simultaneously.
Watch the video for 'Swimming':