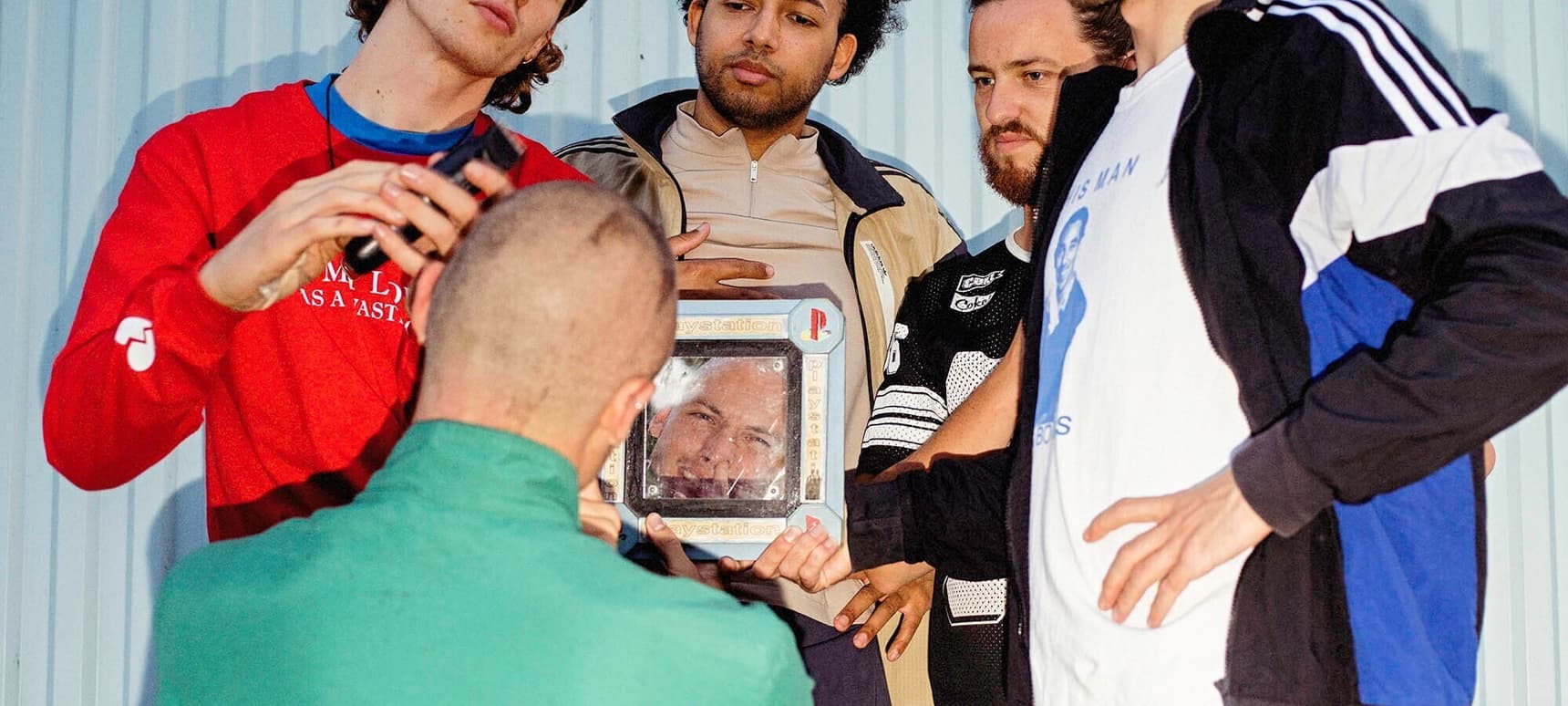 07.04.2020, Words by Felicity Martin
BRAND NEW: Lunch Money Life
We speak to the band crafting end-of-days bangers...
BRAND NEW is a series where Dummy meets some of the artists on our Spotify playlist of the same name: a weekly-curated selection of all the best up-and-coming acts. Today we chat to Lunch Money Life, a London-based five-piece crafting music to soundtrack the end of the world. Consisting of Stewart Hughes (drums), Sean Keating (guitar), Luke Mills-Pettigrew (bass), Jack Martin (electronics/trombone) and Spencer Martin (electronics/saxophone), Lunch Money Life just released debut LP 'Immersion Chamber', a record that blends mind-melting electronics with off-kilter guitars. Apocalypse music, in their own words.
A community-minded outfit, Lunch Money Life have made a name for themselves on the London gig circuit as mainstays in places like Total Refreshment Centre and at parties like Touching Bass and Church of Sound. With 'Immersion Chamber' out now (listen here), we threw a few questions to the band while in self-isolation, which you can read below.
Hi! How are you doing today?
A good day thus far, pizza & curry for lunch accompanied by a consistent flow of daydreams.
How's isolation going? Do you have any tips you can share with us?
Long are the days of pain spent within these walls, and long are the nights of aloneness. Pesto pasta is a reliable friend, and as freshly appointed Leaders of the New Digital Underground there is much to be occupied with.
You describe your music as 'apocalyptic' – do you think your album is a good soundtrack to the pandemic we're living through?
One is forced to suspect that 'Immersion Chamber' has been altogether too successful in its prophecy of doom. But perhaps shall it be said that our eve was in truth our dawn?
You're regulars on the south London circuit, playing lots of shows and collaborating live, even playing the organ at church. Do you miss the live aspect right now?
Playing live is one of our favourite things to do in this world so yes, we miss it. Nonetheless, you shall be together even in the silent memory of God – but let there be spaces in your togetherness, that the winds of heaven may dance between you.
'Immersion Chamber' is out now – does it feel good to be able to get it out at a time when lots of artists are pushing back releases?
It certainly doesn't make us happy that many artists have been forced to change their release schedules. However we are lucky in that our record had begun to be rolled out before Covid-19 had really hit the UK. So we just kept chugging, a flute through whose heart the whispering of the hours turns to music.
If you could teleport to any show in any era, what would it be?
Lightbeam instantly into the inevitable Lunch Money Life o2 Arena sellout series.
Name one thing we should be watching/reading/listening to during quarantine.
Read The Prophet by Kahil Gibran, and while reading listen to Khalil Gibran's 'The Prophet' as read by Richard Harris over the music of Arif Mardin, an amazing composer who wrote alongside Quincy Jones amongst others.
Send us a nice picture from your phone.
Follow our weekly-refreshed 'BRAND NEW' playlist on Spotify.