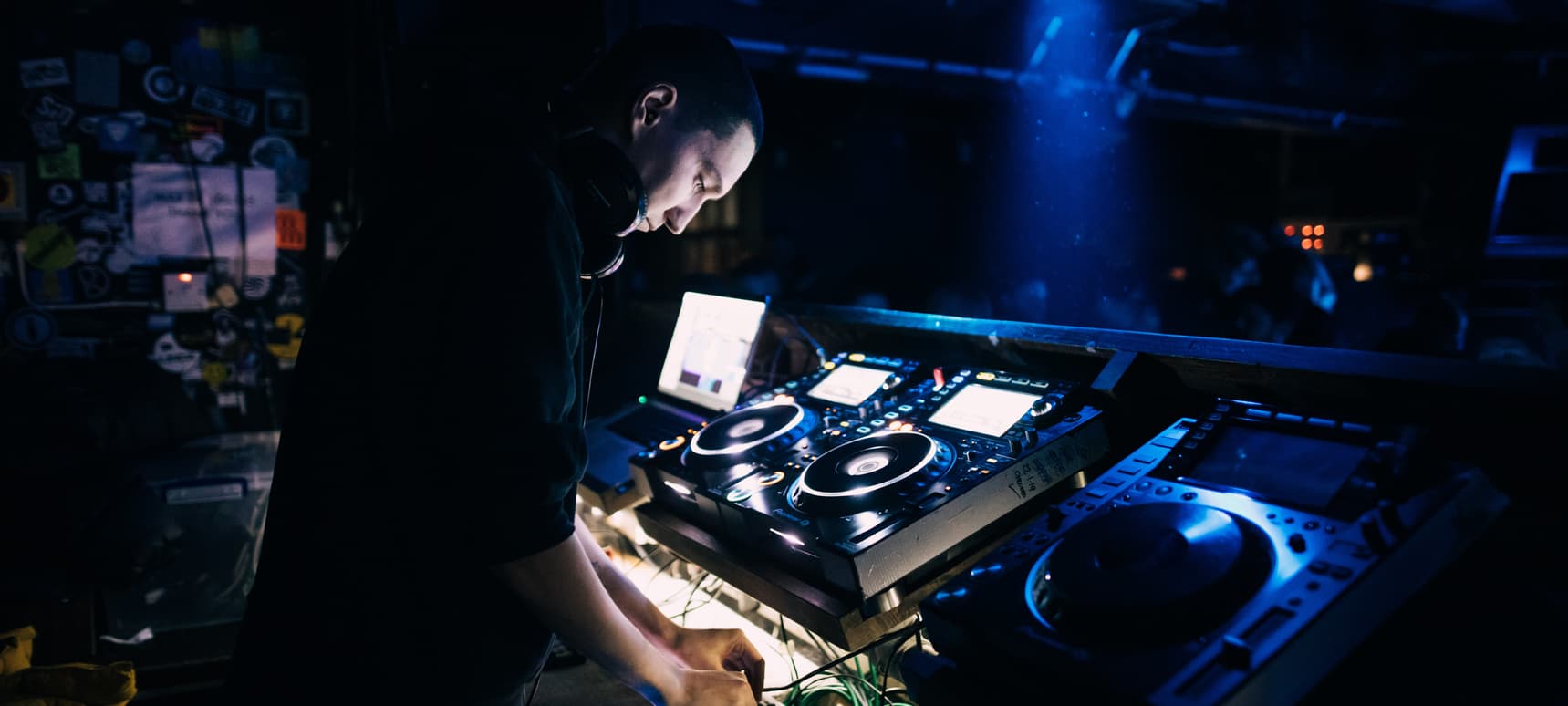 31.01.2019, Words by Felicity Martin
Buttechno is one of the artists driving Moscow's vital underground club scene
The Russian producer is involved in Boiler Room and Ballantine's latest project, which is helping foster subcultures worldwide
Operating out of a tower block in suburban Moscow, Buttechno is justifiably being hailed as one of Russia's most exciting electronic exports. The producer is deeply rooted in a thriving DIY community in the city, and it's partly thanks to him that one of its best-loved underground clubs exists, but there are still problems facing nightlife in his corner of the world. It's an unfortunately widespread issue that Boiler Room and Ballantine's Scotch whisky are taking a stand for in their new joint venture, that aims to support music scenes in areas of the world that need it the most.
London might be facing its own nightlife difficulties, but compared to Moscow, we're spoilt for choice with our underground venues. We meet Buttechno at one of these – Corsica Studios, where he discusses the differences between partying here and back in his native land: "Here [in the UK] you have a big tradition of club culture. In Russia it's only emerging, only ten years ago did it start to grow really big. When we bring artists over they all say that the audience is very fresh. I think the same is true with Poland and the Ukraine, the crowd is very enthusiastic and open-minded."
Following the annexation of Crimea in 2014, an economic crisis hit Russia, and with the fall in rent prices came the emergence of a new artistic community. Buttechno, real name Pavel Milyakov, is art director at a venue in the city which empowers these artists, a concrete-walled space named NII, Science & Art. It describes itself as 'a platform for art, music, communication, and mental and physical practices aimed towards multilateral development of the individual and, as a consequence, all of society'. It contains one of the city's best sound systems and, along with parties, the cross-artistic space hosts exhibitions and things like table football tournaments. This has made it easier for clubbers to get in, by not having to face the kind of stern-faced bouncers stationed around the city's more mainstream venues.
"[NII] is a small community where everyone knows each other," Milyakov explains of the club. "It's not really easy to work because of the lack of money. Especially when you're focusing more on obscure music. It's not a good business model. If you want to earn money you should sell bread or something, or pizza," he laughs. "Actually a small pizza place opened in our venue last year, called BOBs Pizza. It was founded by Ildar Zaynetdinov, head of the Gost Zvuk label."
Helping communities like this is what Boiler Room and Ballantine's aim to do through True Music, the project that Buttechno is involved in. "It's naïve to think we're going to fully solve the problems in these communities," explains Tom Elton, Head of Music at Ballantine's. "But with the resources we've got we want to light some fires." The long-term mission will see them going to localised scenes and asking how specifically they can help. "Have the real community tell us what's going on and leave a lasting support structure," he adds.
Steven Appleyard, Chief Business Development Officer at Boiler Room, elaborates: "It was a realisation we had when travelling to all these amazing places around the world. We ended up hanging out with artists, record labels, collectives and promoters – socialising around the shows we were doing. We kept hearing about specific issues, whether it was complex issues with venues getting shut down, access to recording studios, simple issues of connectivity for music distribution. It occurred to us that we could play a more meaningful role in helping if we listened to them."
While NII club continues to thrive, offering a hub to Muscovite DJs and artists, other venues have been in trouble. In 2017, the beloved Rabitza nightclub closed, following a violent raid by the authorities. The government doesn't tend to get involved or pay much attention to the kinds of experimental music clubs like this are pushing. "Sometimes institutions like Goethe-Institut or foreign embassies' cultural centres help us to bring over some artists, they help with visas and tickets," Milyakov explains. "I hope that this situation will change and we will have more local cultural institutions that will cooperate with us in terms of what we are trying to do."
Coming from a strong lineage of Russian techno producers, the music Milyakov makes as Buttechno is nebulous and dark, crafting brittle structures as well as mutant, throbbing sounds. His moniker might sound like something out of Nathan Barley, but he's deadly serious about music. He's a voracious crate-digger and music analyst, having initially got into music through punk band Midnite Cobras before founding enigmatic community Johns Kingdom, a cluster of electronic musicians from the suburbs. The method Milyakov employs in his own work is methodical; almost scientific, experimenting with patches and hardware to find a unique musical language for himself, a concept he's noted in artists like Aphex Twin. "If my setup does not change often then it becomes boring for me," he explains. "I create my own digital synthesisers and samplers, coding them on the computer."
Despite hailing from a small local scene, Milyakov has gained wider international acclaim for soundtracking Gosha Rubchinskiy's runway shows, as well as outings on a number of international labels – his 'Super Siziy King' EP came out on Will Bankhead's cult label Trilogy Tapes in 2017, while he recently appeared on Nina Kraviz's 'Happy New Year! We Wish You Happiness' compilation on her трип label. He's just dropped an ambient album under his birth name when we meet, on Berceuse Heroique. "It is more about sound research," he says. "It was composed around three years ago – the release process was long and complicated but now it's out and I'm glad about it."
The True Music project will hit four locations globally – Russia, Poland, Spain, and South Africa, kicking off in Moscow in February. There, Buttechno will play alongside local experimental talent Shadowax, as well as international acts – techno royalty Blawan and Pariah, aka Karenn, and France's Bambounou. 
To tell the story of the project, Boiler Room and Ballantine's have produced a documentary exploring Moscow's electronic underground, speaking to Sergey Golikov, Rabitza's owner, ARMA17's founder Natasha Abelle, Powerhouse club entrepreneur Andrey Algorithmik, and more. Delving deep into the scene, True Music meets the people at the heart of rave culture in the city and finds out more about the club closures and crackdowns, while giving a global stage to what is clearly a vital, thrilling underground scene.
Watch the documentary:
Find out more about True Music at truemusic.boilerroom.tv.
Related: Read The 10 Best Post-Soviet Techno Tracks, according to Nastia