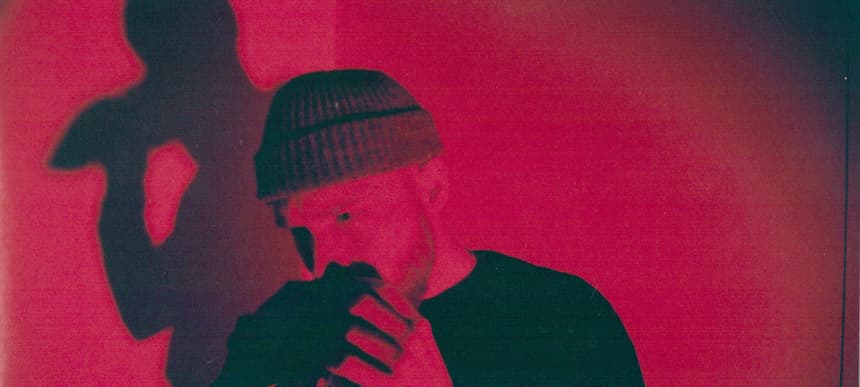 04.05.2016, Words by dummymag
Commodo: "I was going for some vague sense of impending doom."
Commodo's 'How What Time' feels like an album that was recorded from the outside looking in. At an impressive 12 tracks long, it treads a harsh and distortional path through a narrative that Commodo has constructed not to shock, but to leave you consistently wondering where you'll be taken next. Short, sharp glimmers of hope and beauty – embodied by the glistening, weightless pull of tracks like Sleepwave – act as diamonds in the rough, but 'How What Time' is a far cry from the material he worked on alongside Kahn and Gantz on recent Deep Medi mini-LP, 'Volume One'.
From speaking to him, it quickly became apparent that his mission was to make an album with zero compromise and zero pretence – aside from wanting to replicate a beat-tape style listening experience, everything 'How What Time' offers up is real and believable. It's coarse and gritty for a reason, and it feels misshapen and out of kilter for a reason – as albums go, 'How What Time' might just be one of the most inventive outsiders of the year.
So, with a view to unpicking the processes behind such a bewitching LP – we caught up to talk timing, complexity, narratives, and finding melancholy within Eastern European music.
First off, how did you find the process of writing an album?
Commodo: "I found it fairly easy because I didn't approach it like some huge daunting task. In my own experience I make better, more honest, and more cohesive music if I just get on with it without it being contrived."
What convinced you that it was the right time?
Commodo: "I had toyed with the idea of making a full length for a while but always shied away from it, because I had this idea that there needed to be a strong concept or goal, even a story. Once I cut through all the bullshit and lost any delusions of grandeur, I was able to actually focus on working and it became the right time."
From listening through, there's a rough-around-the-edges, industrial feel to the aesthetic of lots of the tracks on 'How What Time'. What were your reference points in terms of sound?
Commodo: "I've always made heavy use of sampled audio, rarely anything ends up being recognisable, but sampling from records is a big part of my creative process. I continued on that path but wanted it to actually sound more sample based with this record; so rougher chops and edits, less clean, more of a beat tape vibe but merged with the style I've been working at over the past few years."
"I wanted to keep it UK but without using typical grime MCs or 'UK hip hop' type guys." – Commodo
There's a definite complexity to some of the emotions that you've worked into tracks like Sleepwave and Russian Glass in particular. Where were you at emotionally when you wrote the album?
Commodo: "Referring to those two tracks specifically; I've always really liked the melancholy found in Eastern European music and I guess that can be heard in those two tracks. With regards to the rest of the record, I was mostly going for some vague sense of unease; mystery; impending doom. The basics really."
Vocalists are also at the heart of 'How What Time'. How have you found working with Rocks FOE and Trim?
Commodo: "I wanted the right people who could complement the instrumentals I made and hopefully create something that sounded original in the process. I think we achieved that and I'm happy. I wanted to keep it UK but without using typical grime MCs or 'UK hip hop' type guys. Trim is massively underrated I feel. He's much more versatile than a lot of his peers and has shown he's up for stuff that's a bit less obvious in sound. He does abstract well. He's got a sense of humour and isn't afraid to be a pariah."
They are both two MCs with really unique, almost off-beat flows. Why do you think Rocks in particular makes such a good fit?
Commodo: "Yeah which is what I like about them. I'm not so into rigid vocal delivery where everything lands exactly on the beat and phrases finish at the end of the bar all the time. Rocks specifically has a similar taste in rap music to me – good stuff – so that might be where he get's some of it from. He sits in this new wave of young grime MCs right now but I see him as head and shoulders above. I also see him as a rapper in the broader sense and less of an 'MC'."
"Black Acre described some of it as 'mystery crunk' which is a label I'll gladly take." – Commodo
How would you describe the album's narrative? What is it ultimately trying to communicate?
Commodo: "I wouldn't say there's a narrative as such. More a sort of rough plan for what I wanted to achieve; playing with ideas from US hip hop and the 'UK bass music continuum' to try and make something original and personal. Finding a link between musical styles I've enjoyed as a fan and the music I ended up making as a producer. Black Acre described some of it as 'mystery crunk' which is a label I'll gladly take.
As it progressed, and we started looking at artwork options, I did have a pretty strong idea of what I wanted to use to represent the music. Australian illustrator Aldous Massie obliged and produced the artwork which I'm really happy with. I wanted to have a kind of 'movie stills' vibe where you feel like you're in the middle of an event or story but with no context of what's going on, just a very vague implication of what might happen. Which kind of sums up the record I think. How lazy of me."
'How What Time' is out now on Black Acre.