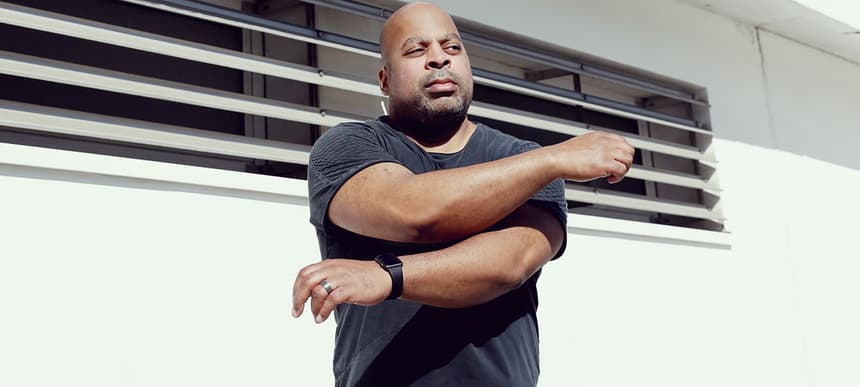 03.09.2019, Words by Felicity Martin
Cop or Drop? DJ Bone reviews the singles
The Detroit techno DJ gets his teeth into five of the week's new releases, from hip-hop to EDM to indie...
Cop or Drop? is a series on Dummy where we invite a musician to either slate or rate the singles we present them with. In the hot seat this week… having just announced his 10-hour 'Homeless Homies' fundraiser rave next month at ADE, with Peggy Gou, KiNK, Deetron and more locked to spin, DJ Bone delivers the verdict on some hip-hop, EDM, indie and more…
Pusha T – 'Coming Home (ft. Ms. Lauryn Hill)'
"…Even if you got money, still lookin' for more." Love this line. Metaphors and cadence on this joint, not Pusha's best work. I chalk it up to this being an ode to OGs locked up. Still a fan of him though. Also love the growling bassline towards the end. And I could listen to Ms. Lauryn Hill's voice all day every day! Every syllable from her sublime voice soothes the soul."
Kingdom & Ms. Boogie – 'Exterra'
"This one struck me as an idea that needed to be stripped down a bit in order to make it work better. It never really achieves a consistent groove at any point. Plus I am indeed not a fan of preset, trance-y/EDM-ish electronic synth stabs. A bit too all over the place for my taste. I'm sure others will disagree but that's the beauty of opinions."
Jack Peñate – 'Prayer'
"Very artistic. I've always been a fan of backwards visuals so I like this video a lot. This was about being different and brave with a beautifully simple song containing a simple message, "I need a little prayer," in all its simplicity. I found the song very likeable and catchy. I thought the one-shot aspect of filming was dope as well. Choreography was on point too. I'd watch this video over and over."
A. G. Cook – 'Lifeline'
"Music on this one isn't really my vibe but I can still be objective here. I think the video is very creative and looks good. It also tells a story that coincides with the song's title. As for the song, I think it could easily fit as part of a movie soundtrack and work very well."
Skrillex, Boys Noize, Ty Dolla $ign – 'Midnight Hour'
"Zumba."
Find out more about DJ Bone's Homeless Homies ADE event here.