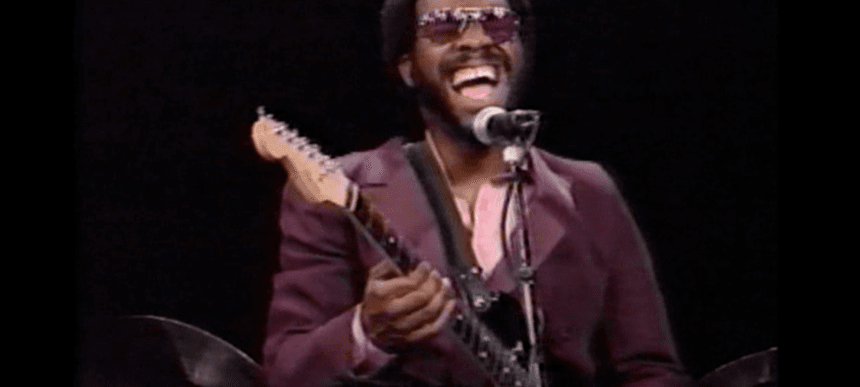 23.06.2016, Words by dummymag
Doug Hream Blunt: "The music picks you up and gets you walking."
On his first ever trip to London, cult American musician Doug Hream Blunt stands in the lobby of Shoreditch's Ace Hotel. Gazing out the window through his sunglasses, he chuckles to himself in the most warm and infectious laugh you've ever heard, before remarking with an ear-to-ear grin, "It's real great to be here man. It's just a great feeling." Feeling is crucial to his story, because it's exactly what kicked things off for Doug, and over time, won him love and respect from an audience of music lovers across the globe. When we meet, he's taking time out from rehearsing for two shows at Field Day 2016, one with The Messengers (musicians from the Mungo Charity/Barbican homeless music group) and another with a band of local musicians he held auditions for online. In an act of extreme synchronicity, especially given his current status as a rediscovered lost musician, the psychedelic folk-rock of Rodriguez's debut album 'Cold Fact' plays throughout the hotel while we talk.
In the mid '80s Doug, then 35, was working as a nurse's aide in San Francisco, the city he still calls home. One day he was hit by the feeling he could write songs. After remembering the time he spent playing his cousin's bongos in his early teens, Doug signed up for a "How To Form A Band" evening class in Golden Gate Park. Under the guidance of music teacher and home studio owner Victor Flaviani, he began singing, playing guitar in a very unique style; and developing his hazy, Caribbean-tinged lo-fi funk rock sound. Week by week, he formed a very inclusive band with his fellow classmates. They performed on a local public access television show called City Visions and recorded and independently released an album and an EP, both of which languished in dusty record bins for decades. "I'd just got married for the first time. I had money and a budget to do it." Doug recalls. "I didn't really know who I was yet, but I knew a lot about myself." Eventually, Doug's focus shifted when he began raising a family, and for a time, that was that.
In the late '00s, Doug's music began catching the ears of influential music figures like Ariel Pink, Dean Blunt, David Byrne, Devendra Banhart, and Dam-Funk. Dean Blunt's duo Hype Williams sampled Doug's song Gentle Persuasion for Get Choong And Look At The Sky. DJs and bloggers started supporting his music, and last year, after tracking him down, New York's Luaka Bop Records released 'My Name Is Doug Hream Blunt', a compilation of music taken from his 'Gentle Persuasion' album and 'Big Top' EP. "Ariel Pink!" Doug exclaims, speaking warmly. "It's weird when you meet someone that has a little influence." Another person with "a little influence" he's met recently is Dean Blunt, who he found quite entertaining. "Dean took my last name," Doug says. "He really liked it. I think maybe it's because they smoke weed and people call it a blunt? All these thoughts comes through your mind when you think about these things, but you don't really know why because you're not them."
"Dean [Blunt] took my last name. I think maybe it's because they smoke weed and people call it a blunt? All these thoughts comes through your mind when you think about these things, but you don't really know why because you're not them." – Doug Hream Blunt on Dean Blunt
Born in Arkansas, Doug moved to San Francisco with his family in 1957 at age seven. Having grown up poor, he discovered the power of escapism early. "I worked this out when I was very young, too young to escape through music," he says. "At first, it was through early television shows like 'Howdy Doody'. Music became a big escape when we moved to San Francisco. When you live rough, it's very easy for music to take you places." Doug loved the music of Elvis Presley, Ricky Nelson, and James Brown, and over time, fell for Jimi Hendrix, Santana, B.B King and Curtis Mayfield. As the years passed, he began to be able to escape physically as well, through time spent visiting The Philippines, Hawaii, Costa Rica and Mexico, where he built a house. Along the way, Doug's perspective on life and the world shifted. He'd always been a compassionate person, but between travelling, experiencing the '60s in San Francisco and working as a nurse, what began as an inbuilt feeling grew into something deeper.
"In certain situations all around the world, people don't like each other," Doug says. "God made us the way we are. We speak all these different languages. He did that on purpose. We don't speak the same languages. These tribes get along; this tribe won't get along with that tribe. So then you figure out, you start thinking, how could I make it better? And you try to make it better." Doug thought he might be able to make things better through music. "There were things that had happened in my life and things that were part of a big gigantic fantasy," he explains. "These little things, I figured I could write about them." Pausing to think for a moment, he continues with a caveat. "I hate to say it was a big imaginary thing because that makes it sound like it was like a child's imagination. I don't want to send a message like that. I'd rather that the message was, 'When you're downtrodden, pick yourself up'. It's like a walk, the music picks you up and gets you walking."
"It's like a walk, the music picks you up and gets you walking." – Doug Hream Blunt
This "walk" Doug speaks of is something you hear throughout the songs archived on 'My Name Is Doug Hream Blunt.' Rendered through strutting bass, driving drums/keyboards, Doug's deeply convicted, poetically simplistic vocals and his wildly exploratory is-that-a-guitar-or-a-steel-pan-drum guitar riffs, it's fundamentally rooted in a place of powerfully genuine sincerity and care. From the dreamy boogie of Gentle Persuasion to the tropical R&B of Caribbean Queen, and the hazy funk of Whisky Man, Love Land and beyond, Doug's songs are emotionally underscored by the concepts of aspiration, self-worth, and self-love. "Yes, yes, yes," he enthuses. "These are the things I wanted people to feel."
Ever since his music was first rediscovered, much has been made of Doug's unique soundworld and the manner in which it presages the modern experimental funk and AM radio pop referencing indie rock forms that have emerged from California over the last decade. He's yet to explain properly how his aesthetic formed, or whether he had a sense of how singular it was at the time. Warm and open conversation regardless, today won't be that day either. "I know what you mean man," he chuckles. "But I can't tell you where it comes from, it was just a feeling." There's that word again, "feeling", don't say I didn't tell you it was crucial to Doug Hream Blunt. The next day he takes to the stage for the first time in the UK, and another chapter within his fascinating story begins.
'My Name is Doug Hream Blunt' was released on October 16th, 2015 by Luaka Bop (buy).