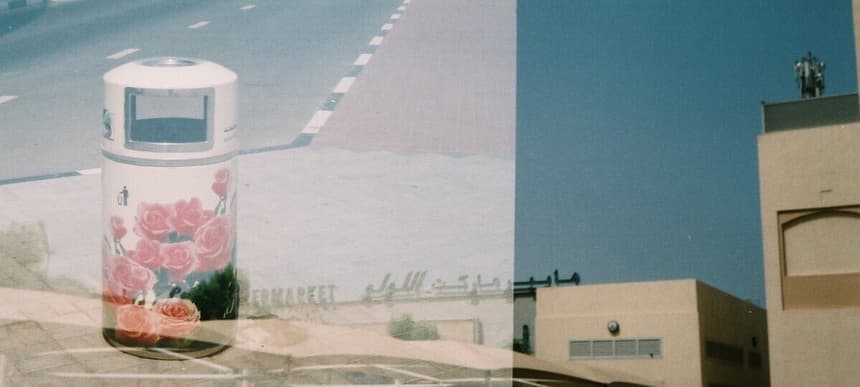 18.12.2013, Words by Steph Kretowicz
DUBAI DREAMWORK™
Stream the mix of field recordings that accompany this piece in the player above.
"Endless Pleasures". That's a written promise projected, I can't remember where exactly, but somewhere between the screen-simulation of a fireplace in an imitation log cabin and my view of women in abayas with their kids, in the snow of Ski Dubai, a manmade metal and crushed-ice ski slope reading "DO SOMETHING DIFFERENT" above them. Half-ambient, half-feverish music plays on a perpetual loop, with barely the 'crick, crick' of a measured, equally proportioned beat surfacing above the drone of human voices converged, the odd infantile shriek breaking through before being drowned out by a blanket of mute consensus. This is Mall of the Emirates, where shopping "is just the beginning", a pre-recorded call to prayer fracturing the choir of commerce at intervals. The muezzin's stunning tribute to divine providence floats from hidden speakers, through my uncomprehending ears and along the slightly grubby two-storey window into the detached scene of helmeted children on stunted skis, a painted panorama of mountains enveloping white-frosted pine trees and a fibreglass pyramid of ice as men, some in suits others in keffiyehs, look on. "There'll be more to inspire you soon," announces a powder blue plywood partition, a dull assurance obscuring the mysterious "work in progress" behind it. An image of paint tins arranged in a circle shrouds it further, seven circles of pastel and a paintbrush ready to fulfil undiscovered desires; a muse for the money you're willing to pay for it. "¥ES. $URE."
'What am I doing here?' It's a pertinent question for this self-initiated tour of the Dubai shopping mall circuit, the answer becoming more abstracted the longer I look. Inspired by Adam Harper's 'Virtual Plaza', I wanted to experience vaporwave's uncanny valley of commerce at its most refined, beyond the flatscreen hallucinations of James Ferraro's 'Far Side Virtual', INTERNET CLUB's IT PLAZA DUBAI, even Lauren Devine's This is How We Do Dubai. I often wondered if the artists had spent much time in the economic centre of the United Arab Emirates. Instead, projecting a distorted image, removed and re-blogged, via a visual meme of astronomical 21st wealth set to a backdrop of ancient tradition; a future-world dystopia of extreme incongruity that Gulf artists – Fatima Al Qadiri, Sophia Al Maria, Khalid Al Gharaballi –promoted and popularised. Going beyond and becoming sound, Ferraro's Dubai Dream Tone and BALAM ACAB's DUBAI SIREN generate their own exoticised conceptions of an unfamiliar region, filtered through a digitised mystique still lingering under a seductive foreign perception of the Persian Gulf.
Mall of the Emirates, Dubai Mall and Ibn Battuta: these are just three impressions of almost 70 shopping centres of the UAE city where I spent days wandering and watching, listening and recording the sound of hyper-capital made material, Zizek's consumerism taken to its logical consequence. Those experiences bleed into one another, my memory of them becoming as gauzy as the haze of an afternoon glimpsed through the front window of an unmanned train, light reflected and refracted on skyscrapers in Business Bay; oily glass spires caked with dust from up close, becoming a knife-like golden-brown huddle from a distance.
That's where I meet Abraham. A Lebanese insurance broker, sweaty under his blazer, tie loosened, he breaks my daydream with words set apart from the incremental cut-and-paste station announcements. He nudges to my analogue Olympus, asking "apparently the pictures look better but is that just romance?" I'm embarrassed by the post-modern hangover of pseudo-authenticity the camera represents, but it does actually take better photos, if for no other reason than the contingency that an off-centre lens, slightly faulty film winder and lack of a preview screen offers. We talk.
"Wafts of perfume and a stream of advertisements and moving images follow a stock music narrative which reveals itself to be instrumental covers of 90s US hits, from Bette Midler's Wind Beneath My Wings and Vanessa Williams' Save the Best Till Last to that one from Dirty Dancing."
Abraham recommends Ibn Battuta first. A shopping mall set apart from the others, not only for its distance from the city centre – one Metro stop before Energy and near the end of the line – but for its historical perspective, however represented via kitsch cultural reproduction. Ibn Battuta station's curved glass grid bulges out onto pavement and sand, power lines clustered around it, the mirage of a distant skyline as omnipresent as the low hum of engines and A/C vents in the 40-degree heat. Past the parked tour buses and in view of Atlantis, The Palm resort – a building that can be reasonably described as a wide, baby-pink multi-storey building with a huge hole in it – stands Ibn Battuta, an unimposing single story complex named after an iconic Moroccan explorer and built in the image of Andalusia, Tunisia, Egypt, Persia, India and China where he visited; past glories of the 'east' reproduced in a shopping centre.
"Good evening, we have lost a boy, green jacket and pants, would the parents please proceed to the front desk immediately," a woman's voice comes over the PA, in English, for the second time as it interrupts the far-off echo of what emerges as panpipes, bass and an occasional electric guitar, together. Wafts of perfume and a stream of advertisements and moving images follow a stock music narrative which reveals itself to be instrumental covers of 90s US hits, from Bette Midler's Wind Beneath My Wings and Vanessa Williams' Save the Best Till Last to something I recognise but fail to name and that one from Dirty Dancing. Cara DeLevingne, Natalie Portman, a nameless woman on a monitor crimping her blonde hair unsupervised at an aisle stall, all sexy and dead-eyed, stare outward. Bill Medley and Jennifer Warnes' "…and I've had, the time of my life…" resonates through a wordless melody, stunted as a note's edge is diffused by breath.
Abraham tells me he's been in Dubai for seven years, the US for 10, which I guess is where most of the "some people" who call him "Bob" are from. His job is not ideal but flexible, it's no Up in the Air but it'll do ("I make money and I go home") and he has to drive everywhere, but he prefers it here to North America, even if there are no local pubs "with wood and two dollar beers". They're all corporately owned. There are also no "bums" because they can't afford it, nor old people because they don't retire here and if I want to see where the "authentic people" live, he offers, I'd have to go to Creek, on the arched green of the only two Dubai Metro lines. It diverges through Dubai Health Care City and away from the straight red one that runs along and through World Trade Centre, Business Bay and First Gulf Bank stations to Jebel Ali Industrial. But best not go to Creek because voyeurs aren't welcome.
"Lurching electric guitar rhythm and simulated vinyl crackle tears through the diaphanous fabric of the passive New Aged pop song renditions."
Starbucks, Nine West and Debenhams, their ubiquitous Western branding still recognisable in its Arabic mutations, circle the centrepiece of 12th century engineer Al-Jazari's Elephant Clock in the dome of India Court (the only thing worth seeing at Ibn Battuta, according to Atlas Obscura) while I point an iPhone toward camouflaged speakers above a fire hydrant, in view of a sign pointing to the "Prayer Room" above "Mall Management". The pounding pop trance of Markus Schulz featuring Ana Diaz's Nothing Without Me, so generic I'd mistaken it for Rihanna's Only Girl, is followed by the reconstituted reggae of Maroon 5's One More Night the closer I come to the lurid disco-lighting and huge screen projections of a bowling alley. Here, lurching electric guitar rhythm and simulated vinyl crackle tears through the diaphanous fabric of the passive New Aged pop song renditions to which I've already become accustomed. Dotted down the tiled aisles of geometric mosaics of Persia and the multi-inclined rooves of China are replicas memorialising past Empires and their feats of engineering, including the Islamic Astrolabe, a kind of elaborate compass used to navigate the movement of the sun and stars, establishing exactly when to pray. Midler, Medley & Warnes, Williams and Bryan Adams' (Everything I Do) I Do It For You play on a compulsive instrumental that loops with my sense of time and place as it merges with the dull memory of a childhood spent worshipping Robin Hood: Prince of Thieves.
Apart from the Financial Centre, Abraham doesn't know where I could find some art galleries. But even though he'd never heard of 'net' or video art he suggests I could probably try Dubai Internet City. I never made it as far as the giant '@' sculpture, where digital space spills out into the real world at the IT hub gateway because, in a labyrinthine network of air-conditioned bridges, trains and travelators, all roads lead to the shopping mall. Outside, in the heat and buzz of electricity, I try to walk to Burj Al Arab – a glowing sail beckoning in the distance and looming above the drift of two Azan prayers competing to be heard but both drowning under the violent motor of a mobile generator, overexerted and lighting up a colossal light box ad for a Blackberry. I get as far as the gleaming four-wheel drives parked outside a walled-in estate of modest mansions, when the dirt lot turns into highway. A busted up minibus packed with South Asian workers marked "Water Seal Insulation Co" rolls past. There are no paths. I go back to the Metro.
Held hostage in this cocoon of consumption, my experience of Mall of the Emirates and Dubai Mall are indistinguishable, merging in a mass of ostentatious wealth, garish spectacle and a mere scaffolding of stock sounds. They consistently feature a synthesised organ line with a repetitive, incessant twinkle over a steady motion moving ever forward; a queer, ahistorical allure, as opposed to Ibn Battuta's subliminal cycle of fabricated retrospection. Sometimes something more familiar will emerge, like the Backstreet Boys or the repetitive hip hop bounce of a pop song I can't place, among the overpriced hologram postcards and miniature crystal Burj Khalifas in the souvenir shop. It's hard to hear the words though, because Celine Dion is belting out I'm Your Lady from across the atrium.
It occurs to me, only after the fact, that I wasn't supposed to be in the carriage with Abraham at all, Gold Class being reserved for higher paying commuters; the cushioned pleather seats and a better view of the train tracks to show for it. Abraham tells me not to bother with Palm Jumeirah, the manmade island oasis in the shape of a palm tree, as seen rotating on the This is How We Do Dubai video while Lauren Devine sing-talks, "Killer tannin' by day/ and then the crazy nights," over Laurel Halo, Kevin McGarry and Nick Weiss' pounding trance construction, recklessly tearing ever-forward. Evidently, as Abraham gathers from the resounding negative on the "lucrative"-ness of a career in journalism, I probably couldn't afford the elevated perspective necessary to fully appreciate this bizarre tableau. Jumeirah Palm is not how I'll be doing Dubai.
A one-dimensional ambience, buoyed by the innocuous ebb of bass and the odd syncopated snare, generates a sense of urgent calm in Dubai Mall; a two story convex stream of water, dotted with chrome proto-bodies impaled in an eternal headfirst dive, is suspended to my right. A man in a crisp white thobe and gold sequined cap with "FUZION" across it walks past a woman Shazam-ing the lifeless drift of an instrumental of Stand By Me, originally by Ben E. King. It's played on a maddeningly endless loop through floor-standing speakers, an added feature for the Samsung LED TV that the smiling blue top and white trouser-wearing sales people are lingering around. A potential customer gives the scene extra snap with "EVERYTHING IS GOING TO BE AMAZING" blazing across a pink shirt as he stares at his smartphone.
"At once well-fed and hungry, entertained and restless, I flick through the simulated emergency of the Emirates Safety video. Frank Sinatra, exhumed from the Hollywood Golden Age and grafted to the global glamour of now, sings "It's very nice to go trav'ling/ To Paris, London and Rome" in the Official Welcome to Dubai video."
The dazzling liquid movement of a fashion runway transfixes me as I wait through almost an hour of countless agitated tempos, pulsing, pounding, rushing tracks through an acoustic cyberspace, a platform for an event that never eventuates. The hydraulic runway, custom-fitted with LED panels discharging nebulous forms across its surface becomes a moving and mutating glow dispersed across a colour spectrum into a mind's view of Kari Altmann's artwork for Fatima Al Qadiri's 'GENRE SPECIFIC XPERIENCE'. The reverberating steel pan and inhuman choral keyboard patches of that record's Hip Hop Spa echo through to the galaxy of twinkling lights in the ceiling, playing substitute to the real stars that you're unlikely to catch through the urban glow outside.
Emirates Airlines has its own boarding song. It's a vulgar mix of simulated and real vocal samples, strings, tabla and quivering synth patches that has none of the humanity of Dean Blunt's DEMON off 'The Redeemer', a track that it bizarrely evokes. But, even with the car alarm and smashing glass inserts, Blunt's is less weird. The economy seats are spacious and everyone has their own monitor, screening the inflight entertainment system, 'ice', an acronym for "information", "communications" and "entertainment", presumably presented in lower case to make it feel less cold. But it does anyway. ICE to James Ferraro's 'COLD'. Sterile. Synthetic. Syncretic. A living death as glacial as the mangled and monstrous autotune of Vapor Weight as it lumbers over an eroding, self-destructing rhythm. At once well-fed and hungry, entertained and restless, I flick through from the simulated emergency of the Emirates Safety video, people in brace position on levitating seats in a cabin suspended in a purple hue, to a CGI plane pointing to Mecca, Duty Free, The Amazing Spiderman, white teeth, Euronews, smiles, BBC Arabic, sports, CNN International, live business, donate. But my hand doesn't enter the screen, not like the one drifting between dimensions, interfaces, in Altmann's Jemsheed PowerPoint; the acapella vocal samples of Al Qadiri's Ayshay, masculine and feminine, pitch-shifting across an uneasy simulation of beauty, buried in cavernous echo. Frank Sinatra, exhumed from the Hollywood Golden Age and grafted to the global glamour of now, sings "It's very nice to go trav'ling/ To Paris, London and Rome" in the Official Welcome to Dubai video ("And you know your fate is/ Where the Empire State is"). The Airshow, a real time film of the flight from outside, cruises at just under 1,000 kilometres an hour. It feels like we're barely moving, hovering, rather than hurtling towards an unknown destination.