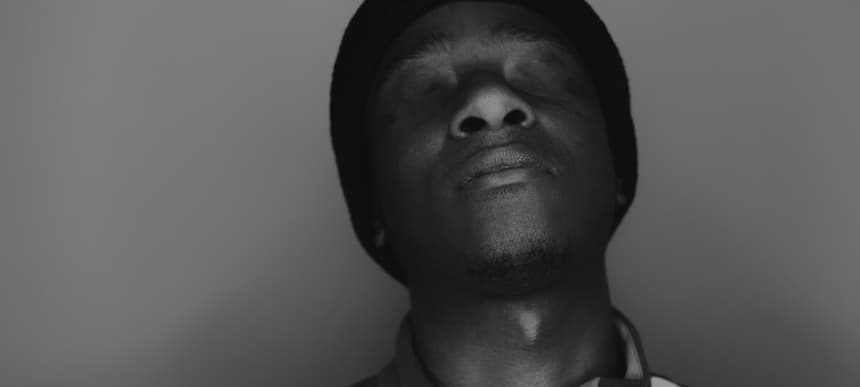 30.09.2016, Words by dummymag
DVA [Hi: Emotions]: "I just want to make what I want to make, feel good and do what I do."
"Things are happening quickly nowadays," muses London-based DJ, producer, and Hyperdub artist DVA. "Everything is at the push of a button. It's been like that for a while with technology, but apps and virtual reality are speeding it up. You don't have to manufacture a physical object anymore; you're making experiences. A virtual reality space is just coding. You're coding for something for a person to feel, feel, smell and touch. Since we don't need the raw materials anymore; things will develop faster."
Acceleration, artificial comfort, and cyberspace as virtual reality: these are some of the wider concepts that frame 'NOTU_URONLINEU,' DVA's first album since 2012's 'Pretty Ugly,' and his debut full-length outing as DVA [Hi: Emotions], an alias previously reserved for remixes. Built out of syncopated drum machine funk, mutated post-grime synthesisers, vaporwave-style online advertising voice-over fragments and the occasional full R&B vocal, it's a powerfully cinematic work created during a period when DVA, despite describing himself as "more interested in the future than the past" found a way forwards by looking backwards.
"At this point, I'm trying to do things that make me feel good," he admits. "Just knowing I have a studio I can go to and make tunes isn't enough." Reflecting on his teenage years, he remembered how much he'd enjoyed listening to music in the dark at home. "Simple things like turning the lights off put me back in a time when I loved listening to music. I did that for a whole year." He also started planning out storyboards for short films. "Music was getting on my nerves a little; I had writer's block in the studio, and I wasn't inspired, but the idea of taking ideas I had for films and condensing them into shorts kept me creative."
When he realised writing music in the dark was helping him create a vibe, DVA started thinking about the other side of the coin: how to build more of a vibe for the listeners. "I think if you are about to play some music to some people, the best thing to do is explain the thought process behind the track and paint a picture for them," he elaborates. "Tunes have to be listened to at the right time, in the right space or surroundings." To best appreciate 'NOTU_URONLINEU,' DVA suggests listening to the record in complete darkness or attending one of the multimedia-based shows he's planning around the album's release with his visual collaborator Roca. "We've created this imagery that looks like the backend of a computer system. It's digital, futuristic, and it all fits with the album's concept and sound."
Although this lays down the appropriate contexts or settings to listen to 'NOTU_URONLINEU,' we can't paint the picture properly without expanding on the backstory and thought process behind it. Originally intended as the soundtrack to one of the shorts DVA storyboarded, 'NOTU_URONLINEU' plays out within a not-so-distant future where a stylised mega corporation is slowly taking over the world by forcing the population to live under one brand in virtual reality. "I think that this is just the way things are going in life," DVA explains. "As we go more and more digital, everything will be viewable by the touch of a button. With that in mind, I want to do things with my music that I think are going to happen in the future anyway. You won't even need to go to the club, forget going anywhere. At some point, we'll be living online in virtual reality."
Despite the dystopian overtones easily read into this scenario, DVA envisions some fun possibilities, like a future where we'll be able to select a show and stream the experience from home. He also pictures DJs performing to audiences around the globe via live virtual reality. "Say you have a secret group on Facebook with 3000 people in it, you discuss ideas, pick a line-up, pay online and everyone gets a specific live stream from the act to their specific venue, why can't that happen?"
Given the threats of closure currently hanging over nightclubs around the world and the rise of online concert streaming, it's a future which some would say has already arrived. And while he's optimistic, DVA's thoughts are measured. "The more digital we get, the more traceable we are," he says. "If we all become totally dependent on the internet, we can be controlled and switched on and off at any moment. Living in virtual reality might give us the luxury of changing our environments at the press of a button, but you can also be turned off at any time." "Even right now, your internet provider could shut you down right now, and you're not going to do no work all day," he continues. "Don't get me wrong though, I like new things, and I like technology. I like getting things quick, and I like the advancement of how things are going, but I want to feel amazing as well."
"The more digital we get, the more traceable we are." – DVA
Alongside his studio process, short film storyboarding work and multimedia live show, DVA has been employing a few other tricks to recapture the way he felt about music when he was younger and push the focus back towards close listening. "I took all my figures down off Soundcloud," he says. "My tunes are all as good and important as each other, but if one only has one hundred plays and another has eight thousand, someone is going to think it's the better tune. I never thought about play numbers when I was listening to pirate radio. That saying, 'You've got to go backward to go forwards,' that is a real thing. I think with music it's especially true. When I was doing grime, I never thought ahead. I just did things. When you get to a certain point in the game, you can become scared about what people will think after you do something. Fuck that. I just want to make what I want to make, feel good and do what I do."
With 'NOTU_URONLINEU', he's ticked all the boxes, creating a challenging, ambitious and enjoyable record that is, most importantly, exactly what he wanted to make, made how he wanted to make it.
'NOTU_URONLINEU' is out October 7th on Hyperdub.