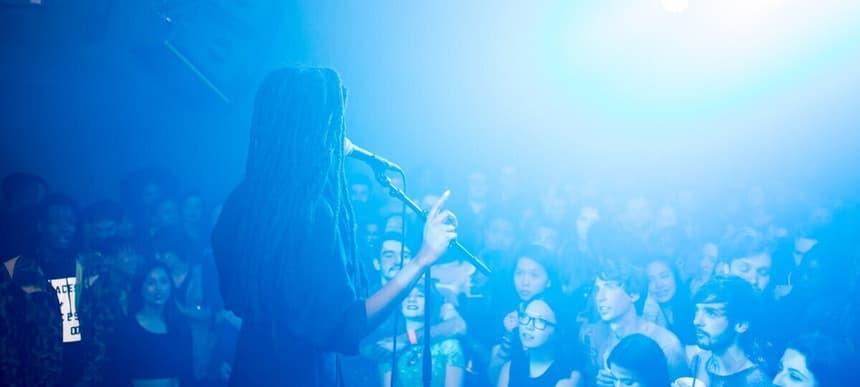 08.05.2014, Words by Robert Darnall
ELSEWHERE, 02/05/2014 - 03/05/2014
If you've conquered EVERYWHERE nearby, then where else is there to go but ELSEWHERE? This new, two-day London festival – built on the sell-out success of dollop's EVERYWHERE festival in their base city of Nottingham last year – took over a range of Hackney venues like The Laundry, Oslo, and the Hackney Picturehouse, bringing an eye-catching line-up of electronic acts ranging from Mike Skinner to Kelela. With a decent central concept running through, it looked like quite the draw.
Unfortunately, prior to the first trip to the bar on Friday night it was already clear that ELSEWHERE had hit some snags along the way. Actress – who was effectively billed as Friday's headliner, and always an enticing prospect live – would no longer play: he went to the cinema instead. For Saturday, ELSEWHERE also found themselves unable to use a few of the planned smaller venues, like the homey space of the London Fields Brewery, so it was a shame to see the likes of Last Japan and Leon Vynehall wiped from the final set times, as well as a few hours shaved off Saturday's original running time.
The absence of the shady techno whizz meant that some of the sense of occasion around the first night was missing, but props to dollop for salvaging Friday's line-up by pulling in Koreless and Midland last minute. Koreless' marooned, emotive sounds played out when I entered The Laundry. His live show doesn't seem to have developed all that much from last summer's festival merry-go-round, but it's still an interesting watch: the room seems to split between those taken in by his beat-less, ambient charms, and those with hands on hips wearing fat I-just-don't-get-it expressions.
A baseball-capped Alex Cowan of Blue Hawaii bounded on next: his DJ set was a whole lot of fun: tropical house vibes, flashes of footwork, with No Scrubs rounding things off. The atmosphere rightly swelled around Floating Points' peak time slot, and he was all smiles and good vibes as always. His recent appearance at the NTS 3rd birthday party, b2bing with Kieran Hebden, was more like a rare groove-off, but the mood and the moment was well suited here: with his soulful crate digging complimented by heavier house interspersions.
On to Saturday and the still relatively new Hackney fixture of Oslo, whose upstairs was heaving as Ryan Hemsworth stepped up. At this point it definitely felt like I was at a festival, still feeling drained from yesterday and nursing my drink to prep for Round 2. Ryan's stock set proved just the medicine: fresh rap cuts sprinkled with emoticon-rich, somnolent beats. He played stuff off a new EP that's on the way, and was clearly super excited to have London singer Sinead Harnett on hand for some live PA at the end.
Kelela looked like she'd be a major draw, and she didn't disappoint. Having seen her last partnered with Bok Bok at Deviation when the 'CUT 4 ME' mixtape first dropped, it's great to see how her live show has come on since then. Dressed all in black, with sharp beams of laser light shooting through her distinctive locks, Kelela's completely owning the stage these days. While Kelela can in part play the smoky chanteuse, if the atmosphere's anything less than full on and unrelenting then she's not content. She asks for volume tweaks on her monitors early on, but soon just asks for everything to be cranked up – "this shit needs to be loud." Later the crowd are told to turn to anyone near them not dancing to find out "what the fuck's going on." Some dubby echo effects were layered over Kelela's voice throughout – that were unexpected but really transformative – and a possible re-edit of Enemy was transformed with space and poise.
Mumdance then finished up proceedings in the Oslo main room, proving the rude health he's been in of late, with spins for his new Rinse single with MC Novelist, and a tune off the superb 'Mahraganat Mixtape', recently hosted as a Dummy Mix. The only shame was the majority must have trekked over to the Hackney Picturehouse for Darq E Freaker and friends. To be fair, if he was anywhere near as good a host as at the Balamii night at Bussey Building back in January – which basically kicked off into a full-blown, hyper-than-hype grime rave – then I can't blame them.
Overall, due in part to those reductions in venues, there wasn't a huge amount about ELSEWHERE to elevate the vibe from that of a couple of solid corresponding club nights to that of a festival. But there were memorable appearances and surely enough on offer to warrant the (relatively modest) price of a weekend ticket. If dollop were to build on this year and bring ELSEWHERE back stronger in 2015, you'd still back it find its place amongst London's busy market of electronic music festivals.
Photos by Billy Bolton.