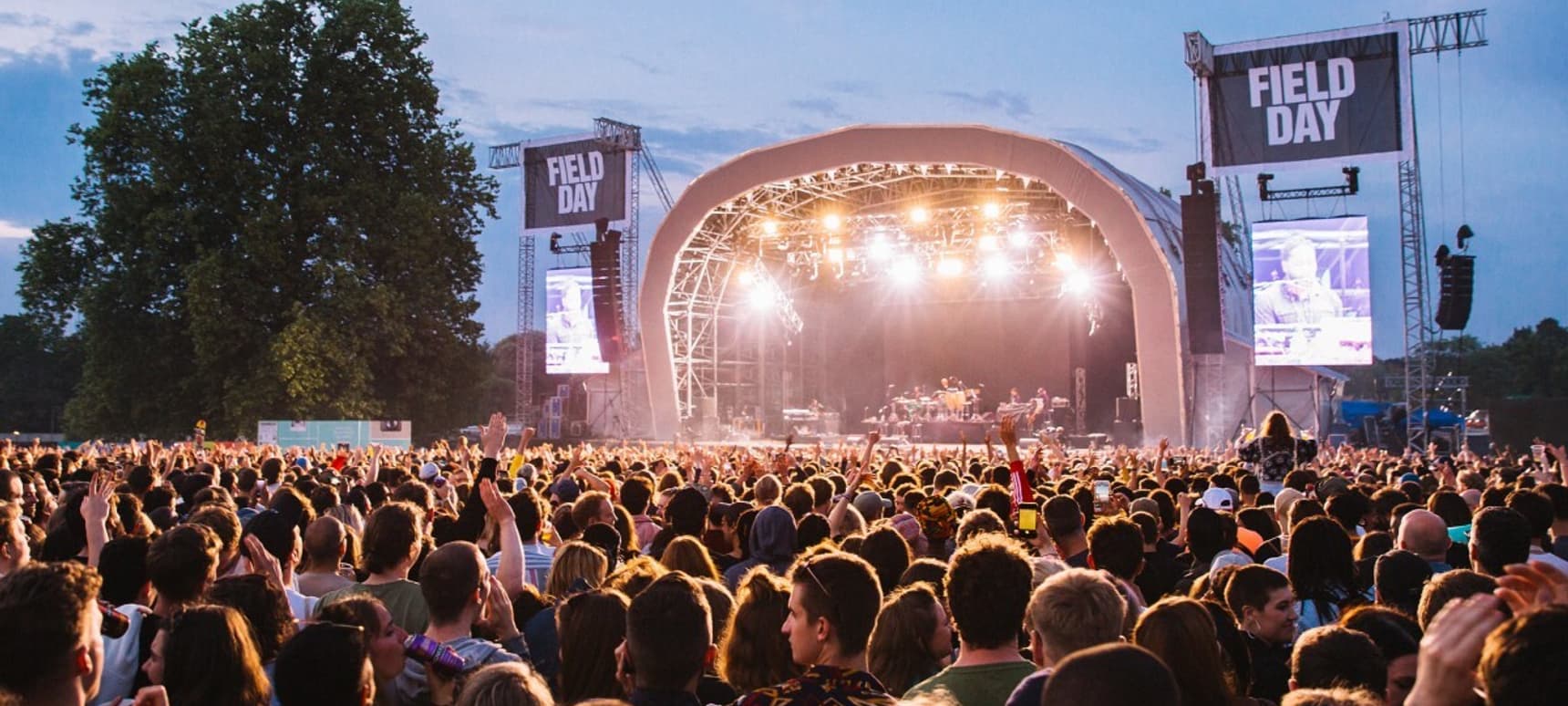 06.06.2018, Words by dummymag
Festival Report: Field Day, Brockwell Park, 2018
Now in its 12th year and having relocated to Brockwell Park in south London, Field Day – a firm fixture for all fans of cutting edge new music – saw the festival expand to two days. An ambitious move, each day had its own personality in terms of the music on offer – soulful and jazzy on Friday while Saturday carried a more cathartic rave-inducing atmopshere. Spread across six stages dotted around the park and with the sun shining over thousands of trendy twenty-somethings, the five tents and one open-air main stage remained busy – sometimes too busy – throughout the weekend.
Friday
Bathed in warm sunshine, the opening day promised a laid-back atmosphere soundtracked by an extremely diverse lineup inspired by London's young British Jazz resurgence – from Norwich's Mammal Hands performing their hazy-take on jazz up on the main stage to Nubya Garcia's intensely captivating performance at the Moth Club Tent. A few hours later, the Los Angeles-based singer and violinist Sudan Archives took the same stage by storm with her unique presence, confidently playing a range of instruments and singing with great class and control. Radiating in every way, the US artist serenaded the crowd with her Sudanese-influenced style of violin played and modified over compositions blending hip-hop, R&B and house.
Further up the hill, stood the smaller but equally packed SuperDry Sounds tent, where the Baltimore-rapper and producer JPEGMAFIA's nickname 'Peggy' is shouted repeatedly as he captivates the crowd with his extra-terrestrial music. There's sweat and smoke but his raucous yet beautifully loving energy transcends all of this with meticulously wonky beats and clever lyrics resonating throughout the tent.
Meanwhile, Jordan Rakei gave one of the most mesmerising performances of the day on the Shacklewell Arms stage with his upbeat hybrid of jazz and R&B, concluding his set with 2017's 'Sorceress' and leaving the crowd awestruck and wanting more.
One of the day's biggest crowds and highlights was the Mancunian trap queen herself IAMDDB whose performance took the roof off the hot and sweaty Dimensions tent and suggested that for once the hype is justified.
Back on the main stage 'wonky funk' star NAO also drew a huge crowd that enthusiastically sang along to songs from her 2016 album and were given a sneak peek of new material with new song 'Another Lifetime'.
All in all London's new jazz scene was well represented with free-flowing musicality supplied by acts such as Moses Boyd Exodus and the high-intensity Sons of Kemet lead by 33-year-old saxophonist Shabaka Hutchings, but the one act that had everyone rushing to the same stage was living-legend Erykah Badu.
As the sun set over south London we gazed towards the empty stage waiting for the iconic musical figure, but with her reputation for poor time keeping we're not surprised when she doesn't take the stage when she's supposed to. She eventually appears half an hour after her advertised time dressed in a flamboyantly oversized jacket with her hair unravelling from underneath her hat. The set is generally a triumph including a cover of Aaliyah's 'Rock The Boat' and her own personal anthems 'Next Lifetime' or 'On & On' but it comes to an abrupt end when the curfew is reached and Erykah's tardiness comes back to bite her, and us.
But with the riches on offer throughout the day not even this rather undignified end can cast a shadow over this first foray south of the river for the best new music festival in London.
DL
Saturday:
After Friday's sold-out, new jazz themed day, Saturday steered more towards a more typical Field Day line-up combining electronic sounds and eccentric international artists.
Ross From Friends brought his impressive live show – infectious lo-fi house with added saxophonist and expressive guitarist – to a busy post-lunchtime tented crowd; the recognisable hook of 2015's 'Talk To Me (You'll Understand)' even inspiring one guy in the tent to crowdsurf…
In the intimate Bugged Out tent next door, ascending Canadian DJ and producer Jayda G capitalised on the scorching weather, digging out her funkiest, most upbeat disco and house records like Those Guys' infectiously joyous 'Love Love Love' and NY Finest's 'Do You Feel Me', all with a massive smile spread across her face as she bounced around behind the decks. Looking genuinely humbled with the endlessly cheering crowd, Inner Life's 'Ain't No Mountain High Enough' provided a perfect parting selection.
At the opposite end of the festival site, New York City rapper Princess Nokia unleashed a totally different sort of energy – launching into 'Tomboy' early on and jumping straight into the crowd. After drawing on the uncompromising rap of debut mixtape '1992', Nokia – real name Destiny Frasqueri – switched to the emo pop-punk of her latest release 'A Girl Cried Red'; a mass sing-along of Sum 41's 'Fat Lip' and Blink 182's 'I Miss You' forming an unlikely throwback to the early 2000's.
Headlining the main stage on Saturday, Los Angeles-born Thundercat – sporting red basketball shorts, knee-high socks and sandals – brought his experimental free jazz to life, even bringing out the previous night's headliner Erykah Badu onstage, showing her appreciation for his groove-laden basslines.
Highlights elsewhere on Saturday day included Kurupt FM causing champagne-spraying chaos on the main stage, London-based Australian DJ Boring turning the circus-like Bugged Out tent into a sweatbox and ending with Frankie Goes To Hollywood classic 'Relax (Don't Do It)', Mount Kimbie bringing a career-spanning journeying live show to a packed audience and Helena Hauff's laser-heavy acid and electro proving why she's at the top of her game.
Unsurprisingly there were a few teething problems with the new site, the most serious of which was overcrowding during Four Tet's show in The Barn, causing his set to be paused for nearly an hour. But overall the first Field Day in Brockwell Park was a big success with lots of pluses – hard-hitting speaker-systems, impressive production, an endless number of food and drink stalls, high police presence and security stewards at every corner. If the organisers can learn from this year's issues then there's no reason that Field Day can't go from strength to strength in its new home.
BJ