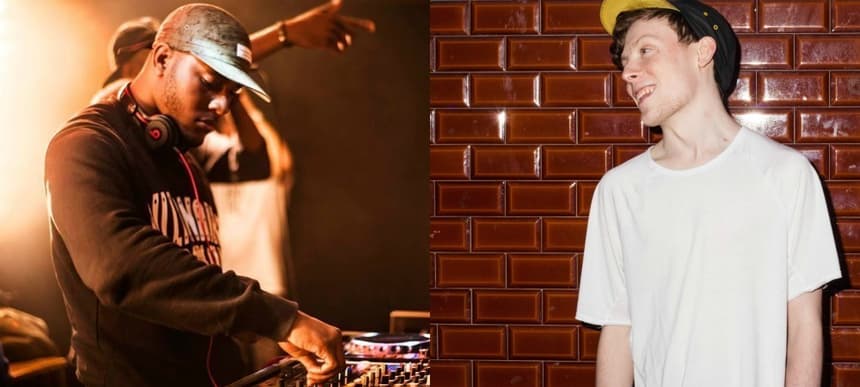 18.02.2015, Words by dummymag
Finn in conversation with DJ Q
Finn's Keep Calling became a mini-anthem at London grime night Boxed, eventually finding its way into sets by the likes of Eclair Fifi, Scratcha DVA, and Murlo, and given a vinyl-only release by Local Action (home to Slackk, DJ Q, Inkke, and more).
Before Finn releases a new EP of original material via Local Action, the label are lining up a remix EP of the track that put him on everyone's radar in the first place. Remixes of Keep Calling come from Manchester's Samename and Fallow, Adelaide club producer Strict Face, and bassline hero DJ Q. In keeping with Finn's own production methods, none of these artists were given stems to Keep Calling – they had to make their remix using the original track.
We've got an exclusive stream of DJ Q's remix of Keep Calling running today, and when Local Action suggested getting the two producers in for our In Conversation series, we jumped at the chance.
The two producers operate in different worlds, musically, but they have a lot in common: both are core members of the Local Action family, both are from Yorkshire, and both are community-focused with their music – Finn co-runs Manchester's Chow Down and Hull's Crystal Clear, while DJ Q has announced the first ever Bassline Festival. Their chat took place not too long after a Local Action-branded house party at Finn's mate's gaff in Hull.
House parties
Finn: "How are we gonna start this then?"
DJ Q: "Just chat shit. I dunno, how's it going? I just got IDed for buying a Desperados, he didn't believe I was 29 but what can I do? I'll take it as a compliment."
Finn: "That's been my life since 18. So, let's start talking about the house party. That's how the Keep Calling remix came about I guess."
DJ Q: "Nah, the remix came about because, obviously, I was playing at your house party. So I had to come with something special. I never told anyone I was gonna remix it."
Finn: "Yeah, every remix on this EP came about similarly… just mates."
DJ Q: "Yeah, it's a big record. How hard was it putting that house party together?"
Finn: "The house party was really hard. It was probably about two weeks of solid just getting stuff together. It's definitely doable, but you need a bit of foresight. Also, we were a bit conscious of the fact that putting DJ Q on in Hull… like, if word came out loads of people would come. And although that would've been nice…"
DJ Q: "Yeah, it was cool that it was a bit secretive. I was surprised to see bouncers at a house party! So what's Hull like for music as a whole?"
Finn: "I'm not gonna say it's rubbish, but it needs more. We've been trying to change that, like with the house party which was a big thing for Hull I think. You'd have expected that to happen in London or somewhere a bit more central."
DJ Q: "I think it was nice that it happened in Hull first, 'cause it showed that we're not just sticking to the expected cities."
Finn: "It felt like it was our own thing, too, rather than having bigger brands involved. It's nice doing stuff that's DIY I think."
Remixing Keep Calling
Finn: "So how did you cut up Keep Calling? Me and Tom [Lea, Local Action founder] were talking about this, like did you use anything from the original sample?"
DJ Q: "Yeah, I used the original sample with little bits from yours. And then the female vocals are… where did I get the vocals from?! I think it was Toni Braxton, Making Me High."
Finn: "Yeah, it's got that Todd Edwards collage feel."
DJ Q: "And then you played that Todd Edwards track at the house party, so I was like 'yup…'. I'm Todd Edwards' biggest fan. I'll argue with anyone. I am Todd Edward's biggest fan. Maybe even bigger than EZ. What's your favourite Todd track?"
Finn: "Probably Wishing I Was Home. But I've been playing Feeling Lonely a lot. I like his breakdowns, and his housey bits. The guy's just been consistent since day."
DJ Q: "And the thing is, his older stuff still sounds fresh. It's the way he uses samples."
Finn: "Well, he sort of uses them as notes. With my stuff, a lot of it's built from the ground up. I use samples as hooks, or bars. Whereas he'll take individual syllables. Are there any garage producers nowadays that you think will live up to those standards?"
DJ Q: "Nowadays, Flava D. Preditah when he makes garage. Royal-T. Moony's sick as well, and do you know PVC? He's good, he's talented."
Finn: "I think that type of garage, Flava Q, Royal-T, especially Moony, it's sort of touching with grime again now. It's got that proper dirty, stabby feel again."
DJ Q: "For a time, all the scenes felt segregated – like grime, you could only play grime at grime raves. Garage raves, you'd only play garage. But now everything's coming together."
Finn: "It's really refreshing. That's why at the house party it was fun having you play before Slackk, then Inkke doing his thing… it was really eclectic. That back-to-back at the end was all over the place too, but in the best kind of way."
Working methods
DJ Q: "So what do you use to produce?"
Finn: "I just use Ableton, I think it's the easiest when it comes to cutting samples. I started out on Logic, but I find it impenetrable; way too hard."
DJ Q: "It's not that it's hard, it's just… I find it boring."
Finn: "Yeah yeah yeah. Whereas with Ableton you can just get a loop going so quickly. I think I did the basics of Keep Calling in about half an hour. I mean obviously it's a simple record, but most of the records I've done that people seem to be into I've done really fast."
DJ Q: "How did Keep Calling come about?"
Finn: "Well it's [the original sample's] stabs, those proper grimey stabs."
DJ Q: "Yeah, they're similar to Darq E Freaker or something."
Finn: "Yeah, that's exactly it. At first I was just treating it like an edit, a Darq E Freaker type thing, and I sent it to Slackk when it was about a minute long – like this is just a DJ tool. He was like 'just make it longer, make it a full track'. That was the first track I ever finished."
DJ Q: "Is that how the Local Action affiliation came about, through Slackk?"
Finn: "Yeah, definitely. He started pushing my stuff hard through those monthly mixes, and then Tom hit me up eventually saying he wanted to put it out. I knew Tom before, 'cause we'd all played that night at Chowdown together, though you had to leave early. Tom got really rummed up – so did Slackk, I think everyone did. I remember talking rubbish to Tom for about two hours, and then he said he was gonna send me Slackk's 'Raw Missions' EP. I hit him up in the morning and he was like 'I don't remember any of this, but I'm a man of my word' so he sent me it. That was a nice way to be introduced to the label really."
DJ Q: "Yeah, it's always nice when things just happen rather than being forced. See with me with Tom, he just emailed me out the blue about Brandy & Coke, and then four singles and an album later… yeah, here we go."
Finn: "That's worked really well, the Local Action / DJ Q hook-up. I've still got mates who have Brandy & Coke on their mantlepiece, it was a big record. And it was just when garage was having its little comeback moment, because Bax [by Mosca] had come out that year too. Local Action's done a lot of R&B influenced stuff though – Heartbeat [by T. Williams] and Brandy & Coke, and it felt like Keep Calling was kind of in the same vein."
DJ Q: "What's your favourite Local Action release?"
Finn: "I'm torn between Brandy & Coke and 'Raw Missions'. I remember hearing 'Raw Missions' for the first time and being like 'wow, this is different'."
DJ Q: "Mine has to be Heartbeat. That Mosca remix is the one. I finished my show with it this week on Kiss, it felt right."
The future
Finn: "What have you got coming up then?"
DJ Q: "I'm in the studio a lot. I've got nothing solid in place planned, I'm just making loads of music and when something comes up that I'm really feeling, I'll know that's the one. There is one bit that I sent to Tom recently and he was like 'right, that's the one, that's the next single', so I'm gonna work more on that and see where it goes."
Finn: "Yeah, I do feel blessed being signed this early, because it means you can make stuff without pressure. And it's great to have another set of ears, a bit of direction. Are you one of them people with folders and folders of unfinished stuff?"
DJ Q: "Yeah, loads of it. Loads of it."
Finn: "See, I'm trying to go back and finish everything now. It's good to do if you've got writer's block, go back and try and finish things, even if it don't come out right."
DJ Q: "See I can't do that though, 'cause most of the stuff… I'm just not feeling most of the stuff that I started. That's why I start new stuff in the first place."
Finn: "I suppose one of the better things about using samples as the starting point is that I'm trying to chop it into a song, and if it doesn't come out right then I can go back to that original sample and start again, have another run of it."
DJ Q: "So what's your plan? Are you gonna keep focusing on instrumentals, or are you planning to work with vocalists?"
Finn: "Yeah, working with vocalists is a big thing – especially with this R&G stuff. It feels like it's what I should do, naturally. I think I need to get my production up a bit though – if I get a vocalist in, I want to know I can mix vocals to a high standard myself. So over this summer, I'm probably gonna link with a mate who's got a studio and get some people in who I know can sing, cut my teeth a bit in terms of that process. So one of the things that properly impressed me about your set at the house party is how you play acapellas. You'll just drop out all the instrumental, and it's just acapella, but there's no drop in energy."
DJ Q: "It's because people are waiting for the next thing! The way I DJ, I DJ like I'm in the crowd myself, and I play how I'd want to hear a DJ play."
Finn: "I've always been the same, thinking about what I'd want to hear out."
DJ Q: "Yeah, but it's good to not think too much about it. I don't plan my sets."
Finn: "I don't plan my sets, but I'll always have runs of three tracks that I do together. I think everyone does that to an extent, but when I'm on radio I usually overthink it."
DJ Q: "Radio's a bit different, but with club sets I just go with the vibe.
Classified
DJ Q: "Big question – what would you class your sound as?"
Finn: "See, this is tough. I don't really want to say grime. Obviously I'm really grime-influenced, but I think grime's definitely a London community thing."
DJ Q: "The way I see grime, grime's a culture rather than a specific sound. It's a culture as in… you could hear a grime track that's 90bpm, but you'll still know it's a grime track."
Finn: "My first EP was definitely grime, but I feel like I'm moving to a halfway house between grime and US house stuff – Jersey, and Baltimore, and all that kind of stuff. I don't think my stuff is true grime, but it's definitely influenced by it, of course."
DJ Q: "When do you were younger, what stuff were you listening to?"
Finn: "Well before I was 18, it was no man's land – utter rubbish. I got fully on board with fidget house, which I don't necessarily regret but the music's not aged well at all. When I turned 18 I started going out, and when you start going to clubs it totally changes your perception. 'Cause when you're listening to stuff off laptop speakers from 16 to 18, it's hard to understand, say a dubstep track. So from 18, it was basically R&B garage remixes. Growing up near Sheffield, for me clubbing was all about garage and bassline. That was the big sound. I used to listen to your remix of [Dizzee Rascal's] Flex once a day too, that was a big one for me."
DJ Q: "That was the first proper remix I ever got! I did the remix, his people hit me up, and then a month later I was on a train to London. I walked past a bunch of guys, and I clocked DJ Semtex. So I say hi to him, what's up, and just walk off. Then Dizzee phoned me when I got to London, and he was like, 'Was that you on the train?!' He asked me to send him some beats and stuff, but nothing ever really happened with it."
Finn: "Dizzee sounded really good on bassline. He's just got that flow. He always sounded good with drum 'n' bass too, he's just great with percussion."
Dream MCs
DJ Q: "OK, if you could do a set with three MCs, who would they be?"
Finn: "Argh, that's such a hard question. I've always wanted to do a set with Swarvo, he just had so much energy. Nowadays though, it would probably be Faultsz, Nov[elist] and Elf Kid. I think they're coming through at a similar time to me, and although doing sets with older MCs is sick, I feel like those guys are sort of my peers. I really wanna do a set with The Square this year, that'd be ace. But then I did do two sets with Riko last year, that was already kind of my dream MC set. Both times were proper electric. What about yourself?"
DJ Q: "It's funny, because I would've always said MC Kie. I've been listening to him for ages, and he always gets it, new or old, he always gets it. Then at Sidewinder he ended up on me and Flava's set, and since then we've done loads of stuff together."
Finn: "It's funny, I was just thinking grime MCs but I did a set with Kie in Bristol, me b2b Tom. He was great on that, too. I get what you mean, you can't really throw him off. It's an interesting time, because a lot of people are making really weird grime records at the moment and it feels like MCs are having to work a bit harder. Novelist's dominating a lot of different scenes because he's prepared to do so many different styles."
DJ Q: "He just gets it man. He's young and he's hungry and he gets it. I'll tell you who get it, Skepta gets it as well. He can spit on anything."
Throwing parties, throwing festivals
DJ Q: "How do you find throwing raves in Hull? Is the the same people at the raves, or do you get new people every time?"
Finn: "Well with Flava Q and Murlo, who we had recently, there were more people than we usually get. But generally it's the same faces, it's nice. It's easier to put parties on too, because you know who's into what – like that group of girls are into Flava D, stuff like that. It's nice though, because people in Hull weren't really listening to this stuff. It was on people's radars, but not in a massive way. Then after Royal-T came up, you saw people travelling from Hull to Leeds for Jamz. I'm not taking all the credit for that – there's a big team of us that do it, it's far from just me – but it's nice to see people be more open to it, and push people in the right direction a little bit. It's been an experience trying to build a scene up. You've said the same thing about Huddersfield though, right?"
DJ Q: "Yeah, Huddersfield's getting there. We put Flava D on in September, and we had a lot of people who don't normally come to our events, coming just for Flava. People were aware of her before, but now they know what she's about and they're like 'yeah yeah, Flava D Flava D'. It's really good introducing people to artists like that."
Finn: "Plus when someone's as good as Flava, it's not a matter of whether she'll kill it, it's just how many people will see her kill it. Every time you think you've got Butterz pegged, they move in the other direction – a few years back it was 'Butterz, grime revival, etc' but then they started putting out Flava, Royal-T, and there's an affiliation with you too – you've been playing Jamz a lot – all these great garage records. And now the latest thing is a throwback Footsie EP! I hope that Butterz get remembered as a label that made things happen in this era, because they're doing really exciting things."
DJ Q: "Yeah. It felt like at one point, everyone south of Birmingham went the grime way and everyone North, like us, went more down the bassline route. Now people are meeting in the middle a little bit, it's really nice. It reminds me of when I used to go Sidewinder back in the day. I remember going there the first time N.A.S.T.Y. Crew played, and you'd have Martin Larner play a 4×4 track into a grime track into something else. That was like 2002, that Pulse X era. You'd have Jon E Cash played into 4×4 tracks."
Finn: "Black Ops were the ones. I know that when that Ruff Sqwad compilation happened everyone got really into that style again, but I swear Black Ops were where the real hardbody sound happened. So tell me about Bassline Festival."
DJ Q: "We reached out to everyone – everyone in the scene. Anyone who's not on that line-up, it's 'cause they didn't want to do it, not 'cause we didn't reach out. I'm excited for it, you've got all the sounds of bassline in one place. I always said that if I was gonna do a bassline event, it would have to be like that, and luckily I managed to put it together."
Finn: "You think it's gonna be a regular thing?"
DJ Q: "We're gonna aim to do it every year. Once a year, definitely. Hopefully after this, you'll see more bassline bookings elsewhere too."
Finn: "See, I've got a few mates who were in the year above me who went to Niche after it reopened, but I never made it. I never risked the fake ID thing because I look about 12 – people don't believe me even now I've got a real ID."
DJ Q: "I feel your pain, I just got IDed innit!"
Finn: "Last gig I played, someone asked if I only got let in 'cause I was playing, but it's alright. I'm used to it now."
Local Action release 'Finn Remixed' on February 23rd 2015 (pre-order).